Battle Angel Alita: Last Order - Angel Game (GN 11)
---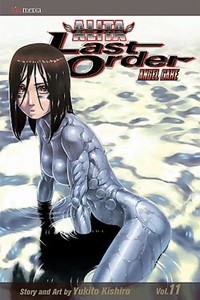 Title:
Battle Angel Alita: Last Order - Angel Game
Volume:
GN 11
Pages:
200
Distributor:
Viz Media
Release date: 2009-04-14
Suggested retail price: $9.99
Age rating: 16+

ISBN-10: 1421525909 1421525909
ISBN-13: 9781421525907 9781421525907

Description:
What is Alita's fate...? A doomed opponent in battle with Sechs may reveal some clues. Meanwhile, senseis and students fight for supremacy. Their mystical techniques can slay a tiger and even a dragon. But moves of such power may only be used against an opponent who is truly worthy!

Story and art by Yukito Kishiro.
(added on 2008-11-28, modified on 2008-11-28)
This week, scrappy volleyball players and a sinister race of sex aliens.
- Captain Earth
- Haikyu!!
― Jump to this week's reviews: Captain Earth Collection 1Haikyu!! Collection 1 On Shelves This Week A Lull in the Sea - Complete Collection BD [Premium] NIS America - Hyb - MSRP $179.99Currently cheapest at: $134.99 Right Stuf Synopsis: Humans used to inhabit the seas, until one day, a group of humans...
Miyazaki's thrilling first film arrives in a special edition worthy of the title.
― Before Studio Ghibli, before Nausicaa, before Oscar honors and western fame and general anime elder statesman-dom, Hayao Miyazaki worked on the very first Lupin III series at A Pro, along with his longtime Ghibli partner Isao Takahata. Though he'd shift from this work to the renowned Heidi, Girl of the Alps and then F...
The Fourth Great Shinobi War is just getting heated up in this collection of episodes.
― Naruto Shippuden's 22nd DVD set (episodes 271-283) is a mixed bag, but it rarely disappoints. With the Fourth Great Shinobi War finally off the ground, there are countless battles to showcase and many, many stories to tell. While a number of the mini arcs featured in this volume do a commendable job of showcasing...
Nanami is back from the past and off to Okinawa in this volume of Julietta Suzuki's story about an ordinary girl who becomes a goddess.
― For many book series, manga or otherwise, the fulfillment of the romance plot or subplot marks the end of the story. In Julietta Suzuki's Kamisama Kiss, that does not appear to be the case – volume seventeen got Tomoe to finally admit his feelings while Nanami lear...
This rundown of shadowy cabals that perform their insidious machinations behind the scenes, secretly controlling everything, will get your SEELE of approval.
― America's Central Intelligence Agency has fueled numerous conspiracy theories and espionage plots in films, books, and real life. Anime is no exception, with many protagonists uncovering all the dirt their utopian governments swept under the ...
Discotek representatives Brady Hartel and Reed Nelson stop by to talk about their most recent prestige release, The Castle of Cagliostro on Bluray. PLUS: An announcement!
― ANNCast Episode 230: ANNCastle of Cagliostro Get the Flash Player to see this player. Discotek representatives Brady Hartel and Reed Nelson stop by to talk about their most recent prestige release, The Castle of Cagliostro on Blu...
Why are bootlegged anime products still such a problem on Amazon? Plus, the scoop on the new Funimation/Universal Studios deal, anime on Amazon Prime, and when anime will come out on 4K Blu-ray.
― Daniel asks: Who will produce the first anime Super Duper Blu-Ray when players start shipping at the end of the year? Sony via AniPlex? Do you think supporting three simultaneous disc formats will be beyon...
Introducing someone to anime can be tricky - it's easy to scare people off, and finding the right show to make a great first impression is tough. Paul Jensen has some advice for sparking fan fervor in just about anyone.
― People love to talk about the importance of first impressions, mostly when they're trying to "help" college applicants by scaring them to death right before an interview. First impr...
This collection of early short stories by the late great Satoshi Kon offers a rare glimpse into the creative mind that would go on to create some of anime's most memorable films.
― Paprika. Tokyo Godfathers. Millenium Actress. Memories. Whatever you know Satoshi Kon's work from, chances are you know his films, and while that was his primary creative medium, he also penned manga which shares the same ...