Shakugan no Shana - Complete Collection (DVD)
---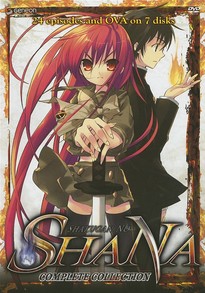 Title:
Shakugan no Shana - Complete Collection
Volume:
DVD
Running time:
625
Distributor:
FUNimation Entertainment
Release date: 2009-09-15
Suggested retail price: $49.98
Age rating: 13+

SKU: FN-08690
UPC: 704400086908 704400086908

Description:
Yuji Sakai is about to learn that there is more to the world than going to school and finding a girl friend when he meets a sword-wielding girl with fiery red eyes and flame colored hair. Denizens of the Crimson Realm are invading our world and it's up to the Flame Haze, Shana, to slay them. However, when Yuji gets in the way of her sword, he learns that death is much more different than he imagined it would be. Yuji and Shana must work together to fight the Denizens of the Crimson World and learn more about each other and the worlds they are from.

Contains episodes 1-24 and the OVA.
(added on 2009-06-24, modified on 2009-06-24)
Mystery anime is back in vogue lately, but the genre is famously underrepresented in the US. Here are six mystery anime that still need an official US release!
― Recent anime seasons has shown a renewed interest in the mystery genre, from lighter fare like Haruchika to dark thrillers like this season's ERASED. This is boon for fans of an oft neglected genre, doubly so because its previous entries ra...
UQ Holder maintains its polish and consistency, but has yet to truly find its voice in this second volume.
― In many ways, UQ Holder feels like the series Ken Akamatsu has been wanting to write for most of his career. His first major hit, Love Hina, started off as a traditional harem series, with serial failure Keitaro Urashima finding himself the manager of a lady's dorm and comedy predictably ensui...
Sadly this isn't a joke. Someone out there is impersonating an ANN staff photographer to put female cosplayers in compromising positions.
― tl;dr version: Anime News Network staff will always contact you from an @animenewsnetwork.com e-mail address. Freelance journalists / photographers do not have @animenewsnetwork.com e-mail addresses and will never identify themselves as "staff." If a freelancer c...
Daryl Surat and Mike Toole return to Supernerds headquarters to chat about Turn A Gundam, Evangelion 3.33, Fullmetal Alchemist and much more! PLUS: a license announcement from Discotek!
― ANNCast Episode 251: Supernerds: Civil War Daryl Surat and Mike Toole return to Supernerds headquarters to chat about Turn A Gundam, Evangelion 3.33, Fullmetal Alchemist and much more! PLUS: a license announcement ...
Uncover the history behind the real-life seagoing bandit kings and scalawags that inspired some of the most memorable villains in Eiichiro Oda's world-conquering pirate fantasy One Piece!
― I discovered pirates through a bizarre combination of Astrid Lindgren's Pippi Longstocking novels (and the weird 1988 film) and Robert Louis Stevenson's Treasure Island when I was in elementary school, and my fasc...
This hyperactive sex comedy sendup of giant robot shows might be trying a little too hard to be ribald, but it also just might generate a few chuckles nonetheless. Theron Martin gets into it.
― The very first line of the opener should serve as a warning about what you're getting into here. It translates as "turn your roaring libido into strength," and that fully embodies the essence of the show, for ...
This week: imports join the yakuza, the Asterisk War, and a Dragon Quest construction crew! Plus Detective Pikachu, 7th Dragon, a shooter with a great title and a DBZ game contest!
― I have the winners of my recent games-as-art contest, but I'll save them for this column's last stretch. That's because I have another contest to run! Bandai Namco's mobile game Dragon Ball Z Dokkan Battle starts up its...
Just as he tackled motherhood in the acclaimed Wolf Children, Mamoru Hosoda takes on fatherhood in his latest film, The Boy and the Beast. Absent his crucial screenwriting partner, Hosoda's film is an unfortunate and rare stumble for a promising artist.
― At first glance, The Boy and The Beast carries all the hallmarks of a Mamoru Hosoda film. The warm colors, wiggly lines, soft expressions, and hype...
Everyone has a favorite anime villain, but which one was the most memorable, and had the most impact on you? Our team of critics reveal the bad guys that still keep them up at night - and we need to hear yours, too!
― This week we asked our team of critics for the most memorable villain they've ever encountered in anime. We specifically didn't ask for favorite - "most memorable" suggests a villain th...
Gabriella Ekens is all aboard the train to existential happiness in this classic film, based on Kenji Miyazawa's timeless children's book. It's out now on bluray for the first time, and it's never looked better.
― Editorial disclosure: two regular Anime News Network contributors worked on this disc, Mike Toole and Justin Sevakis. Neither were involved with nor consulted on this review in any capacity...
No, not really a Gundam, but that would be cool. Instead, we're giving away 10 copies of Gundam on DVD or BD. We've got Mobile Suit Zeta Gundam, Turn A Gundam, and of course the OG (get it?).
― Right Stuf Anime's publishing division Nozomi Entertainment has given us some pretty awesome prizes!!! Sadly no real Gundams. 3 Winners: Mobile Suit Zeta Gundam Collection 1 – Blu-ray or DVD 3 Winners: Turn A ...