D.Gray-man (GN 16)
---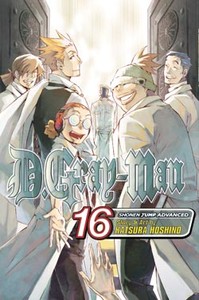 Title:
D.Gray-man
Volume:
GN 16
Pages:
200
Distributor:
Viz Media
Release date: 2010-02-02
Suggested retail price: $9.99
Age rating: 16+

SKU: CTDM-16
ISBN-10: 1421530384 1421530384
ISBN-13: 9781421530383 9781421530383

Description:
Lenalee is determined to confront a Level Four Akuma that's out to kill Komui, but her only chance is to reclaim her Innocence and synchronize with it. The Level Four is not inclined to wait around and pursues its mission even against the best efforts of Lavi and Kanda. It's left to Allen to hold the line, but it soon becomes obvious he has no hope of doing it all by himself!

Story and art by Katsura Hoshino.
(added on 2009-09-29, modified on 2009-09-29)
The popular online game Yggdrasil was suppose to end it's service but as players waited to bid farewell something happened...
― Overlord Visit the Official Site › Story Characters Trailer Cast & Staff Gallery Broadcast Begins July 2015 (JST) Key Staff Director: Naoyuki Ito (Digimon: Data Squad, One Piece: Strong World Episode 0 (OVA) ) Character Design: Takahiro Yoshimatsu (Trigun, Future GPX Cyber ...
Once upon a time, this romantic comedy about a student in love with his (alien) teacher was an enormous hit. Has time been kind to it?
― The series still commonly-known under its original Japanese name Onegai Teacher is an original anime production from director Yasunori Ide and scenario writer Yousuke Kuroda (Hellsing Ultimate and Mobile Suit Gundam 00, among many other prominent titles). It first a...
Aquarion celebrates it's 10th Anniversary with a new series!
― AQUARION LOGOS Visit the Official Site › Story Characters Trailer Cast & Staff Gallery Broadcast Begins July 2015 (JST) Key Staff Original Creator: Shoji Kawamori (Aquarion, Basquash, Macross Frontier) Director: Hidekazu Sato (Nobunaga the Fool, Slayers Next, Fortune Quest L) Character Design: Takashi Mamezuka (Outbreak Company, Listen t...
This week, a timely look at the energetic Michiko & Hatchin, and a dive into the past with Bubblegum Crisis: Tokyo 2040.
― Jump to this week's reviews: Michiko & HatchinBubblegum Crisis: Tokyo 2040 On Shelves This Week Atelier, Escha & Logy: Alchemists of the Dusk Sky Complete Collection BD, DVD Sentai - Sub - MSRP $59.98|$49.98Currently cheapest at: $34.49 Amazon|$29.20 Rakuten Synopsis: Escha has ...
The final volume of Nisekoi starts dabbling in drama amdist all the comedy, but is it enough for a satisfying finale?
― The fourth Blu-Ray release for Nisekoi covers episodes 15-20, which constitutes the final quarter of the first series. Unlike the ending of the second season, it actually makes one key progression in the relationship dynamics – i.e., getting Chitoge to admit that she may actually be...
Lucifer and the Biscuit Hammer continues to pick up speed, challenging its characters and upgrading its execution in its triumphant third collection.
― From the first collection to the second, Lucifer and the Biscuit Hammer ramped up significantly in storytelling ambition and execution. A narrow story unfolded into an ambitious ensemble one, and compelling themes regarding family, adulthood, and the ...
The Summer 2015 Anime Preview Guide has begun! Check back daily for fresh impressions of the season's newest shows.
Available Now: Seiyu's Life - Overlord - Monster Musume - Aquarion Logos - Chaos Dragon - Wagnaria!!3 - Actually, I Am - Snow White with the Red Hair - Durarara!! x2 The Second Arc - Gatchaman Crowds insight - Gangsta. - and much more!
― Welcome to Anime News Network's Summer 2015 Prev...
If you missed anything from this year's Anime Expo, here's a roundup of everything you may have missed from the con!
― Days Three and Four: July 4-5 Production I.G Makes Show for Fox's Animation Domination High-Def Viz Adds Matsuri Hino's Shuriken & Pleats, Bisco Hatori's Behind the Scenes Manga Sunrise Announces New Gundam Series Crunchyroll to Stream Monster Musume, Million Doll This Summer; The P...
Some people just don't take defeat very well. These seven folks could use a lesson in being a good sport.
― Losing gracefully and admitting defeat is a skill and some characters, especially villains, aren't particularly good at it. It's never the losers fault that they didn't succeed. Blame is either passed around to the nearest person, or worse, the loser seeks revenge against whomever bested them....
Kimihito is already living with a harpy, a mermaid, a spider woman, a centaur, a slime girl, and a lamia. Could he possibly have room for a dullahan too? And what could possibly go wrong with a grim reaper in the house...?
― If there's one thing that Okayado's Monster Musume is, it's unashamed. There are bare breasts (and nipples) in proliferation, orgasms induced by a variety of thoughts and things,...