Sumomomo, Momomo (GN 3)
---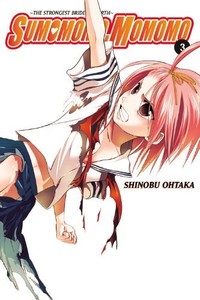 Title:
Sumomomo, Momomo
Volume:
GN 3
Pages:
208
Distributor:
Yen Press
Release date: 2010-03-31
Suggested retail price: $10.99
Age rating: 16+

SKU: YSSM-03
ISBN-10: 0759530890 0759530890
ISBN-13: 9780759530898 9780759530898

Description:
Eager to prove his strength to his fiancé, Hikaru challenges Koushi to a duel. Touched by his heartfelt display, Momoko stands down, leaving Koushi to face the charge alone! But the class rep can't let Koushi come to harm because of her secret affection. Donning the guise of the Heavenly Warrior Horse Mask and swallowing her pride, Sanae unleashes her hidden power at last!

Story and art by Shinobu Ohtaka.
(added on 2009-10-02, modified on 2009-10-02)
Studio Ghibli's latest (and possibly last) theatrical film may not have the hype machine of a Miyazaki release behind it, but it's a beautiful story about finding your place and your peace in the world.
― When Marnie Was There, a film from Studio Ghibli from 2014, is a difficult story to describe. Based on the 1967 novel by Joan G. Robinson (as of this writing out of print in the United States but in...
Sometimes people really like anime that's been edited for television and want to preserve it for posterity... but does anyone make those versions legally available?
― Kevin asks: In cases of shows that have "Edited for TV" versions, such as YuYu Hakusho and Rurouni Kenshin, what happens to them? Do they get stored away? Do they exist somewhere on the Funimation or Bang Zoom's servers? You see, I've ...
This week's treasure trove of new releases, plus reviews of Sentai Filmworks' Windy Tales and Brynhildr in the Darkness!
― By the time this column comes out, I'll be getting ready to come home from a ten-day vacation with my extended family. While my relatives are generally lovely people, visiting them means traveling to places where the Internet connection can barely handle standard-def video and t...
The results are in! Here's your schedule for daily streaming reviews this season!
― This season's poll results have been tallied and we've put together the schedule for the Fall 2015 Daily Streaming Reviews! This is a much lighter season than we've had in the past, and the gulf was great between shows with tons of reader interest and shows with almost no interest at all. So we'll be covering slightly...
If you don't read this list of mismatched couples before the last petal falls on your 21st birthday, you'll be cursed forever. On the plus side, maybe all your anime figures came to life.
― One character is capable of immense, sometimes even supernatural strength while their partner is an example of grace and elegance. The two work as a balancing act for one another, with the "beauty" often calming ...
The Mermaid islands are about to explode with sexy battle action!
― Valkyrie Drive Mermaid Visit the Official Site › Story Characters Trailer Cast & Staff Gallery Broadcast Begins October 10, 2015 (JST) Key Staff Director: Hiraku Kaneko (The Qwaser of Stigmata, MAKEN-KI! BATTLING VENUS 2) Series Composition: Yosuke Kuroda (Best Student Council, Gundam build Fighters Try) Introduction With you in my ...
Basara Tojo is back and he will do anything to protect his little sisters! Let the battle that breaks heaven and earth begin!
― The Testament of Sister New Devil BURST Visit the Official Site › Story Characters Trailer Cast & Staff Gallery Broadcast Begins October 9, 2015 (JST) Key Staff Director: Hisashi Saito (Bamboo Blade, Heaven's Lost Property) Series Composition: Sumio Uetake (Burn-Up Scramble...
The Fall 2015 Anime Preview Guide has begun! Check back daily for new impressions of the season's biggest shows.
Available Now: Testament of Sister New Devil BURST - Garo: Crimson Moon - Shomin Sample - The Perfect Insider - Anti-Magic Academy - Dance with Devils - Beautiful Bones: Sakurako's Investigation - Yuru Yuri 3rd Season - One Punch Man - Concrete Revolutio - and much more!
― Welcome to Anim...
It seems like just yesterday we learned that Naruto had a son, who now has a movie of his own (which is in US theaters this weekend). ANN's resident Naruto expert puts Boruto's big-screen adventure to the test.
― Boruto: Naruto the Movie expands on the manga's epilogue, presenting the story of a young genin disenchanted with his hero father. Living in a peaceful world with a loving family, Boruto's c...
Brady Hartel joins Zac and ANN's interest editor Lynzee Loveridge for an in-depth discussion about the new fall anime season, and a whole boatload of other stuff! One Punch Man, The Perfect Insider, Concrete Revolutio and more!
― ANNCast Episode 240: Falling Together Get the Flash Player to see this player. Brady Hartel joins Zac and ANN's interest editor Lynzee Loveridge for an in-depth discussion ...
In the middle of the excitement of a new season, Nick Creamer looks back, digging deep into the classic series Giant Robo to discover what's hidden in the shadows of a show obsessed with light and darkness.
― "The future has shone upon us with its glorious brilliance! The time to seize our destiny and conquer all our fears is now! In ancient times, man rubbed sticks together to make fire. Then they s...