Cut (GN)
---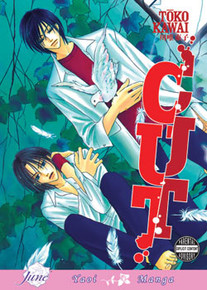 Title:
Cut
Volume:
GN
Pages:
200
Distributor:
Digital Manga Publishing
Release date: 2009-04-08
Suggested retail price: $12.95
Age rating: 18+

SKU: DMCUT-01
ISBN-10: 1569700435 1569700435
ISBN-13: 9781569700433 9781569700433

Description:
Chiaki Sakaguchi is a highly sociable and popular high school senior with a dark secret in his heart. Chiaka is not at all acting like himself. In fact, he recently skipped his college entrance exams. Is Chiaka's classmate the only one who may be able unveil the unholy perversion that has secretly crept into Chiaka's life?

Story and art by Toko Kawai.
(added on 2009-10-25, modified on 2009-10-25)
ANN reviewer Sam Leach joins Zac and Jacob on a blood-soaked journey through the first few episodes of Berserk, along with Danganronpa discussion and much more!
― ANNCast Episode 266: Berserk du Soleil ANN reviewer Sam Leach joins Zac and Jacob on a blood-soaked journey through the first few episodes of Berserk, along with Danganronpa discussion and much more! You can listen to the show on our playe...
Whe Shoji Kawamori gets creative, the results can be spectacular - and controversial! The visionary creator of Macross discusses his brand new, completely original sci-fi anime due out in 2017.
― Shoji Kawamori scarcely needs an introduction – as the father of the hallowed Macross franchise and a legend in the field, Kawamori has racked up hits both critical and commercial throughout his entire block...
Kagerou Daze is slowly improving as a series, but it continues to suffer from less than stellar writing and unlikable characters. Rebecca Silverman breaks down this twisted story.
― Kagerou Daze has the dubious distinction of being one of the most difficult light novels currently being published in English to follow. In part, this is due to the dense language of the first two books, although that tha...
It's the final X Button, and Todd retires the column with a rundown of his lesser-known favorites! Plus Sonic Mania, Lady Layton, and Nintendo rumors!
― Here it is, readers: the last installment of The X Button. Next month will see another video-game column take its place, with the talented Dustin Bailey (that's Dustin, not Justin) at its helm. I thought hard about how best to close this little attr...
This fantasy romance from Fruits Basket creator Natsuki Takaya weaves a magical blend of sweetness and melancholy, but can it stand apart from her previous work? Rebecca Silverman takes a look.
― Despite several of her other works being translated and released in English, Natsuki Takaya remains best known for her series Fruits Basket, whose light fantasy premise hid surprising emotional depths. Lisel...
Every month we see anime and manga sales charts from Japan, but there's no equivalent in the US - how come we never see sales info anywhere else? Justin gets into it.
― "Oshino Hunter" asks: In Japan exact sales numbers are given for all anime and manga, but in America, we get NO stats on anime sales, and only what has sold better than others for manga. Why is this? Even in Japan, publishers do not ...
The incredible creative talent behind this spring's smash hit My Hero Academia - Director Kenji Nagasaki, producer Wakana Okamura and voice actors Justin Briner and Chris Sabat - go in-depth!
― At Anime Expo this year, we had the opportunity to sit down with the Japanese crew and English cast of My Hero Academia. Director Kenji Nagasaki, producer Wakana Okamura, the voice of Midoriya Justin Briner, a...
This Netflix-licensed spring season anime is finally available for streaming! Was this mecha adventure worth the wait? Theron Martin takes a look.
― We've seen anime about a person from the present being catapulted into the future to become an ace mecha pilot before (see Buddy Complex, among possibly others), but a person from the past coming to the present instead? That's certainly a new twist. It's...
Vice and Luna's lunchtime odyssey continues when Luna makes a small mistake that winds up changing their entire afternoon... and Luna's love life!
―
As the stakes and strengths of his opponents climb impossibly high, Tota finally finds himself faced with a real challenge in this seventh volume of Ken Akamatsu's action manga.
― UQ Holder has had a rocky journey up until now, and much of that has come down to the manga's awkward fundamental assumptions. Tota lies near the heart of the story's various problems; not only is he actually immortal, but ...