Dorohedoro (GN 6)
---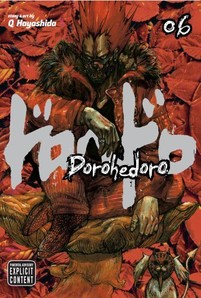 Title:
Dorohedoro
Volume:
GN 6
Pages:
200
Distributor:
Viz Media
Release date: 2012-04-17
Suggested retail price: $19.99
Age rating: 17+

SKU: CTDOR-06
ISBN-10: 1421533804 1421533804
ISBN-13: 9781421533803 9781421533803

Description:
Caiman has left the Hole behind for the Sorcerers' dimension in an attempt to unravel the mysteries of his past. As the Sorcerers' "Blue Night" festival draws to a close, Nikaido finds herself taken captive. Supernatural crime-syndicate boss En has taken an inordinate interest in her abilities, which may be far different, and far more powerful, than anyone suspects.

Oblivious to his best friend's danger, Caiman continues his quest to determine his true identity, picking up some unexpected help - and meat pies - in the process. But once he gets wind of her predicament, he makes a beeline for En's heavily guarded fortress of a mansion.

Story and art by Q Hayashida.
(added on 2011-10-28, modified on 2011-10-28)
We're live at Anime Expo 2015 all weekend, but in case you're having trouble keeping up with the flurry of news, here's a roundup of everything you may have missed yesterday!
― We're live at Anime Expo 2015 all weekend, but in case you're having trouble keeping up with the flurry of news, here's a roundup of everything you may have missed yesterday! We'll have a cosplay gallery coming soon, and expe...
Why does anime delight in making its young heroes parent-less? Plus, how long does an episode take to animate? Does Funimation have DVD rights for the shows they're simul-dubbing? And what was ADV Kidz?
― Mitsuki asks: I was having a discussion (and by "discussion" I meant Tumblr post) about truly godawful cartoons, and someone brought up "Super Duper Sumos", and posted an image. Thing is, I noticed...
The American side of the freshly-announced CG animated Vampire Hunter D TV series spills the details on just what exactly it is they're trying to make.
― Vampire Hunter D: Resurrection was announced this past Tuesday ahead of its official unveiling at Anime Expo on Thursday, July 2nd. The show is a collaboration between the US-based Unified Pictures, the Japan-based Digital Frontier (responsible for ...
Take it as a paean to joshi puroresu and Wanna Be the Strongest in the World fares pretty well. Take it any other way and, well... you'll see.
― Female pro wrestling in Japan (referred to as joshi puroresu) has existed to some degree since 1948, most typically as an independent promotion from male pro wrestling. Like pro wrestling in the States, Japanese pro wrestling is typically scripted, although ...
The Summer 2015 Anime Preview Guide has begun! Check back daily for fresh impressions of the season's newest shows.
Available Now: Rampo Kitan: Game of Laplace
― Welcome to Anime News Network's Summer 2015 Preview Guide! Here's how it goes: our team of critics write up their impressions instantly and they get posted as they go along. Each critic will cover as many shows as they can handle, resulting...
In the final installment of House of 1000 Manga, Jason both looks back at some of his favorites from the last 5 years and looks forward at what's to come!
― House of 1000 Manga: The End If this column was a horror movie, like the one it's named after (I've actually never even seen it), this is the part when the House of 1000 Manga burns down and the traumatized survivors tell the sheriff about how t...
With Magnoshutatt on the brink of war, can Aladdin convince its leader that non-magicians are human too?
― There is a style of literature known as "Naturalism," which, in its simplest form, expresses the belief that it is impossible to overcome or rise above the situation you are born into. It isn't always seen in anime, and it certainly wasn't part of the first season of Magi, The Labyrinth of Magic...
A new Ghost in the Shell movie has hit theaters in Japan, which means it's time to look back at the entire series and finally decide: which version of this cyberpunk classic is the all-time best?
― Firstly: I'm not here to argue whether Ghost in the Shell is the one of the best anime of all time. We already know it is. That first film? It was the best. The TV series? Also the best. And this new film ...
Have some imports this week with Tatsunoko tributes, Rhythm Heaven, and an RPG developer's final days! And there's Fire Emblem debate, Ace Attorney history, and Todd's revelation of his favorite King of Fighters character!
― The Fire Emblem series has a few controversies, but you'll have to dig to find them. Those games with the more disturbing plot twists, such as Fire Emblem: Genealogy of the Holy...
Oda Nobunaga, Jack the Ripper, Isaac Newtwon, and other historical greats pass on their talents to E-Gene holders to fight aliens. Wait, where are you going?
― There is something to be said for owning your concept. Nobunagun is essentially about giving descendants of mankind's greats access to their progenitors' abilities so that they can fight off aliens who have an uncanny knack for evolving, and h...
Zac and Hope are joined by two of our newest writers, Nick Creamer and Gabriella Ekens, to chat about writing anime reviews and what it's like to write about anime online.
― ANNCast Episode 231: Criticulous Get the Flash Player to see this player. Zac and Hope are joined by two of our newest writers, Nick Creamer and Gabriella Ekens, to chat about writing anime reviews and what it's like to write ab...
A cautionary tale of a would-be licensee who spoke too soon, learning the hard way how business is done in Japan.
― Welcome to "Tales of the Industry," a column where we will share stories from real working professionals in the anime business. This week, we have a story contributed by a long time industry member who acts as a consultant for companies looking to get into the anime business. We've rem...
An underappreciated adventure series that explores the life of a witch during the Hundred Years War who has a decidedly complicated relationship with her virginity.
― What do you get when combine magical girls, medieval history, a thesis on religion and female sexuality, penis jokes and dancing owls? You get Maria the Virgin Witch, the sleeper hit of the winter 2015 anime season. This show came out o...
This week, scrappy volleyball players and a sinister race of sex aliens.
- Captain Earth
- Haikyu!!
― Jump to this week's reviews: Captain Earth Collection 1Haikyu!! Collection 1 On Shelves This Week A Lull in the Sea - Complete Collection BD [Premium] NIS America - Hyb - MSRP $179.99Currently cheapest at: $134.99 Right Stuf Synopsis: Humans used to inhabit the seas, until one day, a group of humans...