Gate 7 (GN 3)
---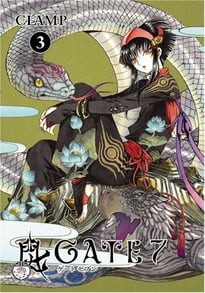 Title:
Gate 7
Volume:
GN 3
Pages:
184
Distributor:
Dark Horse Comics
Release date: 2012-09-04
Suggested retail price: $10.99
Age rating: 14+

ISBN-10: 1595829024 1595829024
ISBN-13: 9781595829023 9781595829023

Description:
A battle for supernatural supremacy rages in Kyoto! When a strange dimension overlaps with our reality, Hana and the members of her Inou Squad use their mystical dominion over the elements to protect humanity against a torrent of invading creatures. Thrust in the middle of this war, Chikahito is a seemingly ordinary boy who's been accepted into Hana's group - but it's possible that he has latent powers of his own!

Story and art by CLAMP.
(added on 2012-01-12, modified on 2013-06-17)
The Anime Encyclopedia's third revision is an impressive achievement, steadfastly chronicling anime shorts, films, and series from 1917 through 2014.
― There is one thing that we can all agree on, hands down – The Anime Encyclopedia is one impressive piece of work. Co-written by Jonathan Clements and Helen McCarthy, this tome attempts to chronicle and catalog a century's worth of Japanese animation w...
Jason straps in for a series of columns focusing on manga about manga, and naturally, his first stop is writer Tsugumi Ohba and artist Takeshi Obata's Bakuman. Plus: Jason's new project!
― In honor of my new Kickstarter, Mangaka: The Fast & Furious Game of Drawing Comics, for the next two months I'm going to be writing about meta-manga: manga about manga artists! Please enjoy, and if you like, pleas...
This week: an interview with Danganronpa writer Kazutaka Kodaka! Plus Breath of Fire, valkyries, rumors, and the link between Metal Gear and penguins.
― When was the last time a major game creator departed a big company? Keiji Inafune leaving Capcom? Koji Igarashi leaving Konami? Ken Levine leaving Irrational Games? Whatever it was, we're probably due for another one. That's why people are in a flut...
Theron marathons the second half of a Bleach filler arc, but maybe it isn't all that bad.
― Volume 24 covers episodes 330-342, which constitutes the second half of the series' final filler arc: the Nozomi/Kageroza/Reigai story. It also marks Ichigo's last gasp as a Soul Reaper before being completely depowered; in fact, the arc actually resolves in episode 341, allowing for the entirety of 342 to be ...
Bamboo spends her last couple days in Tokyo experiencing the fish market, a Love Live raffle, serene gardens, an enormous clock designed by Hayao Miyazaki, and more.
― My actual fifth day in Tokyo was spent at Anime Japan (you can see Part 1 and 2 for 600+ pictures from the event), but to be less confusing, I'm calling this post days five and six. I had a hankering for Daiwa Sushi while I was in Toky...
Justin's own story of being too much of a fanboy at his first industry job, and the conspiracy to get him fired.
― Welcome to "Tales of the Industry," a column where we will share stories from real working professionals in the anime business. Some weeks will have anonymous tales contributed by current and former members of the industry, with details changed/removed to protect their jobs. Other weeks...
Based on the smash card game, Rage of Bahamut brings Hollywood style to the fantasy genre, but can it make it to the end on energy alone?
― MAPPA have been making quite a name for themselves recently. Founded in 2011 by Madhouse founder Masao Murayama, the studio has collaborated on two impressive Shinichiro Watanabe productions, Kids on the Slope and Terror in Resonance, as well as assisted Madhouse...
Gabriella Ekens joins the Shelf Life family with a review of Gingitsune. Also this week, You're Being Summoned, Azazel.
― I'd like to welcome Gabriella Ekens to the Shelf Life team! I'm very excited to have her on board, as her writing and analysis about anime is some of the best I've ever had the pleasure to read. You can read her Winter 2015 daily streaming reviews of Maria the Virgin Witch, GARO ...
Capcom's horror sequel attempts to bring Resident Evil into the episodic age. Dave Riley, superfan of the original Revelations, investigates.
― For fans, Revelations 2 justifies its existence through its protagonists alone, Claire Redfield and Barry Burton, neither of whom have had more than a minigame cameo or light gun spinoff in a decade. Trapped on an abandoned island, Claire and Barry are paired...
Bamboo climbs Mt. Nokogiri and makes a few fuzzy feline friends in a day trip outside the city on day four.
― I've never been outside Tokyo's metropolitan areas before, so I was thrilled when Evan from PacSet told me he was taking a group to Mt. Nokogiri. Located in Chiba Prefecture, it's the site of the vast Nihon-ji temple area, known for its two large Daibutsu (large Buddha) sculptures. While the ...