Cardcaptors (GN 9)
---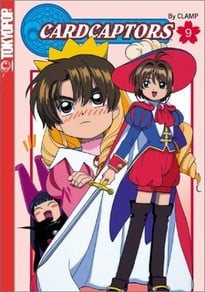 Title:
Cardcaptors
Volume:
GN 9
Pages:
148
Distributor:
Tokyopop
Release date: 2002-11-12
Suggested retail price: $14.99
Age rating: 10 - 15 Years

ISBN-10: 1591820480 1591820480
ISBN-13: 9781591820482 9781591820482

Description:
I'm Sakura Avalon, fourth-grader, Cardcaptor, and always center stage. Being a Cardcaptor, my life is always full of drama, but when I get cast as the lead in the school play, I soon discover that being on stage is a lot scarier than any magical Clow Card.

In this mixed-up play, not everyone is cast like you'd expect. I get to play the dashing prince, while shy Li gets to star as Sleeping Beauty - how embarrassing! But something else smells funny in this theater, and it's not Kero's feet. When the Dark card descends to stir up trouble, I have to tap into my inner light to stop the darkness and save the show.
(added on 2012-05-24, modified on 2012-05-24)
Zac wants Jacob to explain why Kabaneri of the Iron Fortressis more than just another Attack on Titan - plus Sakamoto, Tanaka-kun and more with special guest Lauren Orsini!
― ANNCast Episode 260: Kabaneri Sauvignon Zac wants Jacob to explain why Kabaneri of the Iron Fortress is more than just another Attack on Titan - plus Sakamoto, Tanaka-kun and more with special guest Lauren Orsini of Forbes and ...
They're an anime staple, embraced by audiences of all ages and types, and are frequently described as "empowering" - but what is it exactly that makes magical girls connect with so many people?
― Sailor Moon just got remade, Madoka Magica was the biggest anime hit of the past five years, and US-made cartoons are getting more mahou shoujo-tastic by the day. I think it's fair to call magical girls, you...
An enormous portion of Hulu's anime catalog disappears suddenly on June 1; Justin unpacks why that's happening and what it means for the industry.
― Michael asks: I noticed quite a few anime titles on Hulu expiring in the coming days. From what I can tell, it's more than usual. Do you think this is a sign of Hulu losing interest in anime as a whole and only want to focus on their American television...
Drawn & Quarterly has curated previously unpublished stories from Shigeru Mizuki's Kitaro manga for its original audience: kids. It's largely successful in this thrillingly gross and creepy volume.
― Before Natsume had his Book of Friends or Nate put on his Yokai Watch, there was Kitaro. Shigeru Mizuki's tales of the yokai boy have been popular since their publication in 1960, and technically even be...
This week: we look at promising developers now sunk deep in the anime-game swamp! Plus a Mighty No. 9 debacle, a returning Square RPG, and a Pac-Man celebration!
― Pac-Man turned 36 years old this May 22, and there are a few ways to celebrate. You can dress up as Pac-Man and run around alleys until the authorities intervene. You can listen to "Pac-Man Fever" and its varied remixes. You can ignore th...
This cute Taisho-set romance blends historical social expectations with a sweet romance devoid of creepy shoujo tropes.
― Despite a title that sounds like a Barbara Cartland novel, The Heiress and the Chauffeur's first volume is a cute Taisho-set tale of fairly basic shoujo proportions. The story follows seventeen-year-old Sayaka Yoshimura and her slightly older chauffeur, Shinobu Narutaki, as they n...
One reader wants to know whether or not non-Japanese people ever actually work directly in the anime industry - Justin runs down all the various ways they do.
― Lucas asks: Not sure if you already answered this question before, but I was just wondering how open the anime industry is when it comes to foreigners directly working on the development of anime. Are there cases of foreigners managing to ge...
For the hardest of the diehard otaku in Japan, finding the ultimate limited edition items comes with a serious price, and now that retailer exclusives are all the rage, it's a jungle out there.
― There are two Japanese phrases that describe serious Japanese collectors rather well. Roughly translated they're "Japanese people can't resist the words 'limited edition'" and "Always buy sets of three. One ...
UQ Holder seems to be establishing a solid rhythm in its fifth volume, and finally coming into its own as reliable entertainment.
― It's been a rough ride, but it seems like UQ Holder is finally developing some consistency. With Fate having just barely fallen into Kirie's trap at the end of volume four, this volume opens with a climactic chapter of Fate and Evangeline throwing everything they have at...
Kiznaiver leaps up the charts while Assassination Classroom drops like a rock - what other chaos awaits your favorite shows in our weekly user rankings?
― Our team of reviewers are following 25 anime series of the Spring 2016 season and readers are rating each episode as the reviews go up. So let's have a look at what ANN readers consider the best (and worst) of the season. Keep in mind that these r...
One of the most critically acclaimed videogame adaptations ever, Rage of Bahamut: Genesis is out on bluray now. Theron Martin swashbuckles his way through the set.
― Now this is how you make a game adaptation! Specifically, Genesis is a companion piece to the app-based card battle game Rage of Bahamut, which at the height of its popularity had a worldwide English language user base in excess of three...