Double Trouble (GN)
---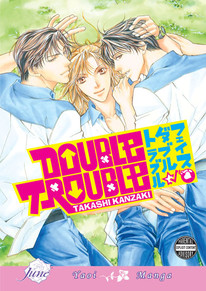 Title:
Double Trouble
Volume:
GN
Pages:
200
Distributor:
Digital Manga Publishing
Release date: 2009-01-29
Suggested retail price: $12.95
Age rating: 18+

ISBN-10: 1569705852 1569705852
ISBN-13: 9781569705858 9781569705858

Description:
Koh's dilemma is his fiery attraction for his bother-in-law, Naruki, and he spends his days restraining the dangerous passion that screams for Naruki's embrace. One day, Naruki is unexpectedly transformed into a strong-willed seme. Until now Koh wanted to be the aggressor in this budding relationship, but will Naruki's transformation give him the upper hand?

Story and art by Takashi Kanzaki.
(added on 2012-06-14, modified on 2012-06-14)
A list of this week's new releases. Plus, gravure idols and espers abound in this week's reviews of Super Sonico and Unlimited Psychic Squad!
― Jump to this week's reviews: Super Sonico the AnimationUnlimited Psychic Squad On Shelves This Week Free! Season 1 DVD Eastern Star - 280 min - Sub - MSRP $39.95Currently cheapest at: $24.38 Rakuten Synopsis: Four boys from Iwatobi High School have their eye...
Demons abound in this hard-edged short-form comedy series, but does its wildly hit-or-miss nature mean it isn't quite worth the asking price?
― "Nothing good ever comes from calling on demons to solve your problems." This line is never explicitly said anywhere in this franchise, which consists of two series of 13 13-minute-long episodes (the original from 2011 and the sequel from 2013). However, it c...
This is an interesting, complicated fantasy adventure that has some unfortunate printing issues.
― The words "carnival" and "circus" have dual connotations. On the one hand, they are places of entertainment, words which make us think of swirling music and fantastic feats, glittering costumes and trained animals. On the other hand, the words can refer to a place where the rules of everyday life have b...
Mike dons his red trucker cap and takes a journey through all the various shlocky and unique OVAs based on old SNK fighting games.
― It took me ages to track it down. I'd been after this particular OVA for something like eight years, and for a long time, the hunt just didn't go well. First of all, the show wasn't a "true" OVA, it was an ONA that was briefly broadcast online, but region locked to Japa...
Seven manga that were just too hot or otherwise objectionable for a variety of countries all over the world.
― Censorship of anime and manga is often met with derision by fans for its alteration of the source material. Anime targeted towards children or racy manga series have gotten their share of script changes, painted on bathing suits, and Christian imagery cut. It takes another level of parental...
The gang heads back to Comic Fest in another volume full of doujins, drama, and all the characters you love to wince for.
― The tension is kept at a comfortable simmer for most of this sixth volume. Having spent several volumes stressing over his shifting feelings for Madarame, Hato finally reaches the breaking point when confronted by Sue. In a great scene that demonstrates both more relatable perso...
Zac and Justin get terminally sidetracked by your Twitter questions for a conversation that swerves dangerously between off-topic and on. Shirobako, Ghost in the Shell and more are tackled.
― ANNCast Episode 224: Meat Popsicles Get the Flash Player to see this player. Zac and Justin get terminally sidetracked by your Twitter questions for a conversation that swerves dangerously between off-topic and...
Why the songs in Love Live! won't be dubbed, how to write to your favorite seiyuu, and why we will never learn actual sales numbers. Plus, the REAL reason why we can't have legal hentai streaming sites.
― You never know when you're going to accidentally find out something you didn't know about the anime business. A few months ago I got asked why we don't have something like Crunchyroll for hentai an...
Looking Up at the Half-Moon promises romance and tragedy. As it turns out, it only provides one of those things, and not in the intended way.
― I wish I had something positive to say about this show. I'd even accept "it fails, but at least it tries" - but I honestly don't think Looking Up at the Half-Moon even really tries. It's lazy and tired and clumsily manipulative, lacking the personality or exe...