Dragon Ball Z - Fusion - Ambush [Edited] (Dub.VHS 79)
---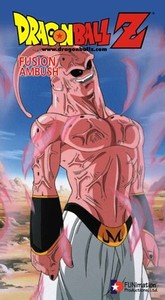 Title:
Dragon Ball Z - Fusion - Ambush [Edited]
Volume:
Dub.VHS 79
Running time:
60
Distributor:
FUNimation Entertainment
Release date: 2002-07-23
Suggested retail price: $4.98
Age rating: nr

SKU: FN-03563
UPC: 704400035630 704400035630

Description:
Contains three episodes, including A Whole New Gohan: It's Gohan to the rescue! Revealing his new powers, Gohan begins his assault on Buu. Feeling rather helpless, Goten and Trunks try immediately to help out, but their good intentions aren't going to help out in this situation! Search For Survivors: Finally someone has the upper hand on Buu! But what's this? It looks like the diabolical monster has some strategies for resting up--his own destruction?! Majin Buu Transforms: Watch out for Piccolo! Majin Buu is ready for a serious power up and Gotenks and Piccolo have just been added to the menu! Should Buu manage to absorb Piccolo's wisdom and Gotenk's power, Gohan is in for serious trouble!
(added on 2012-07-11, modified on 2012-10-04)
Why is something as risqué as S&M such an easy go-to for comedy even in family-friendly anime? Justin Sevakis has the answers.
― Brandi asked: what is up with anime and the S&M fetish? I'm not talking about hentai. It mostly comes out in the form of one of the men on the show turning out to be some kind of over the top masochist. I've seen this joke over an over again. Most recently in D-Frag! and i...
Gabriella Ekens revisits the classic shojo romcom on blu-ray, and Paul Jensen breaks down this week's huge heap of new releases!
― We've got a pretty wide variety of new releases this week, which means we also have a whole lot of options to explore. Let's jump right into it! Welcome to Shelf Life. Jump to this week's review: Fruits Basket On Shelves This Week Crusher Joe - OVA Collection DVD Discote...
This adaptation of the award-winning manga about karuta is finally available to own in a fancy special edition box! Bamboo Dong explores just what makes this series so special.
― On paper, Chihayafuru would probably be considered a sports anime. The characters spend most of their time training for, talking about, and playing sports. And most of the action and tension revolve around the outcome of spo...
Ohba and Obata's newest manga thriller expands its cast and slips into a comfortable rhythm for its second volume. Nick Creamer dives in.
― Platinum End's first volume established a cheekily cynical platform for a thriller. Opening with our suicidal hero Mirai, it proposed a scenario where twelve human candidates for godhood would have to fight it out, each of them blessed with some mix of angelic po...
When a manga's art is too complex to animate or a series has been on the air for a long time, artistic changes are bound to arise. Here are seven of the most striking shifts in a character's style.
― The transition from manga to anime isn't always a seamless process. Projects hire character designers to reinterpret static artwork into something that can be animated in a manageable way. This can mean...
This isekai adventure takes a turn for the slimy as its protagonist enters a fantasy world in perhaps the worst form possible. Theron Martin has the details.
― Isekai stories are pervasive in the Japanese light novel market these days, and stories where the world-jumping involves reincarnation with mind and memories intact are swiftly becoming more popular. We've already seen some odd twists on that ...
It's an original anime by Vampire Weekend frontman Ezra Koenig and famous actor Jaden Smith, along with a celebrity voice cast. What could possibly go wrong? Mike Toole investigates Netflix's latest original.
― They finally did it, folks: they animated Jaden Smith's Twitter account. That was what I thought after hearing Smith's character, Kaz, unwind the first of many bizarre pronouncements, in a bid...
Zac and Jacob tackle Kenji Kamiyama's Napping Princess, plus the end of summer anime, new movies, and plenty of your questions!
― ANNCast Episode 306 - Nap Squad Zac and Jacob tackle Kenji Kamiyama's Napping Princess, plus the end of summer anime, new movies, and plenty of your questions! You can listen to the show on our player here, direct-download the MP3 version here, check out the show on Stitc...
Japan has an ocean of stage musicals based on anime, from Naruto to Sailor Moon - why don't they ever get released in the States? Justin considers the angles.
― Bunny asked: Sailor Moon's new musical cast were guests at a state anime convention, but I don't see it getting much further than that. We only have fansubs as a source, but I'd like to support it legally. I was wondering what would it take ...
The producer behind these anime-style action RPGs shares his inspirations as a developer and his ambitions for the simultaneous worldwide release of Code Vein!
― A long-time employee at Bandai Namco Entertainment, Yosuke Tomizawa is best known as the producer for the God Eater franchise. The God Eater games feature co-op multiplayer monster hunting within a story-focused experience. He is currently w...
So besides T&A, what is this season's Classroom of the Elite really about? Gabriella Ekens explores its takes on Nietzsche, Rousseau, and even other anime!
― What's the best way to organize society? How much power should be vested in the general population versus an elite leadership? And how should people be educated as to their best interests and true capabilities? Political philosophers have been m...
DBZ's saga comes to a close as heroes gather from across the universe to defeat Buu once and for all. Sam Leach dives into the conclusion to Toriyama's original epic.
― It's time for the final installment, not just of The Final Chapters, but of DBZ Kai as a whole. Before the recent movies and Dragon Ball Super, this was the definitive climax of Akira Toriyama's work. Appropriately, the Buu saga is ma...