Persona 4: The Animation (Blu-Ray/B 1+DVD of 3)
---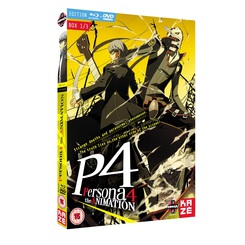 Title:
Persona 4: The Animation
Volume:
Blu-Ray/B 1+DVD / 3
Running time:
300
Distributor:
Kaze
Release date: 2012-12-24
Suggested retail price: $39.99
Age rating: 15

SKU: KBR-2645
EAN: 3700091026459 3700091026459

Description:
When Yu Narukami moves to the country town of Inaba to stay with his uncle and cousin, he's expecting a lot more peace and quiet than he's used to in the big city. What he isn't expecting is for his uncle's job as a police detective to spill over into his own life, or for the murders that are occurring across town to be somehow linked to Yu's own strange experiences, odd local weather patterns, and a mysterious TV show world that seems to be attempting to get Yu to enter it!

Now, together with a new group of friends, Yu must plunge into a bizarre alternate reality where he gains unique abilities that will either help him solve the riddle of the mystery killer... or lead him to his doom.
(added on 2012-08-21, modified on 2013-01-15)
Don't be scared off by the 1960s publication date - this GeGeGe no Kitaro compilation still holds up, as the yokai boy finds himself up against a variety of spooky villains!
― Drawn & Quarterly's second collection of the late, great Shigeru Mizuki's GeGeGe no Kitaro stories may be named after Nurarihyon, but he actually only features in one chapter. However, his essence definitely permeates the curat...
What's the true definition of "anime?" These internationally-produced animations may surprise you and challenge your own perception of the medium!
― Back in early 2014, I wrote a column about international co-productions with Japanese studios. That column had a general "here's some shows you might not know were animated in Japan or financed outside of Japan" focus, but this column is more of a look ...
"Dinosaurs evolve into hot humans to avoid extinction in this funny send-up of the increasingly crowded monster girl genre. Rebecca Silverman takes a look."
― If your first reaction upon looking at the title of Seven Seas' newest monster girl offering is to think, "Wow, the monster girl genre has definitely gone too far," you could be forgiven. From the outside, My Girlfriend is a T-Rex just looks li...
"Karoshi", or working yourself literally to death, is a phenomenon sometimes mentioned in anime, and it's on the rise in Japan - Justin goes over the basics.
― Vincent asks: There's always some sort of news about employees dying of overtime work in Japanese media. A professor at an university in Tokyo even stated that he thought it was "pathetic for someone to die just from working more than a hundr...
Zac and Jacob do battle with Anno Hideaki's political hot take, Shin Godzilla. PLUS: Miss Hokusai, Yuri!!! on Ice, Girlish Number and much much more!
― ANNCast Episode 273: Shin Godzilla Zac and Jacob do battle with Anno Hideaki's political hot take, Shin Godzilla. PLUS: Miss Hokusai, Yuri on Ice, Girlish Number and much much more! You can listen to the show on our player here, direct-download the M...
Twenty years ago right now some of the most incredible anime ever made were released; Daryl Surat is here to run down the best of them, including Escaflowne, Gundam, Detective Conan and more!
― I've long been of the opinion that the number of great works in anime is a relatively constant thing from year to year. But as I noted in my previous feature, Thirty Years Ago: The Best Anime of 1986, the amou...
Kuromukuro does its best to resolve its many mysteries in its action-packed second half, but does it succeed? Theron Martin investigates.
― Despite Netflix breaking the series into two 13-episode blocks for its subtitled stream, there was no break in Kuromukuro's 26-episode airing in Japan. Hence it's only natural that its second half picks up exactly where last season left off with zero recap. Where...
We're giving away 6 copies of the New York Comic-Con Exclusive Edition of The Attack on Titan Anthology, including one copy signed by the artists and writers!
― Our wonderful friends at Kodansha Comics have given us 6 copies of the New York Comic-Con Exclusive Edition of The Attack on Titan Anthology, including one copy signed by the artists and writers! It's the "most anticipated title of the year" ...
The Nintendo Switch is here! Plus: Dustin digs deep into Exist Archive, a gorgeous new Valkyrie Profile-style RPG. ALSO: Red Dead Redemption 2, World of Final Fantasy and more!
― First things first, let's get this out of the way: the teaser video for the Nintendo Switch, Nintendo's next console, is here. Watch it, absorb it, really give it some thought, and you'll get my full reaction next week. Movi...
As High School DxD enters its third season, does it still have enough juice to satisfy thirsty fanservice fans? Theron Martin has the answers.
― Based on its first two anime installments, High School DxD is the standard-setter and reigning champ for raunchy harem franchises. Despite being plagued by some production and storytelling issues, its third season does little to dethrone it. The main problem...
Sometimes you hear it said that english dubs contain more swearing than a faithful translation would provide; is there any truth to that? Justin looks into it.
― Eric asks: So I have an acquaintance who says he prefers to watch subbed anime over English dubs because the English translators add too many swears to the dialogue. Now I usually don't care why people prefer dubs or subs (and in this case ...
The Fall 2016 Anime Preview Guide has begun! Check back daily for fresh previews of every new show this season!
Available Now: Girlish Number - Fall 2016 Short Anime - Magic of Stella - March comes in like a lion - Occultic; Nine - Poco's Udon World - Long Riders - ClassicaLoid - Kiss Him, Not Me! - Haikyu! Season 3 - Drifters - Lostorage incited WIXOSS - ALL OUT!! - Keijo!!!!!!! - FLIP FLAPPERS - Brave Witches - and much more!