Sankarea: Undying Love (GN 2)
---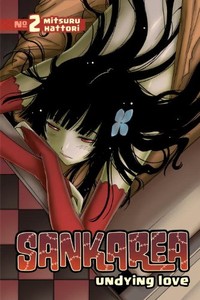 Title:
Sankarea: Undying Love
Volume:
GN 2
Pages:
192
Distributor:
Kodansha Comics
Release date: 2013-08-27
Suggested retail price: $10.99
Age rating: 16+

ISBN-10: 1612623522 1612623522
ISBN-13: 9781612623528 9781612623528

Description:
It's only after local heiress Sanka Rea falls off a cliff and impales herself on a tree stump below that Chihiro realizes she's secretly taken his resurrection potion. He's shocked, to say the least, when she rises from the ground, entrails dragging, and insists he take responsibility for her!

But hiding a zombie girl in his room is going to be even tougher than he imagined. What will Chihiro do when Rea starts to decompose? And how will they keep Rea's overzealous father off the trail?

Story and art by Mitsuru Hattori.
(added on 2012-11-19, modified on 2013-09-20)
Today's the day for tech in our week-long gift guide! Figure out the ultimate streaming package for the otaku on your Christmas shopping list, plus a bunch of fun gadgets and weird stuff.
― The Streaming Bundle The start of any tech gift guide on a site like this is liable to give you a long list of bluray players and high-end TVs, but as any anime fan will tell you, times have changed - all we real...
At nearly 300 episodes, Gintama is most famous for its incredible comedy, but the show has a serious storyline fans love. With a big new arc starting next week, here's a quick and easy way to catch up with the show's real story before the new arc begins.
― Because Hideaki Sorachi's popular revisionist history comedy is so very wacky, it's easy to forget that Gintama has an overarching plot. With the...
As two arcs come to their conclusions, Fairy Tail grows increasingly intense as the characters battle to change the future.
― One of the strengths of Fairy Tail, and indeed other similar shounen series, is the way that it can go from goofy to dead serious in a matter of minutes. The most recent story arcs to receive DVD/BD releases from Funimation, the Grand Magic Games and the Eclipse Gate plotlines...
Our week-long gift guide keeps on truckin' with a shockingly wide variety of anime shirts, jackets, hats, and jewelry. Who knew there was so much anime stuff you could put on your body?
― Women's Totoro Tights Within the last year, silhouette tights have become increasingly popular with many online shops stocking cat and rabbit versions. These tights are another iteration for fans of Ghibli's (argua...
K-On! settles into a comfortable rhythm for an unremarkable but endearing final movie.
― After the surprisingly draining emotional heights of K-On!'s second season, it'd be difficult for a movie reprise to come off as a truly essential addition to the series. And possibly to its benefit, the K-On! movie doesn't really try to - cataloging the girls' pre-graduation trip to London and quest to come up w...
Anime conventions are bigger than ever, with the largest attracting nearly 100,000 people in 2015. How'd they get that way?
― Brandon asks: I've been able to attend a few conventions, spend way too much at some, and meet new and old friends at others. However, when I look at the conventions and the news you all cover from events like Sakura-Con or Anime Expo, I wonder "What made these specific conve...
The first part of our week-long 2015 gift guide kicks off with a menagerie of art, books and manga! Prints, collector's editions, framed art and much more! Check back every day this week for more giftgiving ideas for the otaku in your life.
― Welcome to Anime News Network's 2016 Holiday Gift Guide! We've put together a pretty extensive catalog of great gifts for the anime and manga fan in your life,...
Shape-shifting dragons, love charms, talking swords, and sentient trading cards abound in this week's Shelf Life, featuring this week's releases and full-length reviews of Familiar of Zero and Wixoss! Plus: a new reviewer appears!
― After spending more than a few Saturday mornings looking up prices for the new release section of this column, I've found that I can usually guess which shows will be ch...
The shortest arc of Sword Art Online II comes to bluray, and Theron Martin decides if it's worth the hefty price tag.
― At a mere three episodes the Calibur arc is by far the shortest of SAO's five TV series arcs. It is also the weakest in a narrative sense, as its stakes are the lowest and its motivations the most trivial of any of the story arcs. However, Calibur does have one critical factor going...
The fall season enters its middle stretch this week; time to check in and see how your favorite shows are faring in our user polls!
― Our team of reviewers are following 24 anime series of the Fall 2015 season and readers are rating each episode as the reviews go up. So let's have a look at what ANN readers consider the best (and worst) of the season. Keep in mind that these rankings are based on ho...
Simple but reflexively fun, Rodea the Sky Soldier emerges as the last good Wii game. Unfortunately, it's also on the Wii U and 3DS.
― Second chances come often in Rodea the Sky Soldier. The original game emerged as a Wii creation from Yuji Naka and his Prope studio in 2011. The Wii was on the verge of retirement at the time, but if the man responsible for NiGHTS, Burning Rangers, Ivy the Kiwi!, and s...