The Incredible Kintaro (GN)
---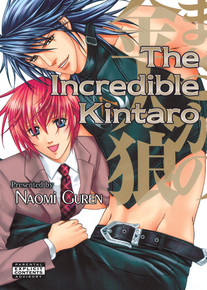 Title:
The Incredible Kintaro
Volume:
GN
Pages:
200
Distributor:
801 Media
Release date: 2014-02-26
Suggested retail price: $15.95
Age rating: 18+

ISBN-10: 1934129755 1934129755
ISBN-13: 9781934129753 9781934129753

Description:
Thanks to the incredible last words of his grandfather,​ young and adorable Makoto's virginity is the target of every teacher who wants to be principal of his school! Will fleeing to the mountains to recruit his childhood friend Kintaro be the answer to his prayers.​.. and wildest fantasies?​

Story and art by Naomi Guren.​
(added on 2012-12-13, modified on 2014-03-24)
How well do YOU remember the anime of the 1990s? Here are 10 more classic shows - but can you recall them all?
―
The Spring 2016 season rolls along and while Kabaneri of the Iron Fortress hangs on to its #1 position in the cumulative rankings, there's a new challenger to the #1 spot in the weekly chart!
― Our team of reviewers are following 24 anime series of the Spring 2016 season and readers are rating each episode as the reviews go up. So let's have a look at what ANN readers consider the best (and worst) o...
Despite some frustrating aspects, this second series is, overall, a slight improvement on the first.
― With nine months in between its first and second parts, Date A Live II is more a second series than a second season. Either way you look at it, it is still a direct continuation, one which assumes intimate familiarity with earlier material and provides recap only in bits and pieces. Hence I do recom...
Super useful to us, and it will take you less than a minute!
Famous mangaka for series like Death Note can be famously withdrawn from the public eye, rarely granting interviews or even pictures. What's with that?
― Federico asks: Why in recent years are manga artists so obsessed with privacy, to the point we know next to nothing about them? Decades ago they had no problem in being interviewed, filmed, photographed, and mostly anyone who was interested in thei...
Eden of the East made a huge splash back in 2009, but how well has its techno-thriller storyline aged? James checks out Funimation's fancy new special edition. PLUS: this week's new releases!
― As amusing as I find Haven't You Heard? I'm Sakamoto, I'm increasingly convinced that I'm primarily watching it as an excuse to enjoy its opening theme once a week. It's cool, cooler, coolest. Before we dive ...
Mike tries out the flashy shonen cooking action of Food Wars, but an enticing aroma leads him further to Oishinbo, the series that really catapulted food manga into popular consciousness. Let's eat!
― I've spent the last couple of weeks commuting back and forth to the library, in pursuit of a particular manga series. You may remember, from my Monster Girl Hoedown column, that I'm quite fond of levera...
The Gods Lie is a bittersweet coming-of-age story about two children finding solace in each other told in a quiet, understated style that tugs gently at your heartstrings without going overboard.
― There are many different kinds of lies: small ones, harmful ones, and, most insidious, the ones you desperately want to believe. There comes a point during growing up when you begin to understand that last...
They said it couldn't be done, but when asked to compile a list of monkeys in anime, you simply can't have less than twelve, including Dragon Ball Z, Blood Blockade Battlefront and much more!
― Our regular list-maker extraordinaire, Lynzee Loveridge, is going on hiatus for a couple weeks, so I'll be filling in while she's away. My name's Jacob Chapman, and this week, I've got monkeys on my mind. Why...
The second volume of Arina Tanemura's magical woman story brings us into the past and mind of the series' de-facto mascot character, Tokita, as she continues to play with the magical girl genre.
― Why is Tokita helping Chikage to relive her adolescence? Volume one of Arina Tanemura's magical woman story implies that it's just because she was his first love back in the 9th grade, but is that really en...