Yu-Gi-Oh! 5D's (GN 6)
---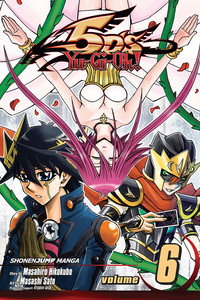 Title:
Yu-Gi-Oh! 5D's
Volume:
GN 6
Pages:
208
Distributor:
Viz Media
Release date: 2014-09-02
Suggested retail price: $9.99
Age rating: 13+

ISBN-10: 1421569191 1421569191
ISBN-13: 9781421569192 9781421569192

Description:
Goodwin's plan to revive the Ultimate God moves forward as he sets up a match between Akiza and Sect that mirrors a fateful duel five thousand years ago! Yusei has gathered all the Star Tickets and entered the Duel Gate.​ Even if he can find his friend Sect,​ he still has to get past the Skeleton Knight,​ and if he does,​ will he have the strength to face the Ultimate God?​

Story by Masahiro Hikokubo and Art by Masashi Sato.​
(added on 2013-11-14, modified on 2013-11-14)
Beach episodes are a time-honored cliche, but most of the time, they're only fanservice-infused filler. Here are seven that manage to do a little more than that.
― Hi readers! I'm writing to you from the from the future for this Labor Day-inspired column this week. I've been writing this column for three years now, with a total of 142 installments. Also, by the time you're reading this, I'm getting ...
Komomo Confiserie takes a while to get going in a first volume that suffers from a hero and heroine who aren't as likable as they could be.
― Readers of Maki Minami's other English-translated works, Voice Over! Seiyuu Academy and Special A, may be surprised by her latest heroine. Where the stars of those previous two series were poster girls for the plucky, determined protagonist, Komomo Confiserie's...
Interested in dating a monster girl but don't know where to start? Our handy guide to the world of monster ladies will help you select the perfect mate while avoiding her crushing death coils or venomous fangs!
― The non-human ladies of Monster Musume have gotten a lot of attention this season, but actually dating a monster girl seems like quite a challenge. In the unlikely event that you find yourse...
The Legacy Collection ably captures Mega Man's first great heights as well as his slide into mediocrity, and even that mediocrity is enjoyable.
― Mega Man wasn't meant to survive. As longtime series producer Keiji Inafune relayed, Capcom's heads initially didn't want to make a sequel to the original 1987 Mega Man. They were content to leave it an impressive but not particularly profitable stand-alone...
The Phantom Pain takes Metal Gear Solid into the open world, but loses some of the series' essential personality in the process. Also: there's a dog.
― Snake (aka "Big Boss") wakes up from a nine-year coma in 1984 with blurry vision and the lo-fi crackle of David Bowie's The Man Who Sold the World blaring from a nearby boombox. The beginning of The Phantom Pain burdens this weakened Snake, and his pl...
Before Free!, before Uta no Prince Sama, before fujoshi merchandise filled every anime shop in Japan, there was Ouran High School Host Club, which secretly established an entire genre. Rose Bridges finds out how.
― I like Free! a lot. I started watching it between classes in the summer of 2013, and it helped me relax and adjust to the new semester. Many people who aren't part of Free!'s target audien...
This week, we go importin' with Super Robot Wars, Ray Gigant, and Luminous Arc! Plus the next Ace Attorney, a Cave shooter comeback, and new reasons to complain about Street Fighter!
― Nintendo has a depleted lineup for this holiday season, with a new Star Fox, Yoshi's Wooly World, and Xenoblade Chronicles X occupying space that normally would go to a new Mario or Zelda game. Of course, Nintendo has...
Wish Upon the Pleiades is a classically styled magical girl story sponsored by Subaru. Don't worry - it's actually quite good.
― There have been some strange production team-ups in entertainment history, and Wish Upon the Pleiades is one of the latest: a magical girl show co-produced by famed anime studio Gainax and Subaru. That's "subaru" as in the car company, and no, the show is not about magical ...
It's the end of an era as Bamboo passes the torch to a new generation of Shelf Lifers. PLUS: reviews of Patlabor 2, Vampire Hunter D, and .Hack//G.U.
― Dear readers... it's been a good ride, but I'm saying good-bye once again. After writing for Anime News Network for half my life, I am bidding farewell to my dear column, as well as any opinion-related content on the site. While I will deeply miss wo...