The Tokyo Project (DVD)
---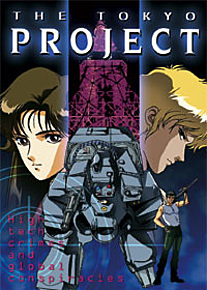 Title:
The Tokyo Project
Volume:
DVD
Running time:
50
Distributor:
Media Blasters
Release date: 2001-11-13
Suggested retail price: $24.95
Age rating: 16+

SKU: AWDVD-0122
UPC: 631595012279 631595012279

Description:
Keiko, Junpei, Akira and Kumiko make up the Rutz Detective Agency. When a mysterious floppy disk lands in their possession, the team gets involved in a high stakes game of political espionage and military secrets. The disk contains data on a deadly new secret weapon, and enough sensitive information to put several high-ranking politicians in hot water.

The Rutz Detective Agency isn't one to back down, however. With their sharp minds and fast guns, they're ready for anything from government thugs to AI controlled super weapons.

Spoken Languages: English, Japanese, English subtitles.
(added on 2001-08-09, modified on 2002-01-12)
Being surrounded by sexy love interests might seem like paradise to some, but one fan's heaven is another fan's hell. Here are seven harems with no good apples to choose from!
― Harem anime is a well-established romance sub-genre, and while most incarnations these days put our hero into a magical world outside of his own, romance options have spanned trains, transforming soda cans, and potential lit...
UQ Holder's ninth volume makes the most of its prolonged training arc material. Nick Creamer weighs the pros and cons of Ken Akamatsu's latest series.
― UQ Holder has always been an inherently strange shounen property. With its focus on a team of heroes who are all gifted with some form of immortality, the manga has at time had trouble offering compelling opponents for its protagonists. And main char...
Could Netflix's influence solve the many production and salary woes plaguing the anime industry? Justin considers the angles.
― Earl asks: The trailer for the new Castlevania anime came out today and my coworkers and I were remarking on the animation quality. It's an American production (despite what I thought initially), but it got me thinking... Would Netflix-style contracts/production be a way ou...
From fearsome warriors to gluttonous goofballs, Attack on Titan's cast is filled with a variety of colorful female characters. Rose Bridges explains what makes its cast of ladies so unique.
― Spoiler Warning: This article contains spoilers for the Attack on Titan anime up through episode 31, and also vaguely alludes to events from the Attack on Titan light novel "Lost Girls." Since the first season's...
Zac, Jacob and special guest Gabriella Ekens stitch their brains together for a deep dive on the entirety of PSYCHO-PASS - both seasons (yes, both seasons) and the film.
― ANNCast Episode 297 - Psycho-Pass Zac, Jacob and special guest Gabriella Ekens stitch their brains together for a deep dive on the entirety of PSYCHO-PASS - both seasons (yes, both seasons) and the film! You can listen to the show...
Miss Hokusai demonstrates the power of articulating life as it is lived, presenting a rich portrait of both its historical moment and its charming heroine.
― The great painter Hokusai is one of the most famous and internationally renowned artists in Japanese history. Responsible for works as recognized as The Great Wave off Kanigawa (itself an element of the vastly influential 36 Views of Mount Fuji)...
The world-famous composer behind the music of Silent Hill discusses his long career making scary games scarier, along with his latest, the score for Let It Die.
― Japanese composer Akira Yamaoka, renowned for his work on Silent Hill's soundtrack, attended this year's Granada FicZone. He's also credited for many other video game scores such as Shadows of the Damned, Lollipop Chainsaw, and Killer Is De...
An ancient Fire Emblem game from the depths of the Famicom library gets resurrected on the 3DS - but is it worth your time? PLUS: Mario's got a gun, Netflix for games and much more!
― If you've followed this column for a while, you've probably noticed that I've got a taste for a lot of the games Nintendo puts out. Yet I've never delved deep into Fire Emblem. I played the first Western release when it...
This princess is more interested in actually ruling and political intrigue than finding a prince in this first volume of Aya Shirosaki's shoujo manga. Rebecca Silverman has the details.
― Gleam is the second manga release from e-publisher Cross Infinite World (the first being Little Hero), and a totally different bird from their usual fare. Where before all of their series featured ordinary girls bei...
Nobody expected the titans to be felled by tanuki - The Eccentric Family slides into #1! See how your favorite shows fared in our weekly user rankings!
― Our team of reviewers are following 27 anime series of the Spring 2017 season and readers are rating each episode as the reviews go up. So let's have a look at what ANN readers consider the best (and worst) of the season. Keep in mind that these ra...
Anime on bluray sometimes looks very different from the way we might remember it - Justin explains how it's a little less scientific than we might think.
― Stanley asks: I have a technical question about Blu-ray transfers, particularly the film to Blu-Ray ones. I've been starting up a Blu-Ray collection recently and was looking at some comparison screenshots from a lot of classic anime titles and fi...
After 25 years of OVAs and spinoffs, is there "no need for Tenchi" after all? Theron Martin runs down the franchise history and what still stands out after so many other harem series have come and gone.
― When it comes to convoluted anime franchises, few short of Gundam can rival the endurance of the Tenchi Muyo! franchise. Over the course of 25 years, it has spawned two main 26-episode TV series, th...
This series brings the gore, sex, and action at full volume, but does it have enough substance to balance out the madness? Rebecca Silverman weighs in.
― Murciélago, which is Spanish for "bat," is definitely one of the darker stories to come out recently. It follows the gruesome, and occasionally sexy, adventures of Kuroko Koumori, a slightly-reformed mass murderer as she works for the Metropolitan P...