Saiyuki - Following the Scriptures (DVD 11 of 12)
---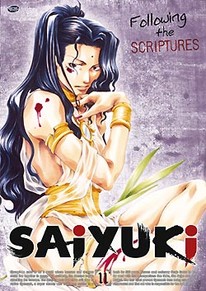 Title:
Saiyuki - Following the Scriptures
Volume:
DVD 11 / 12
Running time:
100
Distributor:
ADV Films
Release date: 2004-06-22
Suggested retail price: $29.98
Age rating: 15+

SKU: DSY-011
UPC: 702727071027 702727071027

Description:
Free from the restrictions of Heaven, Homura and his team of dissenters have indulged in a little fun at the expense of Sanzo and crew. Now they've decided to get serious about stealing the founding scriptures of Heaven and Earth. Homura provides Sanzo an ultimatum: Turn over the Maten Scriptures he carries by morning or else!

DVD Features: Saiyuki trailer, Japanese opening and closing animation, cultural background notes, production sketches, bonus poster and previews.

Spoken Languages: English, Japanese, English Subtitles.
(added on 2004-04-16, modified on 2004-04-16)
While this book makes a fine treat for Monogatari diehards, it might not be the best place to start the franchise. Nick Creamer explains.
― It's something of a truism in fandom circles that "the original is always better." Whether it's your favorite comic being adapted into a TV series, or your favorite novel being adapted into a film, the source material generally earns a kind of assumed reverence. ...
Beyond the many anime set in fantasy worlds and high school, some series cover an enormous swath of Japan's history in ways both mundane and fantastical! Plus, vote on next week's List subject in this week's poll!
― Hmm, yes. It's about time for the "con crud" to kick in. Sadly, I am laid up with some sort of horrid nauseous stomach that I wouldn't wish on my worst enemy. In place of a new list, I p...
School-Live's mix of cute girl moe and zombie survival horror continues to make it a stand-out of both genres. Rebecca Silverman explains how these three volumes differ from the anime's conclusion.
― It's been clear that the anime adaptation of School-Live! differed from its source material for a while now, and two of these three volumes continue to make that evident – books four and five were covere...
Closed captioning the mountains of anime you see on streaming services is no small task; Justin Sevakis explains what goes in to making sure people can read their anime.
― For years, dubbed anime programming has been shown on video streaming services in the US – but without closed captioning for the hearing impaired. While both anime publishers and streaming providers knew that this wasn't ideal for ...
Just what kind of hours do manga artists keep and how much do they get paid? Justin explains it all.
― Fredrik asks: Given how I've noticed that there is an unfortunate pattern of some manga authors dying at young ages, that has lead me to wonder: what is the lifestyle of a mangaka actually like? Generally, is writing/drawing their main source of income, or is writing only a side-job for most author...
Koichiro Ito has been there with Makoto Shinkai on every one of his films since 2003. We asked him what it was like working with Shinkai, and if success will change CoMix Wave.
― Producer Koichiro Ito has been working alongside director Makoto Shinkai at CoMix Wave Films Inc. for more than a decade. He's been there, deep inside the creative process, for each one of Shinkai's films since Voices of A D...
Zac and Jacob take on Sakura Quest, Re:Creators, Nier: Automata, and a special trip down VHS fansub memory lane.
― ANNCast Episode 294 - Zacura Quest Zac and Jacob take on Sakura Quest, Re:Creators, Nier: Automata, and a special trip down VHS fansub memory lane. You can listen to the show on our player here, direct-download the MP3 version here, check out the show on Stitcher here, and we're also on...
The Spring 2017 Anime Preview Guide Simuldub Edition has begun!
Available Now: Akashic Records of Bastard Magic Instructor - Love Tyrant - Attack on Titan Season 2 - My Hero Academia season 2
― Welcome to Anime News Network's Spring 2017 Preview Guide! Here's how it goes: our team of critics write up their impressions instantly and they get posted as they go along. Each critic will cover as many sho...
Crunchyroll's first Anime Movie Night event kicked off with a Kabaneri double feature! Theron Martin has the details on the screening itself and how these movies stack up to the TV series version.
― Film compilations of anime series aren't that unusual; a number of series have gotten them over the years, from Blue Gender and Kiddy Grade back in the day to Madoka Magica and Overlord more recently. How...
Take a tour through the incredible background art of PA Works' Kazuki Higashiji, whose brilliant backdrops brought life to Angel Beats, Nagi no Asukara, Charlotte and more!
― In March 2017, PA Works sponsored a gallery exhibition in Akihabara of the art of Kazuki Higashiji, renowned art director and background artist on shows like A Lull in the Sea (Nagi no Asukara), Charlotte, Tari Tari, Hanasaku I...
It's Tetris! It's Puyo Puyo! It's charming as heck, that's what - Dustin takes the Switch's new competitive puzzler out for a spin. PLUS: Night Trap and Vanquish rise from the grave, and much more!
― Let's not beat around the bush here, folks. There is precisely one important thing to talk about this week, and that is the end of our long national nightmare—Puyo Puyo Tetris is finally out in the West....
Yato and his ragtag gang return in Noragami's long-awaited second season! Theron Martin explains why this next leg of the story made a much bigger splash than the first.
― The first season of the Noragami manga adaptation got off to a strong start with its story about a girl who finds herself associating with various Japanese gods and the Regalia who serve them, but it floundered later with an anime-...