RahXephon Theatrical Movie - Limited Edition (DVD)
---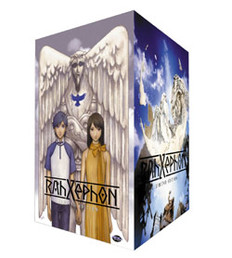 Title:
RahXephon Theatrical Movie - Limited Edition
Volume:
DVD
Running time:
120
Distributor:
ADV Films
Release date: 2004-07-20
Pre date: 2004-06-22
Suggested retail price: $44.98
Age rating: 15+

SKU: DRX-BX2
UPC: 702727094729 702727094729

Description:
Contains the RahXephon Theatrical Movie plus a 54 page insert booklet and an Artbox meant to hold all 7 volumes of the series plus the movie!

Return to the world of RahXephon, where humans and Mu fight for dominance over a shattered Earth, and giant statues are the ultimate weapons. Where music forms the fabric of the universe and the link between two hearts is the thread upon which the fate of humanity hangs. It is still a love story, but it is not the same story. Not exactly. Prepare for new visions and new revelations, as the other side of RahXephon is finally revealed.

DVD Features: Previews.

Spoken Languages: English, Japanese, English Subtitles.
(added on 2004-05-11)
Marketing specialist for Aniplex of America EJ Rivera drops by the show to chat all things Aniplex, including some sales numbers, upcoming releases, and those pesky prices people love to fight about.
― ANNCast Episode 223: Aniplex Machina Get the Flash Player to see this player. Marketing specialist for Aniplex of America EJ Rivera drops by the show to chat all things Aniplex, including some sales n...
Please take a few minutes to answer our annual reader-survey. The information is very helpful to us.
Justin takes on the backlash over simulcast subtitle quality. Then, why anime studios change in the second season of a show, what happens when a US publisher gets the rights to release something elsewhere, and more.
― After last week's column was posted, I got some grief on Twitter from a handful of readers, who were incredulous that I had such high praise for the staff that works on simulcast subti...
The Grand Magic Games heat up as unscrupulous contenders make the fights more dangerous while ominous powers move behind the scenes. Can Fairy Tail still come out on top?
― Fairy Tail has successfully made the standard shounen tournament arc into something that, if not precisely new, is still interesting even as it maintains the genre standards of increasingly powerful battles and hidden powers. Inde...
If you were ever curious what life was like for the woman who created Princess Jellyfish, Jason has the manga for you.
― Kakukaku Shikajika "I want to go back in time and beat up that moron." —Akiko Higashimura, and many other artists, talking about their younger self Few artists "live the dream" of becoming a professional when they're still a teenager. When I was a kid I dreamed of being a horror a...
Rising from the dusty wastes of 2002, the grim embodiment of tragedy porn known as Saikano has returned to DVD. Run for your lives.
― In television writing there's an old adage about manipulating the emotions of your audience; there are various permutations on it, but the most common one is known as "kicking the puppy". This refers to a hypothetical situation in which a writer, desperate to wring som...
This week: part two of Global Gamers Day with Godzilla, Tales, and manga stars! Plus Amnesia: Memories, Tokyo Xanadu, and your chance to pick your GameArts favorites!
― GameArts doesn't make much noise these days. GungHo Online Entertainment took over the company years ago, and they seldom bring up the Lunar games, the Grandia series, Thexder, GunGriffon, or any GameArts series other than Ragnarok O...
Straight from your childhood and the pages of Nintendo Power, Manga great Shotaro Ishinomori puts his own spin on the classic Nintendo game.
― Link, that pantsless elven hero of many a video game, is back from the dead pages of Nintendo Power Magazine! For fans of the Nintendo franchise The Legend of Zelda who were either not subscribing to the Nintendo Power Magazine in 1992 or are not familiar with...
These guys are releasing the soundtrack to Yoshiaki Kawajiri's classic horror flick Wicked City on vinyl. We sat down to ask them why.
― Tiger Lab Vinyl recently announced that they'd be releasing the soundtrack to the classic Yoshiaki Kawajiri horror anime Wicked City on limited edition vinyl. They're the first record label to release classic anime soundtracks on the resurging format, and we sat dow...
A story about hope that travels through space and time.
― Wish upon the Pleiades Visit the Official Site › Story Characters Trailer Cast & Staff Gallery Broadcast Begins April 2015 (JST) Key Staff Director: Shoji Saeki (FLCL (OVA), Medaka Box Abnormal) Character Design: Mai Otsuka ( Astarotte's Toy, Hanamaru Kindergarden) ↑ Top Story Subaru is a junior high student that loves the stars. One day, aft...
Trigger's chuuni-drenched follow-up to Kill la Kill struggles to get out of that hit show's long shadow.
― When Supernatural Battles Became Commonplace is many things. Firstly, it's a light novel adaptation, as its lengthy title might indicate. It has the familiar marks of the genre: chuunibiyou characters with insights into how they tick, goofy school antics and a harem for the main male chuuni. Yet...
A harrowing story of survival, police, danger, high speeds and car wrecks involving a giant mecha, playing out in real life the streets of Los Angeles!
― Welcome to "Tales of the Industry," a column where we will share stories from real working professionals in the anime business. This week, we have another anonymous tale contributed by a current or former members of the industry, with details chang...
ST☆RISH and QUARTET NIGHT will put it all on the line for a chance to perform at the international sports festival!
― Utano☆Princesama Revolutions Visit the Official Site › Story Characters Trailer Cast & Staff Gallery Broadcast Begins April 2015 (JST) Key Staff Director: Makoto Hoshino (Uta no Prince-sama 2000% episode director (eps.1,7,12), Sword Art Online episode director (eps. 7,20)) Series Com...
Alice Cartlet, Shinobu Omiya and friends are back for another season of high school comedy fun!
― Hello!! KINMOZA Visit the Official Site › Story Characters Trailer Cast & Staff Gallery Broadcast Begins April 2015 (JST) Key Staff Director: Tensho (The Fruit of Grisaia ) Series Composition: Yuniko Ayana (Ground Control to Psychoelectric Girl, Locodol) ↑ Top Story Alice Cartelet, 16 years old. A Briti...