Urusei Yatsura: Remember My Love (DVD)
---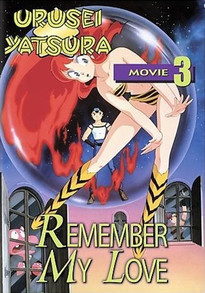 Title:
Urusei Yatsura: Remember My Love
Volume:
DVD
Running time:
93
Distributor:
AnimEigo
Release date: 2004-09-07
Suggested retail price: $24.98
Age rating: 13+

SKU: ANMDV-433
UPC: 737187004339 737187004339

Description:
It seems that when Lum was born, a postal screwup resulted in a witchy friend of the family not getting an invitation to the celebration. The witch put a curse on Lum - that she would never be happy with her True Love.

In the present, a new Amusement Park has been built in Tomobiki, and opening day finds the whole gang sampling its pleasures. At a magic show, however, Ataru gets turned into a large pink hippo-potamus... FOR REAL!

When Lum attempts to track down the magician that transformed her Darling, things start to get very weird, very fast!

Spoken Languages: English, Japanese, English Subtitles.
(added on 2004-07-18, modified on 2004-07-18)
You hear the phrase around anime promotional images all the time - "key art". What is key art, and what purpose does it serve? Justin gets into it.
― Mason asks: Oftentimes, in the weeks or months leading up to a new anime premiere, there will be a promotional video as well as what's referred to as a 'key visual' released. While a promo video seems to make sense, what's the point of a key visual? Wh...
Erased's first omnibus gives us a lot more detail than its animated adaptation as it kicks off the time travel mystery.
― We all have that incident, the one we wish we could change. It might be a tiny little statement or a major catastrophe; whatever it is, there's a vague wish that we could relive the moment in order to prevent it from happening, a certainty that if that one thing changed, everythin...
It might be hard to believe it, but this is the final episode of Naruto Shippuden! The show's creative team rallies for the big finish - find out how it all wraps up before Boruto arrives.
As the top and bottom of the list solidify, it's a race to fill in the great gap between Rakugo Shinjuu and Hand Shakers. Find out how your favorite shows stack up this week!
― Our team of reviewers are following 27 anime series of the Winter 2017 season and readers are rating each episode as the reviews go up. So let's have a look at what ANN readers consider the best (and worst) of the season. Kee...
Dustin dives into the monster-slaying open world of Toukiden 2, which some say is "Monster Hunter for people who can't get in to Monster Hunter". PLUS: Bloodstained and much more!
― I did not finish Zelda this weekend. Instead, I played through Nine Hours, Nine Persons, Nine Doors in its entirety. That wasn't my intention—I'd started it purely to say a few words on the soon-to-be-released PC port—but...
The pacing is rushed as Assassination Classroom hustles towards its endgame, but even that can't really bring this series down.
― With the March deadline for Koro-sensei's assassination looming ever-closer, the stakes are getting higher for Class E. But what does that mean, exactly? Yes, they're running out of time to kill their tentacled teacher, but they're also going to have to somehow make a chan...
How much do Japanese fans care about what Western fans love? Justin gets into it.
― Will asks: Do Japanese citizens pay much attention to the trends, adaptations and popularity of their media exports or is this just a particular case where they are out of the loop? Do they talk about how anime, manga, tokusatsu, etc do overseas at all? Japanese consumers generally don't care very much what goes on i...
Ghost in the Shell was adapted into a film radically different from the source material once before - so what makes that adaptation work, and which version of the character is the 'real' one?
― If you look at the credits that have been released for the upcoming live-action version of Ghost in the Shell, Mamoru Oshii's name doesn't appear anywhere on it. The clue only that this film is an adaptation ...
The isekai genre goes from swords and sorcery to pencils and paper pushing in this story about an economics student summoned to a fantasy world who becomes a very different kind of hero.
― Have you ever wondered why more of those heroes and heroines summoned to other worlds don't put their knowledge of modern life to work? Sure, in some stories the characters don't have that luxury thanks to convenie...
The first two Zero escape games finally come to PC, with a new ending for 999 - 9 Hours, 9 Persons, 9 Doors. Dustin takes these new ports for a spin.
― The Zero Escape games saw an inauspicious start in 2009 with Nine Hours, Nine Persons, Nine Doors—otherwise known as 999—a mystery slash sci-fi visual novel for the original DS. Coming after a wave of successful adventure game-meets-visual novel hybri...
Things at the office go one shenanigan too far for Luna when Perry offers his expertise where it might not be wanted...
―
Magia the Ninth makes a valiant effort to combine classical music and exorcist action, but it stumbles more than succeeds in these poorly paced volumes. Rebecca Silverman explains what went wrong.
― They say that music soothes the savage beast, but rarely is that taken quite so literally as in Ichiya Sazanami's two-volume manga series Magia the Ninth. The premise of the story will be vaguely familiar...