Munto (DVD)
---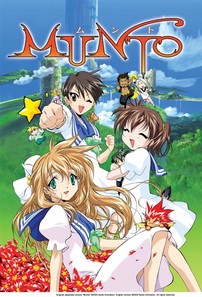 Title:
Munto
Volume:
DVD
Running time:
50
Distributor:
Central Park Media
Release date: 2004-11-09
Pre date: 2004-10-11
Suggested retail price: $19.99
Age rating: 13+

SKU: USMD-2452
UPC: 719987245228 719987245228

Description:
Second sight is a curse for Yumemi, a psychic schoolgirl who just wants to be normal. But she's about to discover the true value of her gift, when Magical King Munto arrives in her world, with enemies in hot pursuit! Munto's realm is linked to ours by magic, but that power is fading, and his world is on the brink of death. Yumemi is the only Earthling with the power to save his people…if she can only find the courage to use it!

DVD features:
Art gallery
Character sketches
Backgrounds
Japanese trailer
Japanese TV warning with SD (super-deformed) characters
Anime and graphic novel previews
(added on 2004-08-10)
Zac and special guest Dawn from the Anime Nostalgia Podcast reveal their undying love for Rumiko Takahashi, titan of manga, creator of timeless classics like Urusei Yatsura, Ranma 1/2 and more.
― ANNCast Episode 300 - Rumiko Talkahashi Zac and special guest Dawn from the Anime Nostalgia Podcast reveal their undying love for Rumiko Takahashi, titan of manga, creator of timeless classics like Urusei Y...
We're not used to smash hit anime coming from China, but they have a bonafide success in The King's Avatar - here's everything you need to know about the phenomenon.
― It seems fair to say that every country has its own basic style or flavor of animation. When we think of Asian animated works, most of us go immediately to anime, the Japanese variant, and it certainly is among the most prevalent and a...
Ten years before Princess Elizabeth set out to find Meliodas and the other Sins, her older sister Margaret and Gilthunder struggle to keep a terrible secret in this prequel to The Seven Deadly Sins. Rebecca Silverman investigates.
― If you're a casual fan of Nakaba Suzuki's manga The Seven Deadly Sins or its anime adaptation, you should be aware that this novel is intended to be read either after the...
Attack on Titan races up the charts as the Spring anime season closes out! How did your favorite anime fare in our weekly user rankings?
― Our team of reviewers are following 27 anime series of the Spring 2017 season and readers are rating each episode as the reviews go up. So let's have a look at what ANN readers consider the best (and worst) of the season. Keep in mind that these rankings are base...
Dustin goes a few rounds with Nintendo's noodle-armed fighting game for the Switch just in time for the summer. PLUS: Konami controversy, Rap Rabbit's demise, Sega Forever and more!
― Even covering it from the comfort of a home office, the sheer volume of E3 was positively exhausting. My heart goes out to the poor writers in the trenches, and even more to the poor fans who paid money for the mostly u...
Is this slice of life comedy about convenience store candy a sugar rush worth indulging, or is it just as frivolously forgettable as its subject matter? Nick Creamer finds out.
― Anime has already offered us long-running dramas about baking bread and entire franchises predicated on idols fighting interstellar wars, so it's tough to be surprised by basically any premise these days. Slice of life in pa...
Ever since one Pokemon episode caused an unanticipated medical emergency, there have been viewer warnings in front of many anime on TV. Why are they starting to go away now?
― Chris asks: Back in the day, after that infamous episode of Pokémon gave viewers seizures, many anime would start with an on-screen warning to watch with the lights on and at a safe distance from the TV. A bunch of my late-90'...
Your complete guide to through the best (and the worst) theatrical feature films the Gundam franchise has to offer.
― Spanning 38 years of giant robot battle action and space opera drama, the Gundam franchise has remained hugely popular. It is also, to put it simply, huge. Between TV series, OVAs, and movies, hundreds of hours of anime bearing the Gundam name has been produced. It's a lot to take in,...
Have no fear, for the Limited Edition blu-ray of My Hero Academia is here! Nick Creamer revisits the strengths and weaknesses of this first season alongside its extras-packed home release.
― Debuting just three years ago, My Hero Academia has swiftly become one of the headline manga of Shounen Jump, a rip-roaring adventure elevated by strong art, charming characters, and consistent mastery of battle ...
The biggest shows of the Spring season pull out their biggest twists and bloodiest climaxes this week, but some are more successful than others. From Re:Creators to Kado The Right Answer, Nick and Micchy cover this gory week in anime!
― Previous Weeks in Anime Week 1 - Week 2 - Week 3 - Week 4 - Week 5Week 6 - Week 7 - Week 8 Nicholas Dupree got into anime in high school, and manga even earlier. From...
Maybell discovers that Artist's Alley is a lot more brutal than she might've been expecting.
―
The Mahouka movie has just landed in theaters, and Kim Morrissy has an inside scoop! Is this original story worth checking out for longtime fans or even newcomers?
― When the TV series of The Irregular at Magic High School first aired in 2014, its highly technical magic system and overpowered protagonist proved to be polarizing. The anime's dry visual presentation and clumsy pacing only made it more ...