Giant Robo - The Day The Earth Stood Still (DVD 3 of 3)
---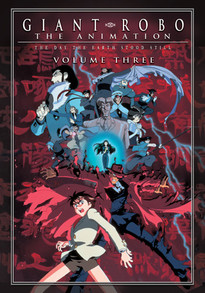 Title:
Giant Robo - The Day The Earth Stood Still
Volume:
DVD 3 / 3
Running time:
110
Distributor:
AnimeWorks
Release date: 2005-03-29
Pre date: 2005-01-04
Suggested retail price: $29.95
Age rating: 13+

SKU: AWDVD-0510
UPC: 631595051070 631595051070
ISBN-10: 1586556061 1586556061

Description:
Delayed from 2005-02-08

Isn't there anyone who can stop the Sphere of Vogler? After their last encounter, the remaining Experts of Justice prepare for one final rush against Genya and the massive anti-Shizuma machine.

Meanwhile, infighting among the enemy comes to a head with the appearance of Big Fire himself, along with his three mystic guardians. With the help of Murasame the Immortal and the memories of all those lost along the way, the Experts bet life as they know it on Giant Robo and Daisaku. With the last of their strength, they bring an end to the seven days that no one will ever forget!

Spoken Languages: English, Japanese, English Subtitles.
(added on 2004-10-28)
Kirito's adventures continue in Reki Kawahara's second Progressive novel, which delves into the mechanics of the game much more than the show ever did.
― The second volume of Reki Kawahara's ambitious reimagining of Sword Art Online offers plenty of intriguing content, but perhaps none more so than its Afterword. In the Afterword for the first volume, he mentioned an intent to average about two floor...
Everyone loves fanservice - except, as the common wisdom goes, anime critics. Paul Jensen dismantles this age-old assumption with a recipe for how good fanservice can make a cool show even better.
― Speaking as both a fan and a critic, I'm of the opinion that fanservice is like a spice; just the right amount in the right recipe and it's fantastic, but too much overpowers the dish. Not every anime ser...
This week: a chat with Final Fantasy XIV producer Naoki Yoshida! Plus Exist Archive, Red Ash, Dragon Quest, and a classic wonder-world!
― Some loyal readers may be tired of hearing about Red Ash, Keiji Inafune's Kickstarter attempt to relaunch Mega Man Legends in just about everything but name and storyline. You must forgive me, as I really enjoy the Legends games and want to see more in their gener...
Hotaru Tachibana is introduced to the survival game world by an eccentric group of friends who may have what it takes to be the best team in Japan.
― AOHARU x MACHINEGUN Visit the Official Site › Story Characters Trailer Cast & Staff Gallery Broadcast Begins July 2, 2015 (JST) Key Staff Director: Hideaki Nakano (Golden Time Episode Director (Eps.7), Yatterman Night Episode Director (Eps.2) ) Series ...
The screenwriter behind the original 2003 Fullmetal Alchemist sheds some light on that show's deeper meaning, and talks about his latest project for the fall 2015 season, Concrete Revolutio.
― Screenwriter Shou Aikawa scarcely needs an introduction; he cut his teeth during the OVA boom of the 1980s, working on titles like Angel Cop, Dangaioh, Blood Reign: Curse of the Yoma and more. As a television w...
I hope you like the '90s not only because this show is the most '90s thing ever, but also because it just doesn't have a whole lot else going for it.
― Bubblegum Crisis Tokyo 2040 definitely has an aesthetic. Now, whether it has a good aesthetic or not, that's the question. I hope you like the '90s. Bubblegum Crisis Tokyo 2040 is intensely, aggressively '90s, from its tone to its overall aesthetic to...
This week we get athletic with Ping Pong the Animation and Wanna Be the Strongest in the World.
― Jump to this week's reviews: Ping Pong the AnimationWanna Be the Strongest in the World! On Shelves This Week 009 Re: Cyborg BD+DVD Funimation - 104 min - Hyb - MSRP $34.98Currently cheapest at: $20.14 Amazon Synopsis: Long ago, nine humans were captured and weaponized into cyborgs. However, they rebell...
Otakon may have wrapped for 2015, but here's your chance to check out hundreds of incredible cosplay photos from the weekend.
― Click here for page 2 of our Otakon 2015 cosplay gallery! IMG otafri001.jpg IMG otafri002.jpg IMG otafri003.jpg IMG otafri004.jpg IMG otafri005.jpg IMG otafri006.jpg IMG otafri007.jpg IMG otafri008.jpg IMG otafri009.jpg IMG otafri010.jpg IMG otafri011.jpg IMG otafri012.jpg I...
The voice behind Madoka Magica's Kyoko Sakura and an enormous list of other fan favorite characters chats with us about her life, her hobbies, and her technique.
― Ai Nonaka is a veteran voice actress, having gotten her start in 2002 in shows like Kinnikuman and Platonic Chain; you likely know her as the feisty Kyoko Sakura from the smash hit Puella Magi Madoka Magica, but she's also well-known for h...
Earth and Mars go to war in the first volume of creator Gen Urobuchi's sci-fi action hit, now in English and loaded with extras, but is this 6-episode single release worth the investment?
― What sets people apart from each other? That's a question that gets asked almost everyday, with various answers like "color," "religion," or "country of origin" all getting tossed around. In the world of Aldnoah Z...
Fresh from his panel at Otakon, Mike runs down the absolute worst anime he's ever seen, and wonders what you might consider to be worse.
― Goku and Superman tangle furiously, then get caught up in a tender embrace; bystanders swarm them, holding up mobile phones to capture the moment. A massive line of kids, teenagers, and adults in an assortment of wigs, hats, and other odd clothes starts moving, it...
Tokyo Ghoul's second volume slows down the pace a little to examine what happens when the line between "monster" and "human" gets a little blurry.
― One of the greatest tropes in horror literature is the fear that the monsters might look just like us. I call it a trope due to its widespread use, but it remains an effective one, and in the second volume of Tokyo Ghoul, Sui Ishida takes that device and...