Wild Com (GN 01)
---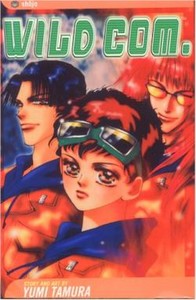 Title:
Wild Com
Volume:
GN 01
Pages:
192
Distributor:
Viz Media
Release date: 2004-11-23
Suggested retail price: $9.95
Age rating: 15+

SKU: CTWC-01
ISBN-10: 1591165598 1591165598
ISBN-13: 9781591165590 9781591165590

Description:
Psychic Squad Wild Com finds its lead character struggling with the denial of her psychic abilities – powers that could spell life or death for those around her. The Beasts of June is a poetic tale of urban violence, of two free spirits caught in corruption's heartless grasp. Finally, The Eye of the Needle provides a shocking thriller wrapped in the guise of a fame-twisted romance.

Tough, intense, and thrilling, WILD COM. offers three distinctly different tales from the master of shojô action.
(added on 2004-11-22)
The screenwriter behind the original 2003 Fullmetal Alchemist sheds some light on that show's deeper meaning, and talks about his latest project for the fall 2015 season, Concrete Revolutio.
― Screenwriter Shou Aikawa scarcely needs an introduction; he cut his teeth during the OVA boom of the 1980s, working on titles like Angel Cop, Dangaioh, Blood Reign: Curse of the Yoma and more. As a television w...
I hope you like the '90s not only because this show is the most '90s thing ever, but also because it just doesn't have a whole lot else going for it.
― Bubblegum Crisis Tokyo 2040 definitely has an aesthetic. Now, whether it has a good aesthetic or not, that's the question. I hope you like the '90s. Bubblegum Crisis Tokyo 2040 is intensely, aggressively '90s, from its tone to its overall aesthetic to...
This week we get athletic with Ping Pong the Animation and Wanna Be the Strongest in the World.
― Jump to this week's reviews: Ping Pong the AnimationWanna Be the Strongest in the World! On Shelves This Week 009 Re: Cyborg BD+DVD Funimation - 104 min - Hyb - MSRP $34.98Currently cheapest at: $20.14 Amazon Synopsis: Long ago, nine humans were captured and weaponized into cyborgs. However, they rebell...
Otakon may have wrapped for 2015, but here's your chance to check out hundreds of incredible cosplay photos from the weekend.
― Click here for page 2 of our Otakon 2015 cosplay gallery! IMG otafri001.jpg IMG otafri002.jpg IMG otafri003.jpg IMG otafri004.jpg IMG otafri005.jpg IMG otafri006.jpg IMG otafri007.jpg IMG otafri008.jpg IMG otafri009.jpg IMG otafri010.jpg IMG otafri011.jpg IMG otafri012.jpg I...
The voice behind Madoka Magica's Kyoko Sakura and an enormous list of other fan favorite characters chats with us about her life, her hobbies, and her technique.
― Ai Nonaka is a veteran voice actress, having gotten her start in 2002 in shows like Kinnikuman and Platonic Chain; you likely know her as the feisty Kyoko Sakura from the smash hit Puella Magi Madoka Magica, but she's also well-known for h...
Earth and Mars go to war in the first volume of creator Gen Urobuchi's sci-fi action hit, now in English and loaded with extras, but is this 6-episode single release worth the investment?
― What sets people apart from each other? That's a question that gets asked almost everyday, with various answers like "color," "religion," or "country of origin" all getting tossed around. In the world of Aldnoah Z...
Fresh from his panel at Otakon, Mike runs down the absolute worst anime he's ever seen, and wonders what you might consider to be worse.
― Goku and Superman tangle furiously, then get caught up in a tender embrace; bystanders swarm them, holding up mobile phones to capture the moment. A massive line of kids, teenagers, and adults in an assortment of wigs, hats, and other odd clothes starts moving, it...
Tokyo Ghoul's second volume slows down the pace a little to examine what happens when the line between "monster" and "human" gets a little blurry.
― One of the greatest tropes in horror literature is the fear that the monsters might look just like us. I call it a trope due to its widespread use, but it remains an effective one, and in the second volume of Tokyo Ghoul, Sui Ishida takes that device and...
These six maids will wait on you hand and foot, but are also quite capable of wasting some fools. PLUS: results from last week's Love Live poll and a new Pokemon poll!
― Maids, like catgirls, are an anime staple. Heck, some characters are even both. There's something alluring about the frilly dresses and sworn dedication to their "Master," even if that dedication involves killing a tavern full of gr...
Straight to you from 1966, it's Ultraman! Luckily you don't have to have seen the original TV show to enjoy this surprisingly non-campy sequel to the famous fighter's adventures.
― There's a good chance that readers outside of Asia aren't as familiar with Ultraman as those within it. While the 1966 show is available on DVD in English, it doesn't have the widespread recognition of, say, The Mighty Mor...