Dragon Voice (GN 4 of 11)
---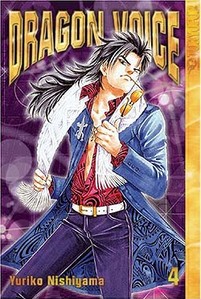 Title:
Dragon Voice
Volume:
GN 4 / 11
Pages:
192
Distributor:
TOKYOPOP
Release date: 2005-05-10
Suggested retail price: $9.99
Age rating: 13+

SKU: MXDGV-04
ISBN-10: 1595321225 1595321225
ISBN-13: 9781595321220 9781595321220

Description:
The Voice Rangers are a big hit, bringing new life to the popular world of internet drama! But when they crash a live performance to gain publicity, will the final curtain go down on their budding careers, or will it set them sailing towards success? Being rock stars is hard work--dance lessons, vocal lessons, interviews, trying to get Red Shoes back on its feet...can the Beatmen handle it all?
(added on 2004-12-30, modified on 2004-12-30)
In Darker Than Black, a new and deadly breed of covert agent walks the streets. Known as Contractors, these assassins and spies wield bizarre supernatural powers to carry out the dirty work of others. They thrive in the underworld, between rumor and reality, their loyalties always in question. One among these operatives is more mysterious than the rest – the masked killer BK201, the Black Reaper....
Gingitsune is a gentle story about a girl who can see her family shrine's spirits and their everyday lives. Is it worth your time?
― Based on the manga of the same name by Sayori Ochiai, Gingitsune is the anime equivalent of snuggling under a favorite blanket in front of the fire – a soft, warm experience that doesn't try to be anything more than it is. Slice of life with a supernatural twist, the st...
This week, monsters that you can vanquish with your smartphone, and the next wave of space pioneers.
- Devil Survivor 2
- Space Brothers v.2
― Jump to this week's reviews: Devil Survivor 2: The AnimationSpace Brothers Collection 2 On Shelves This Week 5 Centimeters Per Second DVD Eastern Star - 63 min - Hyb - MSRP $24.95Currently cheapest at: $15.22 Rakuten Synopsis: Named for the speed at which che...
Hey, Paisanos! Mike finds the secret warp zone to a world full of anime based on classic Nintendo games, for better and worse.
― It's been a Nintendo kind of month for me. My brother surprised me with a Wii U for my birthday, but see, my birthday was in March. Being a perpetually distracted person, I let the damn console sit in the corner of my living room, unopened, for a good six weeks. But May is ...
A boy with a weak heart and a girl with a big one find each other in this charming romance from the author of Toradora.
― It isn't surprising that Evergreen comes from the pen of the woman who wrote both Toradora and Golden Time. There's an underlying layer of humanity to the story that goes beyond its stock characters in the same way her other works do, infusing a little something extra into what is...
These seven folks just can't get enough feline companionship; meow might be the time for an intervention.
― Dogs may be man's best friend, but it's cats that rule the internet. Scientists have gone so far as trying to classifying the key qualities that make up "cat people" and "dog people." Male cat owners are perceived as "nicer" than those who don't own a cat, but also lean more "neurotic." Regard...
Return to Aincrad's early days as Reki Kawahara writes about the start of Sword Art Online, the game of death.
― Reki Kawahara says in his afterward to this first volume of the Sword Art Online Progressive (SAOP) novel series that he was conflicted about bringing Kirito and Asuna together so early in the game. He fears that it will confuse readers and play fast and loose with the mythology establishe...
Friend of the show Brady Hartel joins Zac and Hope for a round of Twitter and live chat questions! Mad Max, Turn A Gundam, Sound! Euphonium and much more!
― ANNCast Episode 227: Nostalgia Thighs Get the Flash Player to see this player. Friend of the show Brady Hartel joins Zac and Hope for a round of Twitter and live chat questions! Mad Max, Turn A Gundam, Sound! Euphonium and much more! You can lis...
Hope Chapman explains why Yasuhiro Nightow and Rie Matsumoto's energetic Lovecraftian action-fantasy gumbo is the finest program of the spring.
― My name is Hope Chapman, and I am a Blood Blockade Battlefront addict. You may have seen this site enabling my addiction every week and wondered just why I'm so excited about this show. It's pretty simple, really. Whether you're an old-time casual fan pinin...
This week, why people STILL go on about 4Kids even though they haven't been a thing in years, whether anime companies change their mind about releases, where anohana went on Crunchyroll, and just what it takes to blow a successful career in anime.
― It's graduation season! Congratulations to everyone who's checking out of their school for a last time. It's a wonderful feeling, isn't it? When I gradu...
When an infant survives being ingested by a Titan, you know his life isn't going to be an easy one.
― How well do you know Attack on Titan? How much do you like adventure novels with a slight science fiction bent? If the answer to the first is "not very" and the second "a lot," then you're in luck – Vertical's translation of Attack on Titan: Before the Fall Novel 2: Kuklo Unbound is an exciting read ...