La Esperança (GN 1)
---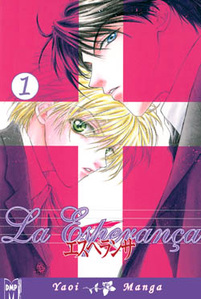 Title:
La Esperança
Volume:
GN 1
Pages:
208
Distributor:
Digital Manga Publishing
Release date: 2005-10-20
Suggested retail price: $12.95
Age rating: 13+

SKU: DMLE-01
ISBN-10: 1569709335 1569709335
ISBN-13: 9781569709337 9781569709337

Description:
In a European school dorm,​ Georges Saphir is admired and loved by everyone.​ However,​ afraid of others doing him harm,​ he has never allowed anyone to get close.​ Why is it then that misfit Robert can effortlessly step over this line Georges has drawn and see right through him?​ And will getting too close to Robert result in a tragedy that justifies his worst fears?​

Story and art by Chigusa Kawai.​
(added on 2005-03-17, modified on 2005-03-17)
Some anime come with 13 episodes (or more) crammed on a single bluray disc - is that really enough space to maintain HD picture quality? Justin gets into it.
― Mike (Toole) asks: How much anime will fit on a single Blu-Ray disc? Is a single BD-50 really enough for 13 episodes of subtitled 1080p anime? How much anime can comfortably fit onto a dual layer Blu-ray in full HD? For those who don't know, ...
James dives into the wacky, innuendo-filled world of Aquarion Evol and does his best to make sense of it all. Plus, all this week's new releases!
― I spent about twenty bucks on an anime figure last week (Eli from Love Live, in case you're wondering), and now I'm fighting to hold myself back from buying more. I used to buy figures on a regular basis, and nothing quite beats that initial thrill of se...
Rose Bridges takes a look at this underrated short gag series from earlier in the year and discovers a surprisingly educational (and filthy) anime like nothing else out there.
― When I was in high school, there was one huge girls' bathroom in the main hallway. For some reason, there was no such equivalent for the guys. This place became a sort of social gathering spot for all the girls in school, reg...
Legends never die, and old stories can always be made new again. Just add robots! Here are a few strange anime takes on memorable classic tales.
― Classic literature is a resource regularly mined for new visual adaptations, whether it's a Jane Austen romance or another mystery starring the unflappable Sherlock Holmes. These stories and their characters are immediately familiar to audiences around th...
Nisekoi's second season comes to a close with no romantic resolution in sight, but is the journey more important than the destination? Theron Martin investigates.
― This release covers the second half of the series – episodes 7-12. This run of episodes is average by franchise standards, including both the weakest entries of the season and one of the strongest. Aside from a sad magical girl parody don...
Most anime may not be as mainstream in Japan as we would like to believe, but what about manga? Does the average working adult really read comics on the train?
― Vithuyan asks: I have heard that manga is very popular among salary-men in Japan, is that true? Yes. Although most of them are not reading Shonen Jump. Seinen manga magazines ("seinen" literally means youth, but in terms of manga demographi...
Zac and Jacob welcome Crunchyroll brand manager Miles Thomas to goof around for an entire hour about Danganronpa, Orange, Re:Zero, cake vs pastry donuts and much much more!
― ANNCast Episode 270: A Thousand Miles Zac and Jacob welcome Crunchyroll brand manager Miles Thomas to goof around for an entire hour about Danganronpa, Orange, Re:Zero, cake vs pastry donuts and much much more! You can listen t...
Deeply influential sci-fi mangaka Tsutomu Nihei talks about his incredible career, and goes in-depth about his most famous creations: Knights of Sidonia and Blame!
― Mecha suits, space motorcycles, morphing space aliens, epic futuristic cities, and talking bears with guns – this and more are the product of the imagination of manga artist Tsutomu Nihei. The creator of mind-bending science fiction seri...
Eren and his Titan-killing pals finally arrive in proper videogame form, with the thrilling ability to zip around on your very own 3D Maneuver gear - but is the rest of the game worth the hype?
― It's been a few years since monster-killing mega-franchise Attack on Titan hit critical mass, and now Tecmo Koei's flagship development team, Omega Force, has been put to the test to deliver an Attack on Tit...
This first volume of Yoko Nagiri's supernatural shojo story is a cut above the pack thanks to its thoughtful take on old tropes. Rebecca Silverman takes a closer look.
― Literature is rife with mildly embarrassing titles obscuring really enjoyable books – just look at the romance section of any bookstore. Yoko Nagiri's That Wolf-Boy is Mine joins their ranks with this first volume. Despite its title,...