Full Moon O Sagashite (GN 4 of 7)
---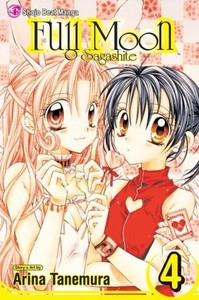 Title:
Full Moon O Sagashite
Volume:
GN 4 / 7
Pages:
192
Distributor:
Viz Media
Release date: 2005-11-29
Suggested retail price: $8.99
Age rating: 13+

SKU: CTFO-04
ISBN-10: 1421501252 1421501252
ISBN-13: 9781421501253 9781421501253

Description:
Mitsuki's love for Eichi has helped keep her alive because she promised that one day she would become a famous singer and meet him again. But lately even the memories of Eichi haven't been enough to keep her spirits up, and when one of the Shinigami lets slip that Eichi has been dead for years, Mitsuki runs away. Will Takuto's confessed love for Mitsuki be enough to convince her to live... or will she follow her first love into death?

Story and Art by Arina Tanemura.
(added on 2005-06-07, modified on 2005-06-07)
An enormous portion of Hulu's anime catalog disappears suddenly on June 1; Justin unpacks why that's happening and what it means for the industry.
― Michael asks: I noticed quite a few anime titles on Hulu expiring in the coming days. From what I can tell, it's more than usual. Do you think this is a sign of Hulu losing interest in anime as a whole and only want to focus on their American television...
Drawn & Quarterly has repackaged Shigeru Mizuki's Kitaro manga for its original audience: kids. It's largely successful in this thrillingly gross and creepy volume, complete with a glossary and games in the back.
― Before Natsume had his Book of Friends or Nate put on his Yokai Watch, there was Kitaro. Shigeru Mizuki's tales of the yokai boy have been popular since their publication in 1960, and tech...
This week: we look at promising developers now sunk deep in the anime-game swamp! Plus a Mighty No. 9 debacle, a returning Square RPG, and a Pac-Man celebration!
― Pac-Man turned 36 years old this May 22, and there are a few ways to celebrate. You can dress up as Pac-Man and run around alleys until the authorities intervene. You can listen to "Pac-Man Fever" and its varied remixes. You can ignore th...
This cute Taisho-set romance blends historical social expectations with a sweet romance devoid of creepy shoujo tropes.
― Despite a title that sounds like a Barbara Cartland novel, The Heiress and the Chauffeur's first volume is a cute Taisho-set tale of fairly basic shoujo proportions. The story follows seventeen-year-old Sayaka Yoshimura and her slightly older chauffeur, Shinobu Narutaki, as they n...
One reader wants to know whether or not non-Japanese people ever actually work directly in the anime industry - Justin runs down all the various ways they do.
― Lucas asks: Not sure if you already answered this question before, but I was just wondering how open the anime industry is when it comes to foreigners directly working on the development of anime. Are there cases of foreigners managing to ge...
For the hardest of the diehard otaku in Japan, finding the ultimate limited edition items comes with a serious price, and now that retailer exclusives are all the rage, it's a jungle out there.
― There are two Japanese phrases that describe serious Japanese collectors rather well. Roughly translated they're "Japanese people can't resist the words 'limited edition'" and "Always buy sets of three. One ...
UQ Holder seems to be establishing a solid rhythm in its fifth volume, and finally coming into its own as reliable entertainment.
― It's been a rough ride, but it seems like UQ Holder is finally developing some consistency. With Fate having just barely fallen into Kirie's trap at the end of volume four, this volume opens with a climactic chapter of Fate and Evangeline throwing everything they have at...
Kiznaiver leaps up the charts while Assassination Classroom drops like a rock - what other chaos awaits your favorite shows in our weekly user rankings?
― Our team of reviewers are following 25 anime series of the Spring 2016 season and readers are rating each episode as the reviews go up. So let's have a look at what ANN readers consider the best (and worst) of the season. Keep in mind that these r...
One of the most critically acclaimed videogame adaptations ever, Rage of Bahamut: Genesis is out on bluray now. Theron Martin swashbuckles his way through the set.
― Now this is how you make a game adaptation! Specifically, Genesis is a companion piece to the app-based card battle game Rage of Bahamut, which at the height of its popularity had a worldwide English language user base in excess of three...
"Oh, you also use computers?" is a common phrase you might hear in anime; why is "using a computer" is still sometimes treated as a hobby in anime?
― Shomik asks: When I was watching Tanaka-kun is Always Listless, which takes place in the present day, as well as playing the visual novel Root Double, which takes place in 2030 (and written a year or two ago), I come across lines like "Oh, you can use ...
Everyone's favorite short-skirted space bucaneers are back with a feature-length film bursting with positive energy and some decent animation - Paul takes a look. PLUS: this week's new releases!
― Memorial Day weekend carries a little extra significance for strange folks like me who follow motor racing. The Indianapolis 500 and the Monaco Grand Prix are both held on Sunday, which means I can watch t...
Akame ga Kill's second half winds up being kind of a letdown thanks to some mishandled story elements and a misbegotten romance - Rebecca Silverman takes a look.
― Akame ga Kill may have a bit too high an opinion of its ability to be symbolic. While it is true that the first half managed to slip in some philosophy about killing being bad no matter what its purpose and to juxtapose the happy family li...