To Terra (GN 1 of 3)
---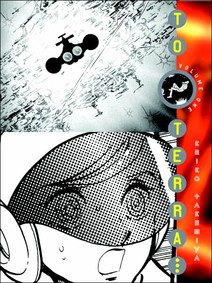 Title:
To Terra
Volume:
GN 1 / 3
Pages:
344
Distributor:
Vertical
Release date: 2007-02-20
Suggested retail price: $13.95
Age rating: 12+

SKU: VETT-01
ISBN-10: 1932234675 1932234675
ISBN-13: 9781932234671 9781932234671

Description:
The future.​ Despite hundreds of years of peace,​ mankind has exhausted Earth with its enormous cities - mere hubs for advanced machines.​ It is the age of Superior Domination (S.​D.​), and children are no longer the offspring of parents but the progeny of a universal computer.​ Amidst the calm,​ however,​ lurks a hidden chaos.​

The consequence of so many turns of the screw in a natural human order was the creation of a sub-race of humans called the Mu,​ whose only marked distinction is their extra-sensory powers.​ They are a sensitive and peaceful species no different from humans,​ but they have been forced into exile by Universal Control.​

Story and art by Keiko Takemiya.​
(added on 2006-10-17, modified on 2006-10-17)
Fans of Director Akitaro Daichi's other works, such as Elf Princess Rane, Fruits Basket and DD Fist of the North Star, will appreciate the way Bokura ga Ita navigates clichés to deliver a romance that is fresh and unexpected. Whether your awkward high school crush is long in the past or sitting across the classroom right now, this is the perfect series to get your heart beating and your pulse raci...
Mamoru Oshii's latest live-action fantasy extravaganza has its roots deep in his previous films; Brian Ruh tries to make sense of it all, but more importantly, is the film any good?
― It's become something of a rule of thumb among some anime fans to avoid Mamoru Oshii's live-action films. On the surface, this impulse is perfectly understandable. Oshii has been widely acclaimed for being one of the fo...
Akari may be the weakest in her class but she will do what ever it takes to score a one on one training session with her idol Aria!
― Aria the Scarlet Ammo Double A Visit the Official Site › Story Characters Trailer Cast & Staff Gallery Broadcast Begins October 6, 2015 (JST) Key Staff Director: Takashi Kawabata (Magic Madoka Magica The Movie: Rebellion) Series Composition: Fumihiko Shimo (Infinite S...
The first half of this popular, gorgeous Disney-esque shoujo fantasy wrapped up earlier this month. Does it capture your heart well enough to warrant a second season?
― The past year or so has been good for shojo romances with strong-willed heroines. Snow White with the Red Hair is just the latest after Yona of the Dawn and The World is Still Beautiful. What sets Shirayuki apart from her fellow heroi...
The Fall 2015 Anime Preview Guide has begun! Check back daily for new impressions of the season's biggest shows.
Available Now: Yuru Yuri Season 3 - Mr. Osomatsu - STARMYU - One-Punch Man - Concrete Revolutio - Comet Lucifer - Gundam: Iron-Blooded Orphans - Attack on Titan: Junior High - Utawarerumono: Itsuwari no Kamen - Haikyu! 2nd Season - and much more!
― Welcome to Anime News Network's Fall 201...
Justin examines what it takes to make an anime series a hit in the west. It isn't an exact science, however.
― Ahmed asks: As a person who is unfamiliar with the way the anime world works, I've seen enough of peoples' reactions, including several of my friends', to know that Attack on Titan is really popular to the point where I'm slightly annoyed at how much it's being hyped (I just wish that Jojo'...
Paul and Gabriella take in two very, very different shows: A Lull in the Sea and Sabagebu! Plus: an enormous flood of this week's new releases.
― I'm rather fond of the brief lull between anime seasons. For a week or so, we all get to reflect on the ups and downs of whatever shows we followed and scour the latest round of simulcast announcements for the shiny new titles that we're looking forward to...
The magical boys are back in more adventures with their pink wombat friend and Mr. Tawarayama's dead body. It's still a lot of fun, but these releases still only have 4 episodes each.
― Episodic shows can run into trouble pretty early on if they aren't careful, and that's doubly true of episodic formulaic shows. Fortunately Cute High Earth Defense Club Love knows enough to mix up its formula and to p...
Viewster is kicking off their new subscription service, OMAKASE, in style by featuring the acclaimed masterpiece Kill la Kill from Studio Trigger! The first item revealed in the carefully curated merchandise package, part of the OMAKASE subscription, is an exclusive gold-foil hardcover edition of the Kill la Kill manga. If you dare wait (these kind of things tend to sell out), Viewster will reveal...
Run! Melos is a greek story known to Japanese schoolchildren, which means there are a ton of anime adaptations of it that have almost never seen the light of day in the US. Sounds like a job for Mike!
― The air's getting cooler, the leaves are turning, and in my neck of the woods, the kids have all gone back to school. Fifth-graders are probably discussing their summer reading - popular fare, no doub...
It's the end of Summer 2015, and we decided to compare your scores for every single finale of the season! Find out which shows had the most spectacular endings... according to you!
― Our team of reviewers are following 27 anime series of the Summer 2015 crop. And this season, at the top of each Daily Streaming Review, we added a little rating widget to let our readers chime in. So let's have a look ...
Naruto and Sasuke have their long-awaited showdown in the final volume of Masashi Kishimoto's iconic ninja manga.
― Just as it seems like Naruto and company have restored peace to the world, Sasuke throws a wrench in the celebration by proclaiming his intentions to become the ninja world's all-powerful dictator. To bring his plan to fruition, he needs to wash away the sins of the old world by killing...