Eureka 7 (DVD 6)
---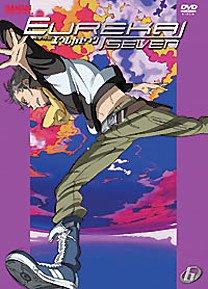 Title:
Eureka 7
Volume:
DVD 6
Running time:
100
Distributor:
Bandai Entertainment
Release date: 2007-02-06
Suggested retail price: $24.98
Age rating: 13+

SKU: 20805
UPC: 669198208058 669198208058

Description:
Away from the Gekko, Renton has found a new home with a pair of enigmatic mercenaries: Charles and Ray Beam. And though the duo has opened both their ship and their hearts to Renton, their true agenda will force Renton once again to decide to chose between his new life or his old one.

Meanwhile on board the Gekko, Eureka and Holland must come to terms and deal with their contrasting emotions towards Renton. Eureka with her blossoming love, and Holland with his growing hate. Will Eureka's emotions be enough to bring spur search to Renton back to the Gekko? Or will a mysterious pair of mercenaries and a vast military fleet be enough to prevent Renton from discovering where his true home lies?

DVD Features: Voice Actor Interview, Audio Commentary for episode 26, Textless Ending for episode 26.

Spoken Languages: English, Japanese, English subtitles.
(added on 2006-11-13, modified on 2006-11-13)
James Beckett discovers surprising thrills and chills in this slice of life drama that's more than it seems on the surface. Plus, all this week's new releases and a new Shelf Obsessed!
― My daily streaming review shows for this season have a suspicious number of things in common. Both New Game and Gamers are video game-themed slice-of-life comedies (one about the people who make them, one about the ...
This unusual series combines dark comedy and war drama to shockingly entertaining effect. Nick Creamer delves into Tanya's cynical world.
― Saga of Tanya the Evil's first episode largely confirmed all my worst suspicions regarding the title. Framed from the perspective of a tiny girl who'd somehow risen to officer status within a faux-German military, it seemed to revel in nastiness, playing up the g...
Mike straps in to his time machine for a trip back to the year 1997 to revisit some of his old favorites, from Battle Athletes to a little show called Berserk!
― This week, I'm finding myself stuck between stations. I've got a couple of pieces in the early stages, and one column that's almost done but just needs a little more detail to really make it work. Retrospective pieces are always good in a pi...
Studio DEEN and Stan Lee team up for this summer's new superhero anime, with a controversial artistic style. Our weekly series reviews begin here!
Final Fantasy XII: The Zodiac Age is an ambitious remaster of a game with a notoriously rocky development and release. Dustin turns the pages of Ivalice history for a look back.
― There is perhaps no Final Fantasy game—and certainly no 3D entry in the series—which has been uncontroversial. Maybe that's the cost of a franchise where each iteration is wildly different from its predecessor, making group...
Genshiken seeks to steer its most questionable plot arc into safer waters in its surprisingly thoughtful ninth volume.
― Genshiken Second Season has been a bit of a mess. In contrast with the original series' sensitive and remarkably grounded approach to fandom circles, Second Season has shifted from a promising setup into outright harem comedy territory, its characters moaning about their own cliche...
Whether they're taking down monsters or just surviving the trials of high school, these gal pals have each other's backs through the best and worst of times.
― Hello readers! As you may or may not know, I'm approaching my fifth anniversary as the author of The List. With the exception of brief hiatuses and reprints over the last year or so, that's roughly 250 columns written about anime and manga to...
While we wait for the newest animated entry in the Fate series to arrive on Netflix, Kim Morrissy has a look at the first three episodes straight from Japan. How does this "Great Grail War" compare to its predecessors?
― Note: While Fate/Apocrypha is not yet available streaming in English, this review comes courtesy of our Tokyo correspondent who watched these first three episodes in Japan. Fate/Apoc...
The director behind this challenging action/horror manga adaptation discusses the process behind bringing the shock and wonder of Tokyo Ghoul to life on the big screen.
― Just before its wide Japanese release, the live action Tokyo Ghoul film premiered at Anime Expo on July 3rd, 2017. Hundreds of people waited hours in line for a chance to see the film, whose screening filled the JW Marriot's Diamond...
We'd really love to know exactly how well our favorite anime sold on Bluray and DVD. Why do they keep these numbers from us? Justin gets into it.
― Michael asks: I was wondering if you could explain the mindset behind why anime companies seem to be so secretive with their sales numbers. I could be wrong about this, but I don't see any benefit to not releasing how many units "title x" sold or how man...
Callum May takes an inside look at the Animator Supporters Dormitory Project that aims to give affordable housing to overworked animators. Find out how you can help support the lifeblood of the anime industry!
― If you're interested in finding out more about the anime industry, you'll undoubtedly come across numerous reports of struggling animators. For the most part, anime is not a practical way to ...
This one-of-a-kind combination of slice-of-life and horror starts strange and finishes strong. Theron Martin explores just what makes this series so special.
― The first episode of this series is one of the biggest cases of misdirection in anime history, as both the opening theme and first twenty minutes suggest that this is going to be a high-spirited slice-of-life series about schoolgirls. Sure, th...
The unimaginably popular worlds of light novel author Reki Kawahara collide in a new RPG. Dustin takes it for a spin. PLUS: Toy Story Kingdom Hearts and much more!
― Last column, I mentioned that Dream Daddy: A Dad Dating Simulator would be out this week, and that's still true despite a very last-minute delay. The developers put out a statement explaining that there were further bug fixes that needed...
Looking for a fresh Summer anime? Our complete guide to the entire season is available now.
Reviews Include: Gamers! - Classroom of the Elite - My First Girlfriend is a Gal - Magic Circle Guru-Guru - In Another World with my Smartphone - New Game!! - Angel's 3Piece! - Chronos Ruler - Princess Principal - A Centaur's Life - Hitorijime My Hero - Action Heroine Cheer Fruits - and much more!
― Welcome t...