Bleach - The Substitute (DVD 3)
---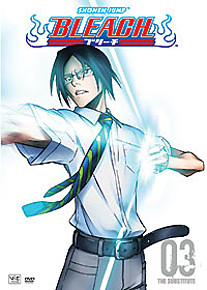 Title:
Bleach - The Substitute
Volume:
DVD 3
Running time:
100
Distributor:
Viz Media
Release date: 2007-03-27
Suggested retail price: $24.98
Age rating: 13+

SKU: DBH-03
UPC: 782009236382 782009236382
ISBN-10: 1421514133 1421514133
ISBN-13: 9781421514130 9781421514130

Description:
Ichigo and Rukia continue their work as Soul Reapers, protecting the spirits and the living. But they are not the only ones with the power to defeat the evil Hollows. A rival called a Quincy appears with fearsome powers of his own - and a grudge against all Soul Reapers. When he issues a Hollow-battling challenge to Ichigo, it could spell the destruction of the world of the living!

Contains episode 9-12.

Spoken Languages: English, Japanese, English subtitles.
(added on 2006-11-24, modified on 2006-11-24)
This sweet shojo love story comes to a charming conclusion, as love triangles resolve without getting too hairy. Rebecca Silverman reflects on if this romance is worth reading.
― One of the best things about a short series is that they end. That may sound a bit too obvious to merit stating, but a short-and-sweet series, if done right, can be incredibly fulfilling. That's the case with Yoko Nogiri's T...
The List goes a few levels deeper than usual this week, with a look at "fictional" anime that were created only to exist inside of other series—but ended up becoming real anime after all!
― Anime is an inescapable aspect of Japanese culture. Even if you live in Japan and don't watch late-night anime series, there's still video games, local moe mascots, and prominent advertising at major train statio...
This behind-the-scenes look at the clean-up effort following the Fukushima disaster is rich with narrative and artistic detail. Theron Martin explains what makes this biographical manga so unique.
― Manga is so typically a disposable entertainment form that it can be easy to lose sight of how compelling a format it can be when devoted to serious, non-dramatized nonfiction accounts. This is just such ...
The entries are in, and now it's time for ANN's readers to pick the winners. Lots of prizes available just for voting!
― Contest Giveaway Manga Sale 1. Contest Details Vote for your favorite Attack on Titan re-enactment photo! If you have a BookWalker account, you'll also be eligible for some AMAZING PRIZES. To participate, fill out the form below. Contest ends April 30th, 2017 11:59 PM EDT. Winners...
Back in the 80s and 90s anime fansubs were distributed entirely on VHS tape - a whole ecosystem of tape sharing and trading that no longer exists. Justin breaks it down.
― Michael asks: Every once in a while, I'll stumble across old VHS fansubs; the unique quirks (like Kodocha's purple tapes) are absolutely fascinating. Were things like custom labels or tapes and fancy splashscreens common back then...
Persona 5 drops the usual trappings of heroism, instead presenting a world of thieves and underdogs taking on corrupt authority figures. Gabriella Ekens explores what makes Persona 5's story so different.
― If you'd been following Persona 5 at all before release, you might have heard the developers throwing around a certain word: "picaresque." Since this is a literary term, I was surprised to see it ...
This supernatural workplace comedy takes on a fun premise that manages to avoiding some of the more tired aspects of its genres, even if it doesn't stand out much either. Rebecca Silverman has the details.
― Think The Devil is a Part-Timer meets Working!!. There's a Demon Lord on the Floor's first volume introduces a story that feels very much like a combination of those other two series' premises – ...
We went to check out the special Yuri!!! on Ice celebration at the Namja Town theme park in Ikebukuro, and found a ton of character goods, tasty sweets, and photo spots waiting for us.
― From March to May of 2017, Namco's Namja Town (an indoor amusement park in Ikebukuro) has been a little frostier than usual (in a good way!) We went to check out the special Yuri!!! on Ice celebration and found a to...
Capcom finally releases a bunch of their old Disney NES games from the vault, but are they still worth playing? PLUS: SNES Mini, Xbox refunds and much more!
― I "finished" NeiR: Automata this week, and obviously I'm putting "finished" in quotations because I actually just got to the first ending of many. I liked it, but I wasn't enraptured by it. The daily stories of nearly biblical transcendance may...
"If you've ever felt lonely, misunderstood, or like the only broken person in a society you couldn't relate to, Utena is a story for you." Jacob Chapman kicks off this king-sized 20th anniversary retrospective!
These first two novels have fun playing with the idea of the ridiculously overpowered protagonist from stories like Sword Art Online. Rebecca Silverman has the details.
― Prepare to have a new definition for the overpowered hero. Ichiro Tsuwabuki, leading man of Blitz Kiva's light novel series Paying to Win in a VRMMO, is nearly as perfect as a man can get. He's filthy rich, he once had successful ca...