Flame of Recca (GN 24 of 33)
---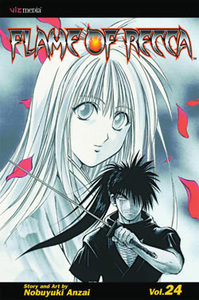 Title:
Flame of Recca
Volume:
GN 24 / 33
Pages:
192
Distributor:
Viz Media
Release date: 2007-08-14
Suggested retail price: $9.99
Age rating: 16+

SKU: CTFR-24
ISBN-10: 1421508958 1421508958
ISBN-13: 9781421508955 9781421508955

Description:
Finally, Recca gets to meet the eighth Karyu... his dad! Now, a mission that ended in tragedy more than 400 years ago puts some serious family-honor pressure on Recca to keep Yanagi safe from Koran Mori. Meanwhile, Yanagi's memory is almost wiped clean. And even a full-on assault from Recca and his pals might not be enough to crush Koran's army of monsters, all created from his own devious DNA!

Story and art by Nobuyuki Anzai.
(added on 2007-02-06, modified on 2007-02-06)
Our RightStuf Anime Gundam Give-away ends at midnight tonight, enter now!
― Right Stuf Anime's publishing division Nozomi Entertainment has given us some pretty awesome prizes!!! Sadly no real Gundams. 3 Winners: Mobile Suit Zeta Gundam Collection 1 – Blu-ray or DVD 3 Winners: Turn A Gundam Collection 1 – DVD 3 Winners: Mobile Suit Gundam Collection 1 – Blu-ray or DVD 1 Winner: You Get All 3! Mobile ...
This week: a look at the referential turns of Neptunia and Sega Hard Girls! Plus Mother 3 rumors, Kickstarter woes, and the secrets of Mega Man!
― It seems as though everyone's playing Firewatch this week. That's fine with me, because it's a very interesting game. Firewatch casts the player as fire lookout Henry, who monitors a patch of Shoshone National Forest in the late 1980s. Communicating only ...
This well-animated OVA series is one of the most gruesomely graphic anime titles ever made. Does anything else about it actually matter?
― Whatever else might be said about this four episode OVA series, there's exactly one thing you need to know: it ranks among the most gruesomely graphic anime titles ever made. And really, does anything else about it actually matter? If hyperviolent fare on the leve...
On the eve of its thirtieth birthday, Sean Bell considers the impact and legacy of Hayao Miyazaki's beloved but often overlooked mid-80s fantasy classic.
― For years, I couldn't remember its name. Films absorbed in the haze of early childhood often have that downside. Nevertheless, images endured, bouncing around my brain for a decade afterwards. Slapstick pirates. Cannon-bedecked blimps. Children a...
A Silent Voice's fifth volume continues to examine the fragile bonds of young acquaintances with its trademark heart-catching acuity.
― A Silent Voice's fifth volume opens with a very unexpected change of pace - an action pastiche detailing the adventures of a rough and tumble hero known as Big Friend "N," who gallantly fights at the side of his, well, big friend. Full of dynamic action panels, drama...
Aldnoah.Zero's second season can't quite live up to the finale of the first, but it does use some interesting themes and references to build its story of an increasingly senseless war.
― In all honesty, the first twelve episodes of Aldnoah.Zero didn't really need a sequel. With their pointed conclusion they made a definitive statement about the follies of war while leaving viewers the space to fill i...
Witness the meteoric rise of Mobile Suit Gundam: Iron-Blooded Orphans in our user rankings this week! What mighty shows have fallen in its wake?
― Our team of reviewers are following 27 anime series of the Winter 2016 season and readers are rating each episode as the reviews go up. So let's have a look at what ANN readers consider the best (and worst) of the season. Keep in mind that these rankings ...
It's an inevitable question: why are so many anime series set in and around high school, or star high-school age folks? Justin gets into it.
― Julian asks: After watching a lot of Anime, depending on the demographic, a good chunk of it tends to take place in a high school setting or the characters, while not always, range from the ages 14-17. This has led me to believe or assume writers of Anime or ...
Gabriella straps in to her mobile suit and conquers the second half of the original Mobile Suit Gundam series, along with all of this week's new anime releases!
― I spent most of this past weekend stuck in bed with a cold, but I did at least get a valuable life lesson out of the experience. While reading manga can be a good way to kill time, think twice before opening a volume of Monster Musume when...
The sequel series to the original Mobile Suit Gundam is a much darker look at the horrors of war, and now it's out on bluray in English! Our resident Gundam expert Lauren Orsini weighs in.
― Don't be fooled by the new name or the young new protagonist—Mobile Suit Zeta Gundam is a sequel series. Its many tie-ins to the One Year War at the center of Mobile Suit Gundam 0079 cement it as a follow-up to t...