Inuyasha (GN 30 of 56)
---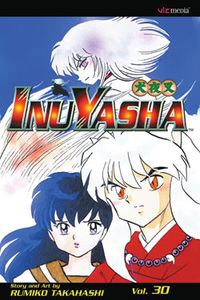 Title:
Inuyasha
Volume:
GN 30 / 56
Pages:
186
Distributor:
Viz Media
Release date: 2007-07-10
Suggested retail price: $8.95
Age rating: 13+

ISBN-10: 1421509016 1421509016
ISBN-13: 9781421509013 9781421509013

Description:
Evil Kagura and demonic baby Hakudoshi are searching for the border between the afterworld and this world, where it is said that the last Shikon Jewel shards lies. Inuyasha and the others are also doing everything they can to recover this last shard. Could it be that Inuyasha and Kagome have been to this border before?!

Story and art by Rumiko Takahashi.
(added on 2007-02-06, modified on 2007-02-06)
The Gods Lie is a bittersweet coming-of-age story about two children finding solace in each other told in a quiet, understated style that tugs gently at your heartstrings without going overboard.
― There are many different kinds of lies: small ones, harmful ones, and, most insidious, the ones you desperately want to believe. There comes a point during growing up when you begin to understand that last...
They said it couldn't be done, but when asked to compile a list of monkeys in anime, you simply can't have less than twelve, including Dragon Ball Z, Blood Blockade Battlefront and much more!
― Our regular list-maker extraordinaire, Lynzee Loveridge, is going on hiatus for a couple weeks, so I'll be filling in while she's away. My name's Jacob Chapman, and this week, I've got monkeys on my mind. Why...
The second volume of Arina Tanemura's magical woman story brings us into the past and mind of the series' de-facto mascot character, Tokita, as she continues to play with the magical girl genre.
― Why is Tokita helping Chikage to relive her adolescence? Volume one of Arina Tanemura's magical woman story implies that it's just because she was his first love back in the 9th grade, but is that really en...
What is it that makes the superheroes in Japan's megasize hits One-Punch Man and My Hero Academia feel so different from our old friends Iron Man and Batman? The differences are wider than you might think.
― Superheroes are extremely popular right now. Regardless of how you feel about the trend of a new comic-based movie or television series premiering every five minutes, it's undeniable that cape-we...
Jojo's Bizarre Adventure is just as insane as ever with its overpowered fights and insane anatomy. This volume adds some emotional heft to the story as well, forcing Jojo himself to do some growing up.
― Are you excited for more Jojo after the cliffhanger of volume two?! Hirohiko Araki sure is! He wants you to know that every sentence is important, too, or that nearly every word spoken in Battle Tend...
This week: Producer Katsuhiro Harada on Tekken 7 and the world of fighting games! Plus a Suda51 classic, Exist Archive, old computer novelties, and the return of Valkyrie Profile!
― It's hard to know where to start when discussing Prince. He leaves behind an immense body of work, even if you ignore the massive archive of material he never released in his lifetime. Well, this is a column about video ...
Love Live returns for a second season marked by the same plentiful strengths and frustrating weaknesses as the first.
― Love Live! is back! Having saved their school and stopped Kotori from traveling overseas last season, things have finally settled down for Honoka and the others. But of course, it wouldn't be a school idol show without dramatic conflict, so the team is swiftly thrust into preparatio...
Check here to find out if you won!
― Our awesome friends at Nozomi Entertainment have offered to let ANN give-away a bunch of recent and upcoming Nozomi titles. 10 randomly selected entrants will each receive the Nozomi title of their choice. Here are the titles available! El-Hazard The Wanderer Release Date: 6/7/2016 Makoto always upstages Jinnai without trying, which just aggravates the delusional...
Everyone's up in arms about Ghost in the Shell, but the charge that Hollywood steals material from anime and manga has been around forever. Is there any truth to it?
― Eldar asks: In a wake of Ghost in the Shell whitewashing controversy, I keep hearing rants about how creatively bankrupt Hollywood is and how it's going to ruin every anime ever made. But, I can count the number of anime/manga adaptat...