Solty Rei (DVD 3)
---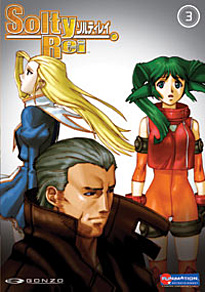 Title:
Solty Rei
Volume:
DVD 3
Running time:
100
Distributor:
FUNimation Entertainment
Release date: 2007-04-17
Suggested retail price: $29.98
Age rating: 13+

SKU: FN-08183
UPC: 704400081835 704400081835

Description:
You win some and you lose some... and some never stood a chance. Roy Revant has never given up on finding his missing daughter. Now it seems she has come home. Family ties, be they blood or circumstance, are stretched to the breaking point. Brethren gather together in times of trial, pushing out as one at the injustice of real life...

Building walls around your heart can protect you for so long, but eventually they just leave a man alone. Violence begets violence, and Roy has been pushed to the breaking point. How much misery can one man endure?

Spoken Languages: English, Japanese, English subtitles.
(added on 2007-02-09, modified on 2007-02-09)
Those who tread beneath the proscenium arch take the spotlight this week as The List highlights anime all about the performing arts.
― Last week's column was all about women flexing their athletic muscles, so this week we're looking at the other side the coin: performing arts. The traditional Western performing arts include music, theatre, dance, comedy, and opera. In the East, performing arts expan...
Dengeki Daisy's final volume arrives, but does it provide a sufficiently happy ending for those we care about?
― Few series, shoujo or otherwise, have consistently retained the air of excitement, tension, and romance that Kyousuke Motomi's Dengeki Daisy has over its sixteen volume run. While the story shifted from high school romance to technological thriller, essentially settling on a "romantic susp...
With everybody now knowing how crazy anime production is, Justin goes into the details of just how crazy simulcasting it is. Also, the crazy rules behind SAG-AFTRA voice actors, and new seemingly-free manga sites.
― Good news. The clouds have parted, the sky has brightened, and my workload has lessened. I am now 16 episodes into SHIROBAKO. I have developed an odd obsession with "Andes Chucky," even ...
Zac dusts off his distant past with Hope and Podigious' Ashley McDonnell, revisiting the beloved fantasy classic Escaflowne, which may or may not have a completely bananas second half and a terrible movie version.
― The Vision of ANNCastaflowne Get the Flash Player to see this player. Zac dusts off his distant past with Hope and Podigious' Ashley McDonnell, revisiting the beloved fantasy classic Esc...
Yatterman Night turns a classic children's show into a story of dystopian struggle, but a lack of consistency threatens to bring the show to its knees.
― Yatterman Night's a strange one. Technically a "sequel" to the 70s cartoon Yatterman, it's akin to 2013's Gatchaman Crowds - an anime that takes a classic children's show and reenvisions it as a heavier piece for a new audience. In Crowds' case, thi...
Evil cannot hide from the swift justice of Black Label!
― Triage X Visit the Official Site › Story Characters Trailer Cast & Staff Gallery Broadcast Begins April 2015 (JST) Key Staff Original Work: Shoji Sato ( High School of the Dead (Original Art)) Director: Takao Kato (Buso Renkin, Over Drive) Series Composition: Katsuhiko Takayama (Aldnoah.Zero, Baka and Test- Summon the Beasts) Introduction The...
Do you ever think to yourself, "Wouldn't it be great if that existed in real life?" While many awesome things from our favorite shows have specific intentions in their own world, those same things sure could be handy in our day-to-day lives. Mundane tasks could actually...
― When watching your favorite show from FUNimation, do you ever think to yourself, "Wouldn't it be great if that existed in real ...
Genshiken takes a turn for the absurd in a volume stuffed with farces both intentional and not so much.
― Honestly, it can sometimes be kinda hard to review Genshiken. The manga's just too consistent! The art is always crisp, character work always thoughtful, dialogue always grounded and natural. It can be tricky to find new things to highlight every volume, because the volumes all tend to be roughly...
Shaenon conquers legendary mangaka Yoshihiro Tatsumi's enormous (and enormously beloved) autobiographical opus.
― A Drifting Life Yoshihiro Tatsumi passed away last month, bringing an end to one of the most remarkable careers in manga. Happily, he chronicled a sizeable chunk of it in his 2009 doorstopper of a manga memoir, A Drifting Life, which should be required reading for all who would dare call...
This week: part one of a Bandai Namco bonanza with Naruto, Project X Zone, and Saint Seiya! Plus Star Ocean, Dungeon Travelers, and a voice from Nintendo's past!
― I found Bandai Namco's Global Gamers Day modest. This wasn't because of the games shown there. It was because the whole thing occurred in the sedate meeting rooms of New York New York, one of those hotel-casino fiefdoms that takes up an e...
My Love Story!! is the shoujo romance for people sick of shoujo romances.
― The central conceit of this collaboration between High School Debut's Kazune Kawahara and Aruko for the first three volumes was that Takeo was such a big, muscular, unattractive guy that no one but Yamato could possibly want to date him. Even Takeo bought into this idea – for most of his dating life, girls were attracted to h...