Panzer Dragoon (Dub.VHS)
---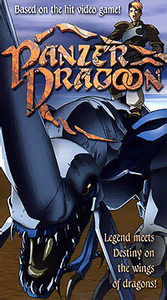 Title:
Panzer Dragoon
Volume:
Dub.VHS
Running time:
35
Distributor:
ADV Films
Release date: 1998-11-11
Suggested retail price: $6.67

UPC: 702727024030 702727024030

Description:
Legends speak of a Dark Tower with a race of dragons that awaits the command to arise and wreak havoc. At least Kyle used to believe they were only legends until his lady, Alita, is stolen by the Black Dragon!

Now Kyle must form an alliance with Blau, a blue dragon, in order to rescue her before she becomes the catalyst for the Dark Tower's final program: the complete destruction of the world!
(added on 2002-08-15, modified on 2002-08-15)
We're giving away this gorgeous Kotobukiya figure of Yaya!
― Today is the day that FUNimation Entertainment releases Unbreakable Machine-Doll (BD/DVD Combo) in regular and limited editions. To celebrate, FUNimation has decided to let ANN give away this beautiful Kotobukiya figure of Yaya from Unbreakable Machine-Doll (a $99 value). You may have seen Unbreakable Machine-Doll, but both of these comple...
Hope counts down the best moments where Yoko Kanno brought her A-game to Cowboy Bebop. Plus: your poll results, and vote for your favorite Bebop episodes!
― 3 2 1, Let's Jam! It's time for a Cowboy Bebop themed episode of The Set List. This week, I've ranked my Top 10 Musical Moments from the legendary jazz-and-blues inspired anime, and you can check them out in the video below! (Please note that we...
PONYCAN USA launched a few months back with two shows: Denki-Gai and Yuki Yuna is a Hero. Executive Director Kazuyoshi Fukuba answers a few questions about what to expect, and what's up with those prices.
― PONYCAN USA is the newly-minted US distribution arm of Pony Canyon, which has been in the Japanese media business since 1966. PONYCAN USA follows the example set by Aniplex of America, in that th...
Shinichiro Watanabe's zany sci-fi showcase for his artist pals winds up on bluray today, loaded with special features in a limited edition with a hefty price tag. Mike Toole investigates.
― Space Dandy is a series full of magic-- a magic that first reveals itself late in episode 1, during a sequence in which the show's titular hero and his new pal, Meow, are forced to run away from a pack of jumbo-si...
Find out if you won!
― Thank you (again) for entering our contest (again). Winners: Patrick Nakasone, Honolulu, Hi Hiddi Jordan, Bailey, Mi Saul Diaz, Arleta, Ca Watch for our next give-away coming SOON! In the meantime, head over to SpaceDandy.com to find out more about FUNimation's awesome Space Dandy sets.
Lots of new releases this week. Plus, reviews of The Ambition of Oda Nobuna, and Hozuki's Coolheadedness.
― Jump to this week's reviews: Ambition of Oda Nobuna BD, Hozuki's Coolheadedness BD. On Shelves This Week Chronicles of the Going Home Club - Complete Series [Premier Edition] BD NIS America - 288 min - Sub - MSRP $64.99Currently cheapest at: $47.99 Right Stuf Synopsis: New high school student ...
This little-seen family adventure about a group of tanuki living in Kyoto has careful writing and beautiful scenery; Nick Creamer thinks it might just be a modern classic.
― In the guidebook accompanying Eccentric Family, series composer Shotaro Suga speaks frankly of the difficulty of condensing an entire book into an anime, and the question of where to even begin telling the story. "There are just ...
Every good fantasy series has a few incredible elf ladies on display. Today, Lynzee decides to finally share the elf.
― The term "bombshell" was coined, very appropriately, during World War II to refer to the likes of Marilyn Monroe, Jane Russell, and other sex symbols of the era. There aren't any elves in Gentlemen Prefer Blondes, but there are plenty of wild, voluptuous fantasy women wielding swor...
Deadman Wonderland is a dark, unsettling look into a private prison abusing the system for the whims of the Warden and a few governmental higher ups.
― Ever since 1864, a "wonderland" has been a world where the rules of logic do not apply, a carnival that can be by turns fun and frightening. Deadman Wonderland has been playing with that definition since its first volume, and now in its seventh we beg...