Omukae desu (GN 5)
---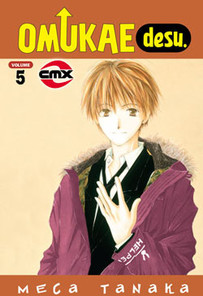 Title:
Omukae desu
Volume:
GN 5
Pages:
200
Distributor:
CMX Manga
Release date: 2007-08-30
Suggested retail price: $9.99
Age rating: 13+

SKU: CMXOD-05
ISBN-10: 1401211208 1401211208
ISBN-13: 9781401211202 9781401211202

Description:
The final volume!

Madoka loans his body out to a boy who wants to date Aguma, Madoka's fellow G.S.G. agent. When his body steals a kiss, Aguma's not sure which guy actually made the move! Then Madoka finds he still has feelings for a ghostly girl who visited him before. He's given a chance to see her again, but with it comes the risk that he may end up permanently crossing over to the other side!

Story and art by Meca Tanaka.
(added on 2007-03-06, modified on 2007-03-06)
Video games! Breasts! Alchemy! All that and more.
- Atelier Escha & Logy
- Hyperdimension Neptunia
- Solty Rei
― Jump to this week's reviews: Atelier Escha & Logy: Alchemists of the Dusk SkyHyperdimension NeptuniaSolty Rei On Shelves This Week Please Twins! - Complete Collection DVD Nozomi Entertainment - 325 min - Hyb - MSRP $39.99Currently cheapest at: $23.99 Right Stuf Synopsis: Maiku grew up an ...
Two of Capcom's company men discuss all things Street Fighter V, including some recently announced new characters and what to expect from the game.
― Capcom's presence at San Diego Comic-Con scaled back in recent years. No longer does the company put on panels for every series it backs, be it Monster Hunter or Resident Evil. Yet Street Fighter still merits its own panel, complete with an appearance b...
The latest Dragon Ball Z movie brings back an old villain to once again test Goku's strength, but maybe they should've dug up a more credible threat to everyone's favorite Saiyan god and his grumpy partner.
― Dragon Ball Z is in an interesting place right now. For many fans, the story had been functionally over for a long time. Akira Toriyama's manga had concluded and we were content to believe that ...
Even magical girls need a little time to enjoy the summer!
― Fate/kaleid liner PRISMA ILLYA 2wei Herz! Visit the Official Site › Story Characters Trailer Cast & Staff Gallery Broadcast Begins July 24, 2015 (JST) Key Staff Original Creator: Type - Moon (CANAAN, Fate/stay night, The Garden of Sinners) Director: Masato Jinbo (Fate/Kaleid liner Prisma Illya, Nozo x Kimi (OVA) ) Introduction Hot sun! Blu...
The Sakurada syblings every move is being televised before the national election. Who will win the hearts and minds of the town people and suceed in their father's footsteps?
― Castle Town Dandelion Visit the Official Site › Story Characters Trailer Cast & Staff Gallery Broadcast Begins July 2, 2015 (JST) Key Staff Director: Noriaki Akitaya (Bakuman, BONJOUR Sweet love Patisserie) Series Composition...
Travel back in time (and maybe have your gender swapped) to seven different periods of Japanese history, all from the comfort of your couch.
― The history of Japanese civilization is expansive, predating the Common Era by 10,000 years (the Jomon period). There's much more ground to cover compared to what kids get in U.S. history classes in high school, which rarely cover anything before the Boston T...
Junji Ito's death-stench horror gets the deluxe treatment with a new hardcover omnibus, but the subject matter might not work for everyone.
― Junji Ito is inarguably one of the masters of horror manga, utilizing both horror (physical revulsion) and terror (psychological reaction) to create gut-churning tales of the world gone mad. To a degree, he carries this out in his two-volume series Gyo from 200...
Voice actor/director/professional Dungeons & Dragons player Liam O'Brien returns to the podcast after a 5-year hiatus to discuss his roles in Fate/Zero and Sailor Moon, along with the landscape for anime voice acting now and what it's like to be Gollum.
― ANNCast Episode 234: Podcastoes O'Brien Get the Flash Player to see this player. Voice actor/director/professional Dungeons & Dragons player Liam ...
If you went to an anime convention this summer or have used the internet lately, you may notice anime fans seem to have fallen in love with Steven Universe. Why? Because the show loves them right back.
― If you've been to an anime convention in the past year, you've probably seen colorful, gem-studded cosplay like this filling the hallways. Photo credit links: top left, top right, bottom left, bottom...
If you've got questions for the director of the high-flying fantasy series The Pilot's Love Song, we've potentially got answers for you!
― We've been given the opportunity to interview The Pilot's Love Song director Toshimasa Suzuki, and we need your help! NISA, who will be releasing the fantasy action drama The Pilot's Love Song on bluray September 22nd, asked for fan questions for Mr. Suzuki, whos...
Bee-Train's 2001 girls-with-guns classic returns on Blu-Ray, and holds up surprisingly well, despite some mediocre animation.
― Not all older series deserve the Blu-Ray treatment. For some it is because the show just isn't as iconic as people might like to think, while for others it's because the quality was never BD worthy in the first place. Noir, fortunately, does hold up well enough that its tran...
The revolution is about to begin!
― SHIMONETA: A Boring World Where the Concept of Dirty Jokes Doesn't Exist (Shimoneta to iu Gainen ga Sonzai Shinai Taikutsu na Sekai) Visit the Official Site › Story Characters Trailer Cast & Staff Gallery Broadcast Begins July 4, 2015 (JST) Key Staff Director: Youhei Suzuki (The Hentai Prince and the Stony Cat ) Series Composition: Masahiro Yokotani (Free! Eternal...