3x3 Eyes - Shadow of the Kunlun (GN 7)
---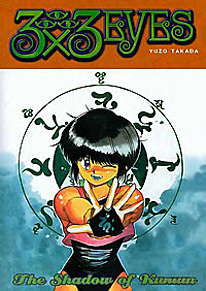 Title:
3x3 Eyes - Shadow of the Kunlun
Volume:
GN 7
Pages:
224
Distributor:
Dark Horse Comics
Release date: 2003-08-13
Suggested retail price: $17.95
Age rating: 16+

SKU: DH-12543
ISBN-10: 1569719810 1569719810
ISBN-13: 9781569719817 9781569719817

Description:
Pai, the beautiful 300-year-old amnesiac mystic, and her companion-cum-immortal slave, Tokyo student Yakumo Fujii, may have found the clues they seek to help them discover the secrets of the Sacred Land. Joined by the dashing relic-hunter, Jake MacDonald, Yakumo and Pai discover an ancient temple that may hold the key to returning Pai and Yakumo to their human forms.

However, their journey of exploration becomes a fight for survival as the pair are once again pitted against the evil forces of Kaiyan Wang.

Story and art by Yuzo Takada.
(added on 2007-05-12, modified on 2007-05-12)
This brain-meltingly stupid kids' show has been a punchline on This Week in Anime since it started, but was there secretly a method to Heybot's madness in the end?
― It's been a go-to punchline on This Week in Anime since the column began, but now that Heybot! has ended, just what the hey was this series anyway, and why was it so incredibly weird? This week in anime, Micchy and Steve put this bizarre...
Several changes have been made to this fighting game's new installment, but not all of them are for the better. Dustin Bailey gets into it.
― The new story mode in Marvel vs. Capcom: Infinite has all the characters trapped in a pair of worlds awkwardly smashed together out of pieces from their respective universes. Marvel's AIM laboratories host not only MODOK, but also the BOWs of Resident Evil, smu...
Want to get into the hit whodunnit game series but don't know where to start? Heidi Kemps' (spoiler-free) overview of all the franchise's biggest titles has you covered.
― Where to start with this murderous series? Don't despair -- our guide will help! Danganronpa is something you've probably heard of if you follow anime or video games. What began as an under-the-radar visual novel series has blossom...
To call the end of Danganronpa "shocking" would be an understatement! Jacob Chapman takes on the controversial final chapter in this SPOILER-FREE review.
― Prior to the release of this (second?) conclusion to the main Danganronpa trilogy, series creator Kazutaka Kodaka was emphatic in several interviews that this "new semester" would be completely open to newcomers. While it would bring closure to th...
Moriko Morioka, 30 years old, single, unemployed. A dropout from reality. Seeking a place of respite, she arrives in the world of the worldwide web.
― Recovery of an MMO Junkie Official Website: http://netoju.com Official Twitter: @netoju_anime Introduction Characters Cast & Staff Gallery Premiere Date: October 10, 2017 (JST) Key Staff Director: Kazuyoshi Yaginuma ("Bokurano"(TV) as episode director...
Why is something as risqué as S&M such an easy go-to for comedy even in family-friendly anime? Justin Sevakis has the answers.
― Brandi asked: what is up with anime and the S&M fetish? I'm not talking about hentai. It mostly comes out in the form of one of the men on the show turning out to be some kind of over the top masochist. I've seen this joke over an over again. Most recently in D-Frag! and i...
Gabriella Ekens revisits the classic shojo romcom on blu-ray, and Paul Jensen breaks down this week's huge heap of new releases!
― We've got a pretty wide variety of new releases this week, which means we also have a whole lot of options to explore. Let's jump right into it! Welcome to Shelf Life. Jump to this week's review: Fruits Basket On Shelves This Week Crusher Joe - OVA Collection DVD Discote...
This adaptation of the award-winning manga about karuta is finally available to own in a fancy special edition box! Bamboo Dong explores just what makes this series so special.
― On paper, Chihayafuru would probably be considered a sports anime. The characters spend most of their time training for, talking about, and playing sports. And most of the action and tension revolve around the outcome of spo...
Ohba and Obata's newest manga thriller expands its cast and slips into a comfortable rhythm for its second volume. Nick Creamer dives in.
― Platinum End's first volume established a cheekily cynical platform for a thriller. Opening with our suicidal hero Mirai, it proposed a scenario where twelve human candidates for godhood would have to fight it out, each of them blessed with some mix of angelic po...
When a manga's art is too complex to animate or a series has been on the air for a long time, artistic changes are bound to arise. Here are seven of the most striking shifts in a character's style.
― The transition from manga to anime isn't always a seamless process. Projects hire character designers to reinterpret static artwork into something that can be animated in a manageable way. This can mean...
This isekai adventure takes a turn for the slimy as its protagonist enters a fantasy world in perhaps the worst form possible. Theron Martin has the details.
― Isekai stories are pervasive in the Japanese light novel market these days, and stories where the world-jumping involves reincarnation with mind and memories intact are swiftly becoming more popular. We've already seen some odd twists on that ...