Interest

X-Men Spinoff Writer Addresses Akira Similarities

posted on

2011-01-11

21:07 EST by Gia Manry
Generation Hope comic's similarities are intentional, says Kieron Gillen
---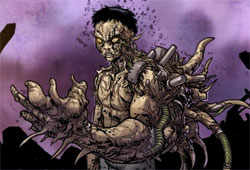 The American website Comic Book Resources posted an article about the Uncanny X-Men spinoff comic series Generation Hope with quotes by the comic's writer Kieron Gillen on Thursday. Gillen addresses the previously reported similarities between the comic's mutant character Kenji and the character Tetsuo from Katsuhiro Otomo's Akira science-fiction manga and anime film.
Gillen says that the "resemblence is deliberate and highly stated." As Kenji is an artist who "consumes culture," he in fact behaves like Tetsuo "because he's watched Akira. It's how he thinks he should act, it's the only way he can process the horror of his body starting to warp." According to Gillen, the comic also has homages to the live-action Japanese films Godzilla and Tetsuo the Iron Man.
[Via DigitalSpy]
Image © Marvel Characters, Inc.
---
follow-up of
Wired Profiles New X-Men Comic's Similarities to Akira