Interest

Final Fantasy XIV to Let Players Ride, Own Chocobo

posted on

2011-08-15

13:00 EDT by Egan Loo
Update to allow players to rent Chocobo with gil, or own one outright
---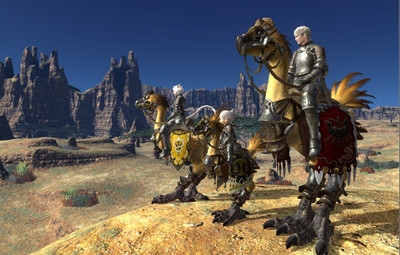 Naoki Yoshida, a member of the development team for Square Enix's Final Fantasy XIV massively multi-player online role-playing game (MMORPG), revealed in the game's 16th production letter on Monday that the next update will include the tentatively titled "My Chocobo" feature. According to Yoshida, the update will allow players to rent a Chocobo creature for riding, using the Final Fantasy franchise's standard currency of gil. In addition, players can own a Chocobo outright for their own personal transportation.
The MMORPG has been available for personal computers running Microsoft Windows since last September, but the PlayStation 3 version has been delayed as Square Enix addresses the negative criticism that the computer version received.
[Via Ore-teki na Game Sokuhō @ Jin]
Update: Typo fixed. Thanks, enurtsol.
---