Interest

2ch Forum's Anime Saimoe Tournament 2011 Round 1: Groups G, H (Updated)

posted on

2011-09-23

08:45 EDT by Daryl Bunao
---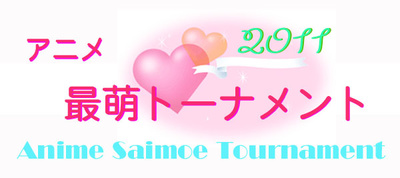 The Anime Saimoe Tournament is an annual poll in which users from Japan's 2channel message board vote on the most moe female anime character of the past year.
Almost any female character in a television anime, anime film, original video anime (OVA), or web anime released in Japan between July 1, 2010 and June 30, 2011 is eligible for the tournament. The main exceptions are characters from 18+ anime, who are not eligible.
Foreigners are technically capable of participating in the tournament; English-language instructions on how to vote have been provided by an Anime Saimoe fan site.
The results for groups G and H went as follows, with vote counts:
The first round of Saimoe 2011 concludes with returning franchise A Certain Magical Index II/Toaru Kagaku no Railgun leading the poll with eight characters advancing - Index, Makoto Misaka, Shirai Koroko, Ruiko Saten, Kazari Uihara, Last Order, Agnese Sanctis and Itsuwa. Also a returning series, Strike Witches 2 sees seven characters going into the second round. (Erica Hartmann, Gertrud Barkhorn, Sanya V. Litvyak, Yoshika Miyafuji, Eila Ilmatar Juutilainen, Charlotte E. Yeager and Perinne H. Clostermann). Infinite Stratos leads all new series with six (Houki Shinonono, Cecilia Alcott, Charlotte Dunois, Laura Bodewig, Lingyin Huang and Honne Nohotok).
Among other popular series, five from Detective Opera Milky Holmes, four from Puella Magi Madoka Magica and three from Oreimo moved onto the second round. All characters from K-ON!!, including Saimoe 2010 winner Azusa Nakano, were eliminated in the first round.
Makoto Misaka of A Certain Magical Index II lead in total votes in the first round with 696. Akemi Homura from Puella Magi Madoka Magica amassed the second highest first round votes with 585; however losing to Misaka during the first match of the tournament. Kanade Tachibana of Angle Beats! collected the third highest amount of votes with 527.
Saimoe is currently proceeding with its second round. ANN's next results report will be posted shortly after the results for groups A-D have been decided.
Update: Nyarlathotep's vote count corrected. Thanks, DavidShallcross.
---
This article has a follow-up:
2ch Forum's Anime Saimoe Tournament 2011 Round 2: Groups A-D
(2011-09-30 12:45)
follow-up of
2ch Forum's Anime Saimoe 2011 Round 1: Groups E, F
Around The Web