Interest

This Year's Laputa TV Screening Tweets Tops at Half of Previous Record

posted on

2016-01-15

17:45 EST by Lynzee Loveridge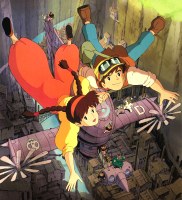 Japanese Twitter users continued their tradition of tuning into the annual television screening of Studio Ghibli's Laputa: Castle in the Sky. Every year, viewers take to Twitter to tweet the pivotal word "balse" at the same moment that the main characters Pazu and Sheeta chant the word at the climax of the film.
In 2013, the viewers set a world record of 143,199 tweets per second. This year, a total of 1,404,018 tweets containing the word were sent during the film's airtime. At the 23:23 minute mark there were 345,397 tweets with the 23:23:15 mark having the screening's highest tweets per second with 55,000 tweets.
Despite the yearly tradition, film director Hayao Miyazaki remains unaware. Ghibli producer Toshio Suzuki revealed that other members of the staff know, but haven't bothered to tell him.
[Via Otakomu]
---
Also: pictures from Square Enix Café Tokyo, Eorzea Cafés in Osaka & Tokyo, Artnia
― Square Enix opened its second permanent "Square Enix Café," this time in Osaka, on October 14. Similar to the café in Tokyo that opened last year, the Osaka café will have a themed menu every month or so featuring a Square Enix property. The first theme for the café is Kingdom Hearts, in celebration of the franchise's...
Kodansha USA has to pay Kodansha licensing fees for the manga it releases in the US. What? Why? Justin explains it.
― Mason asked: There's something that I've been curious about for a while. Why do manga companies, like Kodansha USA or Viz, still have to pay licensing fees to companies like Kodansha or Shueisha when they're pretty much owned by them already; they pretty much ARE them. It seems count...
Two episodes of Kyoto Animation's unbelievably lavish new sci-fi drama premiered in Japan over the weekend - here's a full report from the world debut!
― Something unusual happened in May 2014. After 4 years of entries that didn't meet the standards of the judges, a manuscript finally won the Grand Prize in the Kyoto Animation Awards. That alone brought some attention to Violet Evergarden, but the en...
Gabriella takes a trip back in time to the '90s with a modern adaptation of a forgotten shonen gem, as Paul runs down all this week's new anime releases.
― I recently discovered that one of my coworkers at my day job plays the Fate/Grand Order mobile game, and we've been bonding over our experiences with the game's fickle character gacha system. He left me seething with envy when he picked up Franci...
The Fall 2017 Anime Preview Guide SimulDub Edition has begun! Check back in for fresh previews of every new dub this season!
Available Now: King's Game - Blood Blockade Battlefront & Beyond - Garo Vanishing Line - Juni Taisen: Zodiac War
― Welcome to Anime News Network's Fall 2017 Preview Guide! Here's how it goes: our team of critics write up their impressions instantly, to be posted here as they g...
Cinderella may yearn for a prince, but she's not entirely sure she wants this one when she finds out about his fetish. Rebecca Silverman explains why.
― Readers of digital-only releases may already be familiar with Rin Mikimoto's work, as Kodansha began releasing her series Love's Reach as a digital exclusive earlier in 2017. Now her romance Kiss Me at the Stroke of Midnight is getting a physical rel...
This peaceful vision of the world after an apocalypse isn't the right read for all occasions, but it's a great read for when you need its unique brand of silent meditation. Rebecca Silverman weighs in.
― The world following an apocalypse is a theme that never goes out of style in science fiction, even if some points in history make it timelier than others. Most visions of a world destroyed take a dar...
Jacob, Sam, and Oren revisit this series' legacy from the first game all the way through the controversial new V3: Killing Harmony in this thrilling, chilling, killing retrospective.
― ANNCast Episode 309 - Danganronpa Deep-Dive Jacob, Sam, and Oren, who was the first fan to translate Danganronpa into English, revisit this series' legacy from the first game all the way through the controversial new ...
Now that all the hottest shows of the year have premiered, it's time to run down what popular trends are on the rise for more series to come in 2018!
― Guys, we've survived another year of anime! It's been four seasons of 30+ premieres each vying for our unwavering attention. Last year I ran this list at the midway point, but I've decided going forward that it makes more sense to run it after the fa...
Does the newest entry in this difficult RPG series still hurt good enough to be worth the challenge? Todd Ciolek finds out.
― Etrian Odyssey games ask a lot. They require you to pace around dungeon grids full of nasty enemies. They require you to map out levels in the tradition of the hardest RPGs of 1986. They require you to try again and again, even after a sudden and vicious encounter wipes out yo...
You see delinquents and gang members of all stripes in anime high school - but are they really a thing in Japan? Justin gets into it.
― Kevin asked: Are gangs really prevalent among high schoolers (off the top of my head, gangs chasing Yusuke in YuYu, Baki, Shinici in Parasyte)? They do exist! They're not THAT prevalent, but they are definitely a prominent part of Japanese society. Every society has...
Naruto's son may be the protagonist of this next generation, but that doesn't mean he'd be the best at his father's job. Amy McNulty explains why Sasuke's daughter is more fit to lead the village instead.
― The original Naruto series stars a young boy with a big dream—the epitome of the Shonen Jump hero. Despite his rambunctious nature and lack of book smarts, Naruto Uzumaki longs to become his vill...
This queen-sized release is an excellent way to dive into a yuri manga that's a cut above the rest. Rose Bridges explores what makes Takako Shimura's creation so special.
― On the surface, Sweet Blue Flowers has all the setup for a classic yuri premise: an all-girls' school full of students blushing at each other, kissing in hallways and against library stacks. The outside world of compulsory heteros...