Interest

This Year's Laputa TV Screening Tweets Tops at Half of Previous Record

posted on

2016-01-15

17:45 EST by Lynzee Loveridge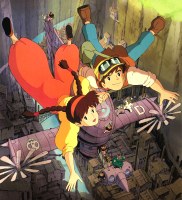 Japanese Twitter users continued their tradition of tuning into the annual television screening of Studio Ghibli's Laputa: Castle in the Sky. Every year, viewers take to Twitter to tweet the pivotal word "balse" at the same moment that the main characters Pazu and Sheeta chant the word at the climax of the film.
In 2013, the viewers set a world record of 143,199 tweets per second. This year, a total of 1,404,018 tweets containing the word were sent during the film's airtime. At the 23:23 minute mark there were 345,397 tweets with the 23:23:15 mark having the screening's highest tweets per second with 55,000 tweets.
Despite the yearly tradition, film director Hayao Miyazaki remains unaware. Ghibli producer Toshio Suzuki revealed that other members of the staff know, but haven't bothered to tell him.
[Via Otakomu]
---