News

BOST TV to Post Strike Witches Anime in English

posted on

2008-07-01

14:35 EDT
Internet distributor to produce its own subtitles; 3 Japanese commercials posted
---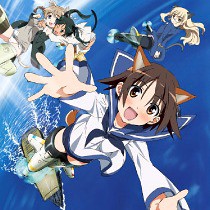 The Internet anime distributor BOST TV has announced that it will release the Strike Witches television anime series in English. It also confirmed that it will produce the English subtitles itself, as it had done earlier for all of the overseas Internet distributors for The Tower of Druaga: the Aegis of Uruk and Blassreiter anime series. The series adapts the illustrations by Humikane Shimada (Sky Girls) of mecha-girls — girls whose bodies have been merged with real-life and imaginary machinery and weapons.
BOST TV has posted three of the four Japanese commercials for the anime in expandable windows. GDH, the parent company of the Gonzo studio which is animating Strike Witches, had announced late last month that the YouTube and Crunchyroll websites will also offer this anime online to overseas viewers. BOST TV said that it will provide more details on its release soon.
Thank you to Senshi for the news tip.
---