News

Right Stuf Streams Aria Anime Trailer

posted on

2008-07-16

22:00 EDT
First series box with 13 episodes to ship on September 30
---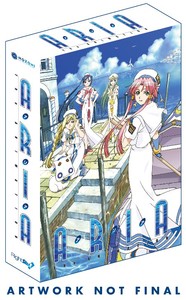 Nozomi Entertainment, the anime production arm of Right Stuf, Inc., has announced that it has posted its trailer for the Aria the Animation series. (In the linked page, point towards the "nav" icon on the lefthand side to reveal the Trailer menu option.) The anime adapts Kozue Amano's acclaimed future slice-of-life manga about Akari, a girl training to be a gondolier on a canal-linked planet. Director Junichi Sato (Princess Tutu, Kaleido Star, Sailor Moon/Sailor Moon R) and the studio Hal Film Maker (Boys Be..., Pretear, Slayers Premium, Sketchbook ~full color'S~) animated four different Aria projects. Both the Aria manga and anime storylines ended this past spring in Japan.
Right Stuf will ship the first box set of 13 episodes from Aria the Animation on September 30, and the set's DVDs will include Japanese audio and English subtitles. Tokyopop is publishing the 12 volumes of the manga after picking up the license from Mag Garden, who serialized the manga in Monthly Comic Blade magazine. ADV Manga had initially carried part of the manga, but discontinued it.
Image © 2006 Kozue Amano/Mag Garden, Aria Company. All Rights Reserved.
---
Around The Web
The Index movie certainly looks good and has all your favorite characters, but for a sprawling franchise like this one, what can an 85-minute film hope to achieve? Theron finds out.
― The world of Academy City is such an expansive, involved franchise that bringing it all together in a single 85-minute move is a tall order. That is exactly where The Miracle of Endymion stumbles. It is so focused on tr...
Shaenon learns that war is hell, even if you're a fuzzy bunny, in Motofumi Kobayashi's hit manga.
― Apocalypse Meow The most disappointing title change from manga to English translation happened last year, when the American movie version of All You Need Is Kill was released as Edge of Tomorrow. (Okay, okay, All You Need Is Kill was a light novel before it was a manga, but bear with me, I'm riffing.)...
Straw Hat Pirates and their captain, Monkey D. Luffy, continue their adventure in pursuit of becoming the King of the Pirates, and finding the mysterious treasure known only as One Piece. The hit anime and manga have taken the world by storm over the last 18 years, complete with a motley line-up of characters that reinvented the pirate genre completely, and became the best-selling manga of all ti...
This week, it's import time with Dragon Quest, Doraemon, and God Eater! Plus Azure Striker Gunvolt, a new contender for Harvest Moon's turf, and another old cartoon about video games!
― I mentioned the Power Team last week. It's not a very good cartoon, and it's notable mostly because it gave animated exposure to some video-game characters destined for obscurity. So perhaps I should cover an older c...
Season two of the controversial Sunrise mecha action show arrives on Bluray, and Theron is here to find out if it manages to entertain, or if it's just here to baffle you.
― Since the beginning the Valvraves have been pitched as "the system that will reveal the truth of the world." The first season, though, gave little indication that such a statement was anything more than typical colorful hyperbole...
We're giving away this gorgeous Kotobukiya figure of Yaya!
― Today is the day that FUNimation Entertainment releases Unbreakable Machine-Doll (BD/DVD Combo) in regular and limited editions. To celebrate, FUNimation has decided to let ANN give away this beautiful Kotobukiya figure of Yaya from Unbreakable Machine-Doll (a $99 value). You may have seen Unbreakable Machine-Doll, but both of these comple...
Hope counts down the best moments where Yoko Kanno brought her A-game to Cowboy Bebop. Plus: your poll results, and vote for your favorite Bebop episodes!
― 3 2 1, Let's Jam! It's time for a Cowboy Bebop themed episode of The Set List. This week, I've ranked my Top 10 Musical Moments from the legendary jazz-and-blues inspired anime, and you can check them out in the video below! (Please note that we...
The Devil's Legacy Kickstarter launched today. Here are 11 reasons (of many) to back the production of this new anime OVA.
― IMG avalon.jpg Devil's Legacy is unique. Imagine a cross between Berserk and Ghost In The Shell, but directed in the style of Go Nagai*, with a bit of Death Note added in for good measure. It's a story worthy of the Dante's Divine Comedy. What other anime has a spectacularly u...
PONYCAN USA launched a few months back with two shows: Denki-Gai and Yuki Yuna is a Hero. Executive Director Kazuyoshi Fukuba answers a few questions about what to expect, and what's up with those prices.
― PONYCAN USA is the newly-minted US distribution arm of Pony Canyon, which has been in the Japanese media business since 1966. PONYCAN USA follows the example set by Aniplex of America, in that th...
Shinichiro Watanabe's zany sci-fi showcase for his artist pals winds up on bluray today, loaded with special features in a limited edition with a hefty price tag. Mike Toole investigates.
― Space Dandy is a series full of magic-- a magic that first reveals itself late in episode 1, during a sequence in which the show's titular hero and his new pal, Meow, are forced to run away from a pack of jumbo-si...
Find out if you won!
― Thank you (again) for entering our contest (again). Winners: Patrick Nakasone, Honolulu, Hi Hiddi Jordan, Bailey, Mi Saul Diaz, Arleta, Ca Watch for our next give-away coming SOON! In the meantime, head over to SpaceDandy.com to find out more about FUNimation's awesome Space Dandy sets.
Lots of new releases this week. Plus, reviews of The Ambition of Oda Nobuna, and Hozuki's Coolheadedness.
― Jump to this week's reviews: Ambition of Oda Nobuna BD, Hozuki's Coolheadedness BD. On Shelves This Week Chronicles of the Going Home Club - Complete Series [Premier Edition] BD NIS America - 288 min - Sub - MSRP $64.99Currently cheapest at: $47.99 Right Stuf Synopsis: New high school student ...
This little-seen family adventure about a group of tanuki living in Kyoto has careful writing and beautiful scenery; Nick Creamer thinks it might just be a modern classic.
― In the guidebook accompanying Eccentric Family, series composer Shotaro Suga speaks frankly of the difficulty of condensing an entire book into an anime, and the question of where to even begin telling the story. "There are just ...