News

Switch Anime's Opening Sequence Posted Online

posted on

2008-10-03

12:12 EDT
Adaptation of
naked ape
's "stylish crime action" manga to ship on October 24
---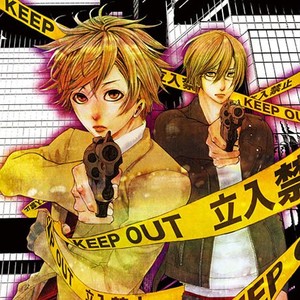 The Animate.tv video-streaming website has begun streaming the 1-minute, 30-second opening animation sequence in narrowband and broadband versions for the Switch original video animation series on Thursday. In the story, Kai (Jun Fukuyama) and Hal (Takahiro Sakurai) are two rookie narcotic cops who go undercover in Japan to investigate a new drug called "Funny Angel." The anime studio ACTAS, Inc. is adapting this "stylish crime action" manga that was created by the writer/artist team naked ape (Otoh Saki and Tomomi Nakamura). The anime's opening animation sequence features the "Find Out" opening theme song by MIRANOSAND, who also sings the ending them "Your Hand."
The two volumes of the Switch anime series will ship in Japan in October 24 and December 26. Viz Media will release the fifth volume of the original manga in North America next month.
Source: Saishin Anime Jōhō
Image © naked ape/Square Enix, Project Switch
---
Around The Web
These anime thieves steal whatever isn't nailed down: cash, artwork, priceless artifacts, and your heart.
― Fiction has always had a love affair for charming rogues. They steal from the rich and elude bumbling detectives who are always two steps behind. In many cases the story is written around their crime; the victims are corrupt or the items in question are fakes. This way the burglars are anti-he...
Nick Creamer ruminates on Shirobako's portrayal of the hardships that come with working a creative job.
― Life is full of trials and mistakes no matter how you slice it, but pursuing a career in the arts is just asking for trouble. I've made more than my own share of such mistakes, and my past is littered with the detritus of a failed novelist, failed musician, failed game writer. There's no security...
Marketing specialist for Aniplex of America EJ Rivera drops by the show to chat all things Aniplex, including some sales numbers, upcoming releases, and those pesky prices people love to fight about.
― ANNCast Episode 223: Aniplex Machina Get the Flash Player to see this player. Marketing specialist for Aniplex of America EJ Rivera drops by the show to chat all things Aniplex, including some sales n...
Please take a few minutes to answer our annual reader-survey. The information is very helpful to us.
Justin takes on the backlash over simulcast subtitle quality. Then, why anime studios change in the second season of a show, what happens when a US publisher gets the rights to release something elsewhere, and more.
― After last week's column was posted, I got some grief on Twitter from a handful of readers, who were incredulous that I had such high praise for the staff that works on simulcast subti...
The Grand Magic Games heat up as unscrupulous contenders make the fights more dangerous while ominous powers move behind the scenes. Can Fairy Tail still come out on top?
― Fairy Tail has successfully made the standard shounen tournament arc into something that, if not precisely new, is still interesting even as it maintains the genre standards of increasingly powerful battles and hidden powers. Inde...
If you were ever curious what life was like for the woman who created Princess Jellyfish, Jason has the manga for you.
― Kakukaku Shikajika "I want to go back in time and beat up that moron." —Akiko Higashimura, and many other artists, talking about their younger self Few artists "live the dream" of becoming a professional when they're still a teenager. When I was a kid I dreamed of being a horror a...
Rising from the dusty wastes of 2002, the grim embodiment of tragedy porn known as Saikano has returned to DVD. Run for your lives.
― In television writing there's an old adage about manipulating the emotions of your audience; there are various permutations on it, but the most common one is known as "kicking the puppy". This refers to a hypothetical situation in which a writer, desperate to wring som...
This week: part two of Global Gamers Day with Godzilla, Tales, and manga stars! Plus Amnesia: Memories, Tokyo Xanadu, and your chance to pick your GameArts favorites!
― GameArts doesn't make much noise these days. GungHo Online Entertainment took over the company years ago, and they seldom bring up the Lunar games, the Grandia series, Thexder, GunGriffon, or any GameArts series other than Ragnarok O...
Straight from your childhood and the pages of Nintendo Power, Manga great Shotaro Ishinomori puts his own spin on the classic Nintendo game.
― Link, that pantsless elven hero of many a video game, is back from the dead pages of Nintendo Power Magazine! For fans of the Nintendo franchise The Legend of Zelda who were either not subscribing to the Nintendo Power Magazine in 1992 or are not familiar with...
These guys are releasing the soundtrack to Yoshiaki Kawajiri's classic horror flick Wicked City on vinyl. We sat down to ask them why.
― Tiger Lab Vinyl recently announced that they'd be releasing the soundtrack to the classic Yoshiaki Kawajiri horror anime Wicked City on limited edition vinyl. They're the first record label to release classic anime soundtracks on the resurging format, and we sat dow...
A story about hope that travels through space and time.
― Wish upon the Pleiades Visit the Official Site › Story Characters Trailer Cast & Staff Gallery Broadcast Begins April 2015 (JST) Key Staff Director: Shoji Saeki (FLCL (OVA), Medaka Box Abnormal) Character Design: Mai Otsuka ( Astarotte's Toy, Hanamaru Kindergarden) ↑ Top Story Subaru is a junior high student that loves the stars. One day, aft...