News

Scotland Loves Animation Adds Votoms Movie in Edinburgh, plus guests.

posted on

2011-09-21

20:53 EDT
---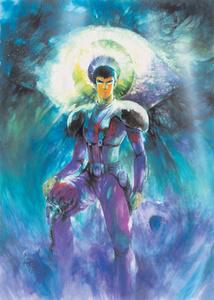 Scotland Loves Animation announced that it will screen the cinema film Armored Trooper Votoms: Pailsen Files at the Edinburgh weekend only.
The screening will be followed by a Q&A with director Ryousuke Takahashi, who was the original creator of the Votoms universe, and planning producer Shunsuke Oiji. Takahashi will also appear in a seperate morning session on Sunday October 16 to discuss anime in general. (Apart from Votoms, his anime credits include Gasaraki, Bakumatsu Kikansetsu Irohanihoheto and FLAG.) The Edinburgh part of the event runs from October 14 to 16, and Scotland Loves Animation says that tickets will go on sale on Friday.
The hero of Armored Trooper Votoms: Pailsen Files is Chirico Cuvie, a VOTOMS robot pilot assigned to a new squad of elite soldiers. The new team is an experiment, sent on seemingly impossible missions. Compiled from a six-volume video series, the film is a prequel to Sunrise's classic 1983-1984 "real robot" anime, Armored Trooper Votoms.
More details of the festival screenings are available here (and here for its screening of Flashbacks to a Certain Aerial Pilot, and here for its screening of A Letter to Momo.)
Images © SUNRISE, ASCII.
---
We're giving away 6 copies of the New York Comic-Con Exclusive Edition of The Attack on Titan Anthology, including one copy signed by the artists and writers!
― Our wonderful friends at Kodansha Comics have given us 6 copies of the New York Comic-Con Exclusive Edition of The Attack on Titan Anthology, including one copy signed by the artists and writers! It's the "most anticipated title of the year" ...
The Nintendo Switch is here! Plus: Dustin digs deep into Exist Archive, a gorgeous new Valkyrie Profile-style RPG. ALSO: Red Dead Redemption 2, World of Final Fantasy and more!
― First things first, let's get this out of the way: the teaser video for the Nintendo Switch, Nintendo's next console, is here. Watch it, absorb it, really give it some thought, and you'll get my full reaction next week. Movi...
As High School DxD enters its third season, does it still have enough juice to satisfy thirsty fanservice fans? Theron Martin has the answers.
― Based on its first two anime installments, High School DxD is the standard-setter and reigning champ for raunchy harem franchises. Despite being plagued by some production and storytelling issues, its third season does little to dethrone it. The main problem...
Sometimes you hear it said that english dubs contain more swearing than a faithful translation would provide; is there any truth to that? Justin looks into it.
― Eric asks: So I have an acquaintance who says he prefers to watch subbed anime over English dubs because the English translators add too many swears to the dialogue. Now I usually don't care why people prefer dubs or subs (and in this case ...
Bandai Namco Games is set to launch the latest Sword Art Online video game, Sword Art Online: Hollow Realization very soon. The game launches in Japan on October 27. Fans in Europe and North America won't have to wait much longer; the game will be released in those regions on November 8. Hollow Realization is set after the events of Lost Song and takes players back to the world of Ainground, a rev...
Light novel adaptations have overwhelmed the anime industry for years - but what's a "light novel", anyway? Who writes them, who reads them, and how did they come to dominate anime?
― Light novels are some of the most common sources of anime adaptations today. While light novels have served as a basis for anime for many years (think of titles like Slayers and The Record of Lodoss War), they have beco...
Can a fantasy adventure starring a pack of puppets really capture the same thrills and chills as an anime series, even with Gen Urobuchi at the wheel? Nick Creamer aims to find out.
― When it was first announced that Gen Urobuchi would be directing a puppet drama, it was difficult to know what to expect. Having started his career in visual novels and then made his mark in anime through works like Mad...
The creator of Korosensei, that iconic grinning yellow face from the smash hit manga and anime Assassination Classroom, sits down to discuss his career, his influences, and his thoughts on classroom bullying.
― Yusei Matsui does wonders with weird creatures. His widely successful Assassination Classroom poses an inventive battle: misfit students take on a Koro-sensei, a grinning yellow alien who thr...
Vice's scary story falls short, so it's up to Luna to bring the real terror!
― Editor's Note: Vice & Luna will return to regular story pages next week!
Now that a limited edition release has finally made its way stateside, how does Studio Bones' ambitiously bizarre action series hold up? Jacob Chapman takes a look.
― It seems like an impossible task to pick out the one strangest thing about Blood Blockade Battlefront, even if you limited yourself to the very first episode. The show kicks off by ripping open its universe and ushering every supernatur...
Japan's declining population comes up from time to time in anime - but why is it happening? Justin gets into the basics, and how it impacts the anime industry.
― Jake asks: One thing I have heard about for well over a decade is that Japans population as a whole has been shrinking since the end of the 1980's. That fewer people are getting married and having less, if any, children than there parents a...
Is the Perfect Insider a perfect mystery or just a perfect mess? Paul Jensen weighs in. Plus, all this week's new anime releases!
― I had a literal "Shelf Life" moment this week: I put together a small bookcase that I'd bought for my apartment a while ago. It looks pretty decent as long as you ignore the fact that I put the fake wood back piece on backwards so the cheesy cardboard side faces out. Cl...
The Asterisk War anime was the first version of this story to reach the west, but is it the best one? Rebecca Silverman weighs in.
― The first version of The Asterisk War to make it to the west is also the last one to see a physical release – the 2015 anime series. Aniplex of America's release of the first six episodes on Blu-Ray, which also includes a music CD of various BGM pieces remixed into a si...
The Fall 2016 Anime Preview Guide has begun! Check back daily for fresh previews of every new show this season!
Available Now: Girlish Number - Fall 2016 Short Anime - Magic of Stella - March comes in like a lion - Occultic; Nine - Poco's Udon World - Long Riders - ClassicaLoid - Kiss Him, Not Me! - Haikyu! Season 3 - Drifters - Lostorage incited WIXOSS - ALL OUT!! - Keijo!!!!!!! - FLIP FLAPPERS - Brave Witches - and much more!