News

Anime Legends Edition of Cowboy Bebop Remix Available Today

posted on

2012-01-02

07:07 EST
Anime Legends Release of
Code Geass
R2 will follow on January 30.
---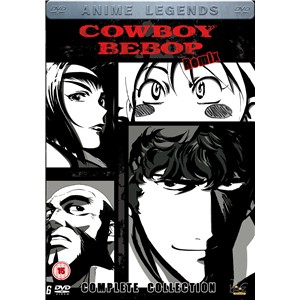 The Anime Legends edition of Cowboy Bebop Remix, released by Beez, is available on DVD today.
Cowboy Bebop Remix is the 2005 special edition of the Cowboy Bebop series, with a remixed and remastered Dolby Digital 5.1 and DTS surround sound and remastered video under the direction/supervision of Shinichiro Watanabe.
Responding to a twitter query, Beez said this edition of Cowboy Bebop would be in standard plastic packaging, and that the previous collected edition of the series (released in a fold-out slipcased edition in 2009) "won't be reprinted for some time."
An Anime Legends edition of Code Geass R2 will be released on January 30.
---
Mob Psycho 100 and New Game! race up the charts as we head into the final weeks of Summer 2016! Find out how all your favorite shows fared in our weekly rankings!
― Our team of reviewers are following 30 anime series of the Summer 2016 season and readers are rating each episode as the reviews go up. So let's have a look at what ANN readers consider the best (and worst) of the season. Keep in mind th...
Luna's got a foolproof plan to watch nearly the entire fall anime season at once!
― Editor's Note: we'll be back with full story pages next week!
Theron Martin takes on the fourth installment of the Fate/kaleid franchise, which returns the series to a greater focus on story and action in a mysterious alternate world.
― At 12 episodes, the fourth installment of the Fate/kaleid liner franchise is its longest to date. It's apparently not the last installment in the franchise either, given the recent advertisement for an upcoming movie. That's goo...
It seems like anime series used to run longer - 26 to 52 episodes, rather than the nonstop drip of 12- and 13-episode shows we get now. Why did things change? Justin gets into it.
― Mathias asks: Looking back at the past decades, it seems that less anime shows were made, but that they ran for a longer time, often going over fifty or even a hundred episodes. What made producers switch to the current ...
Gabriella Ekens jumps back in time to the '90s with the trendy Super Gals! to see how this forgotten shojo gem has aged. Plus, all this week's new releases!
― It never fails. Whenever I have all the time in the world to work on the new release section, four or five things come out that week at most. But when I move to a new apartment and spend most of the week away from my work computer? Well, take ...
This nostalgic Digimon journey takes a dark turn in its third arc, but what do these melancholy twists mean for Adventure's final chapter? Jacob Chapman dives in.
― Growing up can be wonderful in many ways, but so far, Digimon Tri has just been exploring all the not-so-wonderful things about it. From Tai's realization that the war games he used to play as a child have permanent real-world consequence...
Doamygar D offers simple but endearing riffs on classic super robot staples, two minutes at a time. Nick Creamer investigates.
― It's a little surprising to me that a show like Doamygar-D would get a western release at all. The show is unabashedly insular - starring a young Kyoto confectioner known as Daijiro Kyougoku, it riffs on super robot cliches from nearly half a century ago, mixing them with s...
In this Classic edition of The List, we take a more colorful look at history, as famous figures from the past return in wacky ways in your favorite anime and manga!
― Hey everyone, this classic List is brought to you courtesy of an uncooperative baby. Infants are rough and mine decided naps were out of the question this week. Thank you for understanding! I rocked out to Ozzy Osbourne's Prince of Dar...
The second volume of this josei romance focuses on Ryu Nanami, who may have bigger issues than he thinks. Rebecca Silverman investigates.
― When we first met Asuka and Ryu, they were resisting falling for each other. Asuka has the old-fashioned dream of one day marrying and becoming a stay-at-home wife and mother, while Ryu, a popular newscaster, likes living life his way on his terms, none of which ...
While it isn't quite the size of AnimeJapan, KyoMAF still has a buffet of cool stuff for anime fans! Here are a ton of photos from the booths on display at the Kyoto International Manga Anime Fair.
― While not as big as AnimeJapan in terms of attendees, event space, or number of exhibitors, Kyoto International Manga Anime Fair (KyoMAF) is still one of the biggest anime events in the Kansai area, and...