News

Idolm@ster Inspires 8 Manga Series in 8 Magazines/Sites

posted on

2012-06-24

13:30 EDT
Cinderella Girls game gets 4 manga & Jupiter male idols get 3
---
Namco Bandai Games producer Yōzō Sakagami revealed on Sunday that the Idolm@ster game franchise is inspiring eight manga series in eight different magazines and websites. At "The Idolm@ster 7th Anniversary 765Pro Allstars Minna to Issho ni!" live concert event, Sakagami said that The Idolm@ster Cinderella Girls Mobage mobile game is spawning manga series in Square Enix's Young Gangan, Big Gangan, and Gangan Joker magazines, as well as on the Gangan Online website.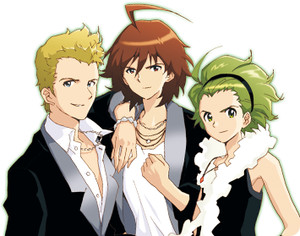 Jupiter, the male rivals of the 765Pro idols, will spawn three manga series of their own in Hakusensha's Hana to Yume and The Hana to Yume magazines, as well as on the Hana to Yume Online website. The manga series will launch this fall.
Finally, The Idolm@ster television anime series will get its own manga adaptation by Mana in Ichijinsha's Monthly Comic Rex magazine. Tatsuya Takahashi is writing the scripts, just as he did in several television episodes.
Source: Famitsu
Images © NBGI
---