News

Shinkai's Children Who Chase Voices Dublin Screening July 2

posted on

2012-06-26

22:48 EDT
Screening at 7 p.m. at Light House cinema, followed by live Q&A with Shinkai.
---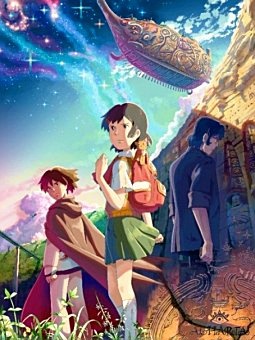 Tickets for the Dublin screening of Makoto Shinkai's Children who Chase Lost Voices from Deep Below (aka Journey to Agartha), including a Q&A with the director, are available here. The screening will be on Monday July 2 at 7 p.m. at the Light House cinema in Market Square, Smithfield (map). Adult tickets are €9, while concessions are €7.50.
The film centres on Asuna, a girl who spends her solitary days listening to the mysterious music emanating from the crystal radio she received from her father as a memento. She embarks on a journey of adventure in the underground realm of Agartha, and thus comes to know the cruelty and beauty of the world. The festival deems the film suitable for viewers aged 10 and over.
The film is the latest work by Shinkai, the creator of Voices of a Distant Star, The Place Promised in Our Early Days, and 5 Centimeters Per Second. The screening will be preceded by his short film, She and her cat, and followed by the Q&A with Shinkai himself.
---
Can these teenagers take on the burden of saving their world?
― BBK/BRNK: The Gentle Giants of the Galaxy Visit the Official Site › Story Characters Trailer Cast & Staff Gallery Broadcast Begins October 1, 2016 (JST) Key Staff Character Design: Yusuke Kozaki (Fire Emblem Awakening, NO MORE HEROES) Music: Masaru Yokoyama (Your Lie in April, Plastic Memories) Introduction Can they pull it off? Story L...
Dustin runs down the biggest Fall games, from Pokemon Sun & Moon to Final Fantasy XV! PLUS: An N64 emulator on the Xbox and much more!
― It's a slow news week. There aren't a lot of games out. So what do we game fans do when there aren't a lot of current events? We certainly don't catch up on our back catalogs! No, we look to the future. Now that we're entering the fourth quarter of the year—you know...
Yoshiyuki Tomino returns to the director's chair for the first time in over ten years for this unorthodox Gundam series, but has the franchise's creator lost his edge? Lauren Orsini investigates.
― The confusion that is Gundam Reconguista in G begins with the name. The word comes from the Spanish reconquista, or "reconquest" in English, but has been altered for a hard "G" sound, as director Yoshiyuki...
With the fall season upon us, it's a reminder of just how much new anime there is every season. Justin considers the angles - and we'd love to hear your secrets for keeping up!
― Nathan asks: I'm an anime fan since the late 90s, returning to regular watching after a hiatus since around 2004. Now, EVERYTHING seems to be coming over, and the front page of Anime News Network seems like a deluge of unfa...
The Summer 2016 anime season is over - so it's time to pick our favorites! From Mob Psycho 100 to Sweetness & Lightning, find out our critics' picks for the best and worst of the season - and don't forget to share yours!
― Summer is wrapping up, which means it's time to poll our Daily Streaming Reviews team and find out which shows they loved the most, and which shows they'll try the hardest to forge...
In the second half of this cult shonen hit's first season, Class E faces some of their greatest challenges yet! Rebecca Silverman breaks down the highs and lows.
― I hope that I can be as effective a teacher as Koro-sensei someday. Despite the fact that he's a giant tentacular octopus who destroyed the moon and threatens to do the same to the Earth, he also truly cares about his students and manages ...
Mob Psycho 100 and New Game! race up the charts as we head into the final weeks of Summer 2016! Find out how all your favorite shows fared in our weekly rankings!
― Our team of reviewers are following 30 anime series of the Summer 2016 season and readers are rating each episode as the reviews go up. So let's have a look at what ANN readers consider the best (and worst) of the season. Keep in mind th...
Luna's got a foolproof plan to watch nearly the entire fall anime season at once!
― Editor's Note: We've had a slight schedule change - due to preview guide and an upcoming personal event, we'll be doing these shorter strips for the next 2 weeks. We'll be back to our usual story pages the week of October 17! Thanks for reading!
Theron Martin takes on the fourth installment of the Fate/kaleid franchise, which returns the series to a greater focus on story and action in a mysterious alternate world.
― At 12 episodes, the fourth installment of the Fate/kaleid liner franchise is its longest to date. It's apparently not the last installment in the franchise either, given the recent advertisement for an upcoming movie. That's goo...
It seems like anime series used to run longer - 26 to 52 episodes, rather than the nonstop drip of 12- and 13-episode shows we get now. Why did things change? Justin gets into it.
― Mathias asks: Looking back at the past decades, it seems that less anime shows were made, but that they ran for a longer time, often going over fifty or even a hundred episodes. What made producers switch to the current ...
Gabriella Ekens jumps back in time to the '90s with the trendy Super Gals! to see how this forgotten shojo gem has aged. Plus, all this week's new releases!
― It never fails. Whenever I have all the time in the world to work on the new release section, four or five things come out that week at most. But when I move to a new apartment and spend most of the week away from my work computer? Well, take ...
This nostalgic Digimon journey takes a dark turn in its third arc, but what do these melancholy twists mean for Adventure's final chapter? Jacob Chapman dives in.
― Growing up can be wonderful in many ways, but so far, Digimon Tri has just been exploring all the not-so-wonderful things about it. From Tai's realization that the war games he used to play as a child have permanent real-world consequence...