News

Sketchtravel Charity Book Published in Japan, U.S.

posted on

2012-08-18

01:47 EDT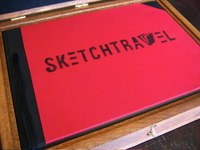 Sketchtravel, an extensive charity book with contributions from 71 artists, was published on Wednesday by Asukashinsha in Japan and by Chronicles Books in the United States. Japanese animator Daisuke "Dice" Tsutsumi and French illustrator Gerald Guerlais initiated the project to benefit the international literacy non-profit organization Room to Read.
Each artist drew a piece of artwork in the book and passed it on to the next artist over a four-and-a-half year period beginning in September 2006. The 120-page sketchbook traveled through 12 countries including Japan in that time. Japanese animators and manga artists who contributed to the book include:
(The Comic Natalie website posted a sample gallery of the artwork.)
Chronicles Books published the book in Europe last October, and the original copy of the book was auctioned that month for 70,000 Euros (about US$96,200).
As it happens, Tsutsumi is married to Miyazaki's niece, who was a childhood friend of Tsutsumi.
Source: Comic Natalie
---
Around The Web