News

Un-Go Release Delayed to July 8

posted on

2013-06-14

09:45 EDT
Release will be a DVD/Blu-ray combo pack.
---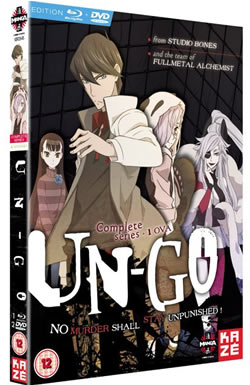 Manga Entertainment has tweeted the following message about the series Un-Go, which will be released as a DVD/Blu-ray combo pack. (It is a Kaze release, though distributed by Manga Entertainment; Manga previously tweeted that the Blu-ray would not be compatible with Panasonic devices.)
We wanted to inform you that due to an unexpected shipping delay of stock the release of Un-Go: Complete Box Set has now been pushed back to the 8th July. We apologise for this but it is completely unavoidable.
---
this article has been modified since it was originally posted; see change history
Super useful to us, and it will take you less than a minute!
Famous mangaka for series like Death Note can be famously withdrawn from the public eye, rarely granting interviews or even pictures. What's with that?
― Federico asks: Why in recent years are manga artists so obsessed with privacy, to the point we know next to nothing about them? Decades ago they had no problem in being interviewed, filmed, photographed, and mostly anyone who was interested in thei...
Eden of the East made a huge splash back in 2009, but how well has its techno-thriller storyline aged? James checks out Funimation's fancy new special edition. PLUS: this week's new releases!
― As amusing as I find Haven't You Heard? I'm Sakamoto, I'm increasingly convinced that I'm primarily watching it as an excuse to enjoy its opening theme once a week. It's cool, cooler, coolest. Before we dive ...
Mike tries out the flashy shonen cooking action of Food Wars, but an enticing aroma leads him further to Oishinbo, the series that really catapulted food manga into popular consciousness. Let's eat!
― I've spent the last couple of weeks commuting back and forth to the library, in pursuit of a particular manga series. You may remember, from my Monster Girl Hoedown column, that I'm quite fond of levera...
The Gods Lie is a bittersweet coming-of-age story about two children finding solace in each other told in a quiet, understated style that tugs gently at your heartstrings without going overboard.
― There are many different kinds of lies: small ones, harmful ones, and, most insidious, the ones you desperately want to believe. There comes a point during growing up when you begin to understand that last...
They said it couldn't be done, but when asked to compile a list of monkeys in anime, you simply can't have less than twelve, including Dragon Ball Z, Blood Blockade Battlefront and much more!
― Our regular list-maker extraordinaire, Lynzee Loveridge, is going on hiatus for a couple weeks, so I'll be filling in while she's away. My name's Jacob Chapman, and this week, I've got monkeys on my mind. Why...
The second volume of Arina Tanemura's magical woman story brings us into the past and mind of the series' de-facto mascot character, Tokita, as she continues to play with the magical girl genre.
― Why is Tokita helping Chikage to relive her adolescence? Volume one of Arina Tanemura's magical woman story implies that it's just because she was his first love back in the 9th grade, but is that really en...
What is it that makes the superheroes in Japan's megasize hits One-Punch Man and My Hero Academia feel so different from our old friends Iron Man and Batman? The differences are wider than you might think.
― Superheroes are extremely popular right now. Regardless of how you feel about the trend of a new comic-based movie or television series premiering every five minutes, it's undeniable that cape-we...
Jojo's Bizarre Adventure is just as insane as ever with its overpowered fights and insane anatomy. This volume adds some emotional heft to the story as well, forcing Jojo himself to do some growing up.
― Are you excited for more Jojo after the cliffhanger of volume two?! Hirohiko Araki sure is! He wants you to know that every sentence is important, too, or that nearly every word spoken in Battle Tend...