News

Final Danganronpa Episode Ends with Image of Super Danganronpa's Monomi

posted on

2013-09-28

06:23 BST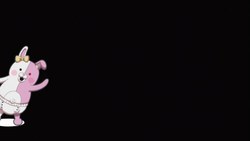 The final episode of the Danganronpa The Animation television series ended on Friday with an image (pictured right) of the Super Danganronpa 2: Sayonara Zetsubō Gakuen game character Monomi. The stuffed rabbit "teacher" character debuts in the sequel game and does not appear in the original Danganronpa Kibō no Gakuen to Zetsubō no Kōkōsei game that inspired the anime. No anime adaptation of Super Danganronpa 2: Sayonara Zetsubō Gakuen has been announced.
NIS America announced at Anime Expo in July that it will be releasing the PlayStation Vita port of the first Danganronpa game in North America and Europe early next year under the name Danganronpa: Trigger Happy Havoc. Danganronpa 1 & 2 Reload, the PlayStation Vita port of the Danganronpa 1 & 2 mystery action games, will be released in Japan on October 10.
Danganronpa The Animation premiered in July, and Funimation is streaming the series as it airs.
[Via 0takomu]
---
Say like you want to move to Japan to wallow around in awesome anime and manga swag all day, but can't afford it - is California the next best thing?
― James asks: I've noticed that the state of California has a lot of Anime Stores and other shops (like Little Tokyo) for Anime. Would California be the ideal place to live in and have access to acquiring physical Anime, Manga, and other related mercha...
The action blockbuster Blue Exorcist is back with a brand-new anime in 2017 - we sat down with the original creator of the Blue Exorcist manga to explore her incredible success (and dig up details on the new anime!)
― Kazue Kato, the creator of Blue Exorcist made her N. American comic/anime convention debut appearance at Anime Expo 2016 in Los Angeles on July 4th weekend. She came to meet fans and to...
Despite taking nine years to be released in English, this unique series about how augmented reality tech could change the world is more timely now than ever. Theron Martin dives in.
― Den-noh Coil is an original anime production and the brainchild of Mitsuo Iso, a name that even dedicated anime fans probably aren't familiar with unless they are steeped in knowledge of key animators. (He has done work...
This week: Todd looks at Square Enix's throwback RPG! Plus Gravity Rush 2, Nintendo classics, and a major announcement!
― I'll start this column with some very important news: The X Button is retiring. If all goes as planned, the final installment will go up next Thursday, July 28. I must preemptively fend off rumors that the column's being shuttered because of my controversial stand on the Breath o...
Sakamoto walks off into the sunset in this final volume of Nami Sato's breakout comedy manga. But do Sakamoto's adventures come to a surprisingly emotional conclusion instead?
― It's hard to believe, but with this volume of Nami Sato's breakout manga, our time with Sakamoto comes to an end. Whether it was planned this way or not, each volume ends up representing one season of Sakamoto's school life, ...
In an age when almost every anime series gets licensed, how and why exactly do some shows still fall between the cracks? Justin breaks it down.
― Imogen asks: With the recent news article about Sentai dubbing Amagi Brilliant Park I was curious to know if there's a reason why one of Kyoto Animation's other works 'Hyouka' hasn't had any distribution beyond Japan when all of their other shows have? Is ...
Lauren Orsini lists the Gundam pilots whose decision-making skills and emotional fortitude she can relate to the most - while exploring how your favorite Gundam pilots can say a lot about you and the Gundam series you respond to most.
― Gundam has given us a lot of main characters who are strong, capable, and smart. But how many of them can you actually relate to? Since Mobile Suit Gundam first aired...
Lauren Orsini takes a look at the first Gundam series revolving completely around Gunpla models. Is there secretly much more to this series underneath its toy commercial polish?
― Let's address the elephant in the room: Gundam Build Fighters is a toy commercial. However, it's an amazing toy commercial with beautiful animation, innovative mecha designs, humor, and heart—one that I want to watch again ...
The president of the studio behind classics like Fullmetal Alchemist and recent smash hits My Hero Academia and this season's Mob Psycho 100 speaks his mind on the state of the industry and his studio's incredible output!
― Masahiko Minami is a co-founder and the president of BONES, the studio behind world-class anime classics like Fullmetal Alchemist, Eureka Seven, and most recently, the internation...
Naming your brand-new pet can be a pretty difficult task, but nobody's up to the job like Blume!
― Art: Lanny Liu Script: Zac Bertschy Editor: Jacob Chapman
When young John Watson's friend dies, he tries to replicate Frankenstein's reanimation of a corpse in this darkly fascinating 19th-century adventure from Studio Wit. So how does this unusual horror tale turn out?
― When Mary Shelley published her novel Frankenstein in 1818, I wonder if she had any idea how enduring it would become. The tale of Dr. Victor Frankenstein's efforts to create life from dea...