News

Saint Seiya CG Film's New Video Centers on Athena

posted on

2014-06-06

01:50 EDT
Tiger & Bunny
's Satou directs Legend of Sanctuary film opening on June 21
---
Toei Animation began streaming the second special video for this month's CG film Saint Seiya: Legend of Sanctuary on Friday. The video centers around Saori as the young woman discovers she is actually the Greek goddess Athena.
Madam, you are the one known as Athena.
You're Saori, aren't you?
Please be safe.
Why don't we go a little faster?
I am glad to see you are on time.
Athena...Saint...
The time has come.

The film will adapt the popular Sanctuary arc from Masami Kurumada's original Saint Seiya mythological fantasy manga of "Bronze Saints vs. Gold Saints." The film's website has the following quote from Kurumada: "The Seiya legend began here." Yoshiki, the 48-year-old leader of the rock band X Japan, is contributing the theme song "Hero (Yoshiki Classical Version)":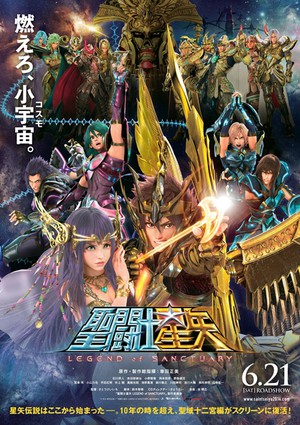 Toei Animation confirmed in February 2011 that production on a new computer-animated film of Saint Seiya had been green-lit. Keiichi Satou (Tiger & Bunny, Ashura), is helming the project, and Kurumada is credited as the original creator and chief production supervisor. (He also coined the film's title.) Tomohiro Suzuki, a scriptwriter for six episodes of Tiger & Bunny, is writing the screenplay.
The manga ran in Shueisha's Weekly Shonen Jump magazine from 1985 to 1990, and it has 34.4 million copies in print worldwide. The manga quickly inspired a 1986 television anime series that was popular not only in Japan, but also in France, Italy, other parts of Europe, Brazil, other parts of South and Central America, and Asia. The anime aired in more than 80 countries. It has been a decade since the last Saint Seiya film, 2004's Saint Seiya Tenkai-hen Jōsō ~Overture~.
The film will open in Japan on June 21. It will also play in Mexico and Peru this year.
---
Around The Web