News

Ryohgo Narita's Stealth Symphony Manga Ends Next Week

posted on

2014-07-10

01:30 EDT
Manga with Yōichi Amano also running simultaneously in English in Viz's Weekly Shonen Jump
---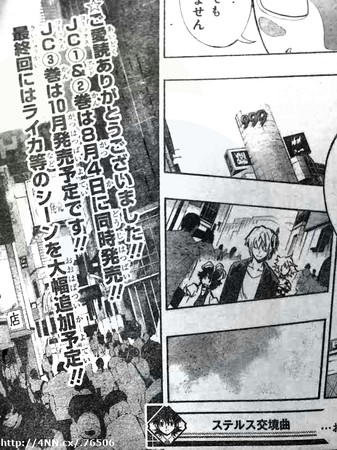 This year's 33rd issue of Shueisha's Weekly Shonen Jump magazine will publish the last chapter of Ryohgo Narita (Durarara!!, Baccano!) and artist Yōichi Amano's (Over Time) Stealth Symphony manga on Monday. The "sensational fantasy" series launched in the magazine on February 24. Viz Media's English Weekly Shonen Jump is publishing the manga digitally.
The story follows Jig, a young boy who embarks on a magical journey to rid himself of an unfortunate curse. Shueisha will ship the first two compiled volumes on August 4, followed by a third volume in October.
Narita's Durarara! Yellow Scarves Arc manga with Akiyo Satorigi is currently running in Square Enix's Monthly G Fantasy magazine. Yen Press will release the first volume in September.
---
Does this '80s-tastic, Top-Gun inspired OVA series hold up for modern Gundam fans? Lauren Orsini has the answers.
― There's a reason I refer to Mobile Suit Gundam 0083: Stardust Memory as "Top Gundam" for short, and it's not simply because the intro song, "The Winner," sounds so suspiciously like Danger Zone that it (along with other strangely familiar songs in the score) got composer Mitsuo Hagita a...
There's so many new shows this season that we had to create a whole new feature to contain them all! Nick D and Micchy break down the biggest and smallest moments in anime this week.
― For this new feature on ANN, we're trying something a little different! There's so much anime airing every season now, and so many ways to discuss it, that we wanted to offer a more casual way to stay caught up with th...
What do you do with a stained waifu? Vice is about to find out the hard way.
―
The Spring 2017 Anime Preview Guide Simuldub Edition has begun!
Available Now: Attack on Titan Season 2 - My Hero Academia season 2
― Welcome to Anime News Network's Spring 2017 Preview Guide! Here's how it goes: our team of critics write up their impressions instantly and they get posted as they go along. Each critic will cover as many shows as they can handle, resulting in alternate takes on most ...
Dragon Quest Heroes II layers thoughtful strategy on top of a solid action-RPG base, but is it enough to stave off musou fatigue? Dustin dives in.
― Here is yet another entry in the pantheon of "Dynasty Warriors but with [blank]" from Omega Force, a single-developer genre that's produced its share of hits and misses, though there's come to be a certain baseline reliable quality that's made these game...
Some anime only show on one channel in Japan, while others, like Attack on Titan, wind up on a dozen stations across the country - why is that?
― Kevin asks: Every once in a while I see an anime with a TV station logo which makes me wonder. Why do some anime shows only be on a single network? Like most of Toei shows are only on Fuji TV and naruto is only on TV Tokyo. Why do these studios get there s...
James Beckett gets one last good look at the first hit season of DanMachi - and takes a little time to appreciate it. PLUS: this week's new anime releases!
― As you may have noticed while reading my initial episode review, I'm having a lot of fun watching KADO The Right Answer this season. It's kind of a slow series and my brain hurts from keeping track of all the characters, but it's also the kind ...
One of the best fantasy series of the early 2000s is finally available again on Bluray. Theron Martin takes it for a spin.
― This 24 episode light novel adaptation originally aired during the Spring and Summer seasons of 2003 and saw its first DVD release in the U.S. in 2005-06, with its last Complete Collection rerelease being in 2007. Its original DVDs have aged rather poorly, as they are notorious...
This sweet shojo love story comes to a charming conclusion, as love triangles resolve without getting too hairy. Rebecca Silverman reflects on if this romance is worth reading.
― One of the best things about a short series is that they end. That may sound a bit too obvious to merit stating, but a short-and-sweet series, if done right, can be incredibly fulfilling. That's the case with Yoko Nogiri's T...
The List goes a few levels deeper than usual this week, with a look at "fictional" anime that were created only to exist inside of other series—but ended up becoming real anime after all!
― Anime is an inescapable aspect of Japanese culture. Even if you live in Japan and don't watch late-night anime series, there's still video games, local moe mascots, and prominent advertising at major train statio...
The entries are in, and now it's time for ANN's readers to pick the winners. Lots of prizes available just for voting!
― Contest Giveaway Manga Sale 1. Contest Details Vote for your favorite Attack on Titan re-enactment photo! If you have a BookWalker account, you'll also be eligible for some AMAZING PRIZES. To participate, fill out the form below. Contest ends April 30th, 2017 11:59 PM EDT. Winners...