News

PlayStation 4 Gets Limited Edition Star Ocean 5 Model in Japan

posted on

2016-02-10

02:40 EST
Jet Black & Glacier White models will ship on same day as game on March 31
---
The official Japanese PlayStation blog announced on Thursday that Sony will release a "Star Ocean 5" model of the PlayStation 4 console that will celebrate the release of Square Enix's Star Ocean 5: Integrity and Faithlessness role-playing game.
The bundle will include the special PS4 unit in either Jet Black or Glacier White colors, a laser-etched Star Ocean 5 design featuring the game's protagonist Fidel Camuze on the unit's hard drive bay cover, a Star Ocean 5 sleeve for the console, a pre-installed Star Ocean 5 theme for the PS4 menu, a DualShock 4 controller, and a monoaural headset. The Jet Black model is will include the 1TB hard disk and will cost 42,480 yen (about US$370), while the Glacier White color is only available with the 500GB hard disk and will cost 37,480 yen (about US$326). The bundle will ship on the same day as the game on March 31, but it will not include a copy of the game.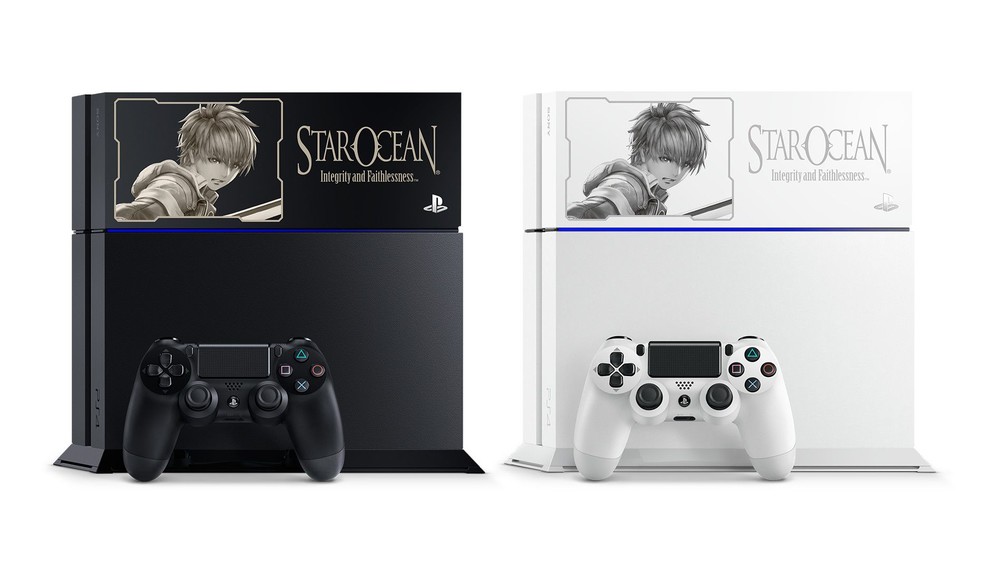 The game originally had a February 25 release date, but Square Enix delayed the game to March 31 to improve the game's quality.
Square Enix describes the game:
STAR OCEAN, the epic, sci-fi RPG saga that takes players to the stars and beyond, makes its triumphant return with its forthcoming fifth installment in the series. The title is developed by tri-Ace, the celebrated studio behind each of the previous iterations, with character designs by akiman (Akira Yasuda).

At this point in history, between the second and third games in the series, the Pangalactic Federation is nearing the fulfilment of its mission: Peace and order throughout the galaxy. However, the embers of conflict begin to stir once more on the planet of Faykreed, 6,000 light years from Earth, as a new story begins in the ocean of stars.
Square Enix will release the game in Japan on the PlayStation 3 and PlayStation 4 in Japan, and in North America and Europe on the PlayStation 4 in 2016. Square Enix did not announce a PS3 version for the game's Western release.
The game's cast and characters include: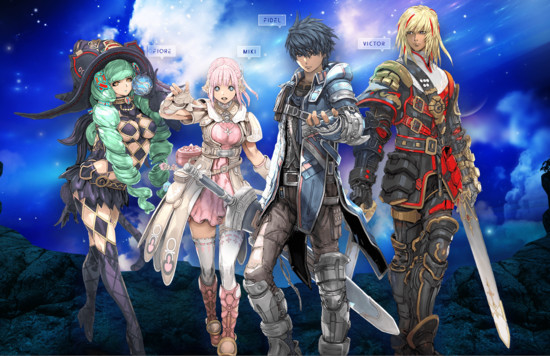 From left to right: Aya Endo as Fiore Burnelli, Nao Toyama as Miki Sauvester, Kaito Ishikawa as Fidel Camuze, and Yuichi Nakamura as Victor Orkvil
In addition, Yui Ogura will voice the character Lilia.
Enix and tri-Ace released the first Star Ocean game for the Super Famicom console in 1996. The last game in the franchise, Star Ocean 4 (Star Ocean: The Last Hope), shipped on the Xbox 360 in 2009, with a PS3 international version shipping in 2010.
The video game series inspired Mayumi Azuma's Star Ocean: The Second Story manga in 1998 and its 2001 television anime Star Ocean EX. Geneon released the anime in North America. Aoi Mizuki's Star Ocean: Blue Sphere manga launched in 2002, and Akira Kanda debuted the Star Ocean: Till the End of Time manga in 2003.
[Via Gematsu]
---